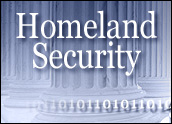 Mobile broadband networking products developer PacketHop today announced it has joined with wireless networks provider Nortel Networks to provide mobile communications technology targeting the homeland security market.
Under the agreement, the companies will initially target the US$11 billion homeland security market to facilitate the installation of a secure, ubiquitous mobile communications network among law enforcement and public safety agencies.
The companies will combine the extension of the wireless LAN infrastructure with mobile peer-to-peer mesh networking.
"The Nortel Networks relationship is a critical element in PacketHop's go-to-market strategy as we prepare for the commercial launch of our secure mobile mesh networking products," Michael Howse, president and CEO of PacketHop, said.
'Tremendous Synergies'
He explained: "The combined offerings of Nortel Networks and PacketHop provide tremendous synergies in delivering the highest level of security, network survivability, enhanced coverage, IP-based interoperability and improved cost performance. PacketHop is well positioned for significant market traction by leveraging the strength of Nortel Networks Wireless Mesh Network solution."
Mark Whitton, general manager of Wireless LAN Solutions at Nortel Networks, said, "PacketHop's mobile mesh system will further optimize and extend the value of our Wireless Mesh Network solution to homeland security customers."
He said, "PacketHop shares our vision of redefining mobile communications with innovative technology that takes advantage of existing standards and non-proprietary systems. Together, we intend to transform the way that emergency workers communicate and exchange information."
Seamless Communication
The combined PacketHop-Nortel Networks will offer broadband wireless capabilities aimed at providing real-time, multimedia, mission-critical collaboration within the various agencies and first-responders during an emergency event.
PacketHop is a complete system that provides seamless communication between mobile device users over a secure, scaleable and robust broadband wireless network that is created instantly between mobile devices.
The PacketHop system consists of software that is loaded onto virtually any standard IP radio-equipped device, along with real-time multimedia applications specifically designed for serverless operations.
With PacketHop, mobile devices can form a dynamic network with other mobile devices and use wireless network infrastructure from leading suppliers, such as Nortel Networks, as another network element when connection to a network backbone is necessary. The PacketHop applications offer distributed video, whiteboarding, mapping and messaging functionality and do not require a centralized server.
LAN Network
Nortel Networks Wireless Mesh Network portfolio consists of Wireless Access Point 7220, Wireless Gateway 7250 and Nortel Networks Optivity(a) Network Management system. The portfolio is intended to deliver secure, wireless broadband services that can provide a method for extending wireless LAN coverage more broadly and enable indoor and outdoor access.
The technology package uses wireless links to connect the access points, allowing enterprises or service providers to install wireless LANs with a minimal amount of Ethernet cabling or other backhaul facilities in areas where network limitations make it cost-prohibitive to use traditional wired access points.
This approach can drastically reduce the complexity and cost of installing an expanded wireless LAN network.
The joint offering from PacketHop and Nortel Networks is expected to become available in the fourth quarter 2004 and is designed to exceed all of the key requirements for mission-critical communications.
Communications Technology, Infrastructure
Nortel Networks supplies its service provider and enterprise customers with communications technology and infrastructure to enable IP data, voice and multimedia services spanning Wireless Networks, Wireline Networks, Enterprise Networks, and Optical Networks.
PacketHop develops mobile broadband networking products that deliver high network availability, enhanced coverage, security, quality of service, efficient cost performance, and real-time peer-to-peer communications to serve a wide range of markets.
PacketHop's secure mobile mesh networking software loads onto virtually all standard IP radio equipped devices like laptops, PDAs and tablets, enabling a mobile broadband network to be created instantly.
Founded in January 2003 and based in Silicon Valley, PacketHop is funded by premier venture firms U.S. Venture Partners, Mayfield and ComVentures, as well as SRI International. More information on PacketHop.