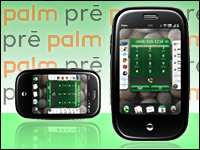 Just over a week after Apple cut off the Palm Pre's ability to sync with iTunes, Palm has restored that capability with an update to its webOS operating system.
In announcing the update on the Palm blog, Palm vice president of business products John Traynor was somewhat circumspect, focusing first on the platform's enhanced support for the enterprise, then slipping in the news about restored iTunes synching.
Palm's announcement has triggered a mix of responses by readers of its blog.
Meanwhile, ChangeWave Research's figures show that the Pre is gaining some ground among consumers.
Updating Back to Happiness
When Apple blocked the Pre's access to iTunes on July 15 with the release of iTunes 8.2.1, the question on everyone's mind was, what will Palm do next?
Now we know: Issue webOS 1.1, which restores the syncing.
"Oh, and one more thing: Palm webOS 1.1 re-enables Palm media sync," Palm's Traynor wrote in the company blog. "That's right — you once again can have seamless access to your music, photos and videos from the current version of iTunes (8.2.1)."
The restoration of iTunes syncing left Gartner Distinguished Analyst Ken Dulaney groping for answers. "I just asked them about it because I don't understand it," he told TechNewsWorld.
"Apple just cut them off, and they say they're restoring syncing. Maybe they worked something out."
The Wisdom of the Crowd
Reaction among readers of Traynor's blog post was mixed.
Many seemed to be Apple haters. "Great job, guys. Keep bringing the pain! Eff off, Apple!" wrote a commenter using the handle Mike W.
"Mwhaha, in your crappy overpriced faces, Apple! Palm pwns! Media Sync once again!" wrote bmarley3.
"And bring on iTunes 8.2.2," Nieuwiefan wrote.
Others were not so keen on the move.
"It's not like the cat-and-mouse game with Apple is going to keep the Pre synching forever," wrote Total.
"Good luck with the syncing thing. WTF don't you do the decent thing and write an app that does this by reading the XML file like everyone else does, you know, by coding your own App?" Ed wrote.
Perhaps Palm doesn't write it's own application because it would take too much time, money and resources, suggested Laura DiDio, principal at ITIC. "To write a really good workaround will take maybe six months in development, engineering, QA and beta testing," she told TechNewsWorld.
"Six months in the hotly contested smartphone market is an eon, and nobody wants to fall behind," she added.
What Next for Apple?
The Pre's relationship to Apple is like a tick in a hard-to-reach position on a dog — it's irritating, it's itchy, but it may not be worth going to the trouble of taking a bath to end the problem. Palm sold almost 400,000 Pres in the device's first month on the shelves, according to Charter Equity Research; compare that to the over 1 million iPhone 3GS units that moved during that handset's first weekend of availability.
"I think this is on the level of Apple saying, 'We don't really want Palm to take advantage of our investment in software,' and Palm saying, 'Yes, we can,'" Carl Howe, director of anywhere research at the Yankee Group, told TechNewsWorld.
"If Apple wants to get nasty, it could invoke the DMCA (Digital Millennium Copyright Act), because you could make a case that Palm's cracking the code on iTunes," he went on. "The fact that they don't indicates to me they don't really think it's that important."
It's a calculated risk for Palm, ITIC's DiDio said. "In a down economy, vendors will be drawn to hot markets where the money is good," she pointed out. "What market is hotter than smartphones, and what smartphone is hotter than the iPhone?"
"Palm doesn't comment on future products or software updates," company spokesperson Leslie Letts told TechNewsWorld when approached.
Apple did not respond to requests for comment by press time.
Details About webOS 1.1
While restoring the Pre's ability to sync with iTunes is making the headlines, this update to the webOS focuses on the Pre's business capabilities as well.
It enhances the Pre's support for Microsoft Exchange ActiveSync with several features.
One is a remote wipe feature that lets system administrators delete the contents of a lost or stolen Pre remotely or instruct it to wipe itself if a password is entered incorrectly more than a specified number of times.
IT administrators can ensure a password is assigned to a user's Pre and can specify the minimum length of the password.
Another feature is support for self-signed certificates with multiple common names.
Other enhancements include support for emoticons in a messaging app; zoom level restoration; and the ability to set "person reminders" in the Contacts app. That allows users to set reminders that display the next time a particular contact gets in touch.
Some of the new features, such as those for the calendar, only apply if the user bought a Pre with webOS 1.1 preinstalled, or deleted webOS 1.0 and fully installed version 1.1.
Pre's Gaining Ground
A survey conducted from June 9 through 15 by ChangeWave Research showed that 14.4 percent of the 4,063 respondents plan to buy a smartphone sometime by the end of summer.
It also showed that Palm is gaining ground. While it remained a distant third behind the BlackBerry and the iPhone, the number of consumers planning to buy the Pre doubled over ChangeWave's March survey results.
Eight percent of consumers in the June survey said they planned to buy the Pre, the ChangeWave report said.
Still, the iPhone remains well in the lead, with 44 percent of smartphone-eying respondents saying they plan to buy one. This is a 14-point jump from ChangeWave's March survey figures.
Planned purchases of BlackBerries took a 14-point hit, totaling 23 percent.
"Clearly, the Palm Pre is breathing new life into the company," ChangeWave's Paul Carton and Jean Crumrine said in the report. "After years of market share decline, the road back for Palm looks much brighter — even though it promises to be a long and complicated one."
Update: 7-24-09, 2:33 PM PST
Apple spokesperson Tom Neumayr got back to TechNewsWorld with the following comment: "As we've said before, newer versions of Apple's iTunes software may no longer provide syncing functionality with unsupported digital media players."