Panasonic on Monday introduced the Lumix DMC-LX100, a point-and-shoot camera that supports the latest in high-quality video — 3840 x 2160 4K video at 30 frames per second — as well as 1920 x 1080 HD video, which can be stored in AVCHD progressive or MP4 format.
The LX100 (pictured above) takes advantage of its 4K support to create 8-megapixel photos from single frames in video shot in the super high-definition format, a feature especially useful for capturing the most telling moment in a scene.
"4K is a rapidly emerging theme in the camera market, as this is one way camera vendors can differentiate from phones," Chris Chute,research director for imaging at IDC, told TechNewsWorld.
Even that edge, though, has started to dull.
"We've already started seeing smartphones with some 4K functionality, like the Lumia 830 and LG G3," Ross Rubin, principal analyst with Reticle Research, told TechNewsWorld.
Pricey or Not?
At US$1,000, the LX100 may seem pricey to some consumers, but the camera does contain top-of-the-line features, such as the same Micro Four Thirds sensor found in Panasonic's critically acclaimed GX7 mirrorless camera. The high sensitivity MOS sensor allows subjects to stand out from the background of a photo with a rich stereoscopic effect.
The LX100 includes Panasonic's Venus Engine for reducing noise in photos in a number of ways; a very fast F1.7-2.8 Leica 24-75 (35mm equivalent) lens; a nine blade aperture diaphragm that produces pleasing bokeh in out-of-focus backgrounds; a blazing burst mode of 11 frames per second at full 12.8-MP resolution; and support for the RAW format, a favorite of professional photographers.
While 12.8 MP may raise the eyebrows of more-is-better pixel counters, Panasonic says it reined in the pixel count so images shot at even the camera's highest ISO of 25,600 would contain a minimum of noise.
In addition, the LX100 supports NFC and WiFi for wireless transfer of photos to computers and smartphones; a sharp 1,166 dot-equivalent Live View Finder; 2,764-dot equivalent LCD; and a hotshoe for an external flash included with the unit.
"The camera may be expensive for a point-and-shoot, but it's not out of line for an enthusiast camera," David D. Busch, creative director of the David Busch Photography Guides, told TechNewsWorld. "However, you can get mirrorless cameras that are almost as small and have interchangeable lenses for about the same price."
High-End Play
Much of the low-end of the camera market, where point-and-shoot cameras used to thrive, has been supplanted by smartphones with cameras, herding camera makers into the premium territory of DSLRs and Micro Four Thirds snappers with interchangeable lenses.
"Interchangeable lenses give photographers a greater range of creative control than can be achieved with a camera phone," Reticle's Rubin said.
However, camera makers are finding that interchangeable lenses aren't as popular as sales of DSLRs and mirrorless cameras would indicate.
"Many manufacturers are coming out with high quality, high-end, point-and-shoot cameras," Terry Sullivan, associate editor for digital cameras and imaging at Consumer Reports, told TechNewsWorld.
"The fact is that many people who buy mirrorless and DSLRs never change those lenses, so the manufacturers figure they can offer a higher priced point-and-shoot," he explained.
"What makes the LX100 special, is that it's the first one to shoot 4K video at 30 fps," Sullivan pointed out. "It also has a nice array of features, so I think it's really going to make its mark in the market."
Lumix GM5
In addition to introducing the LX100, which is expected to reach retailers in October, Panasonic refreshed its mirrorless camera line with the $900 GM5, slated to reach stores in November.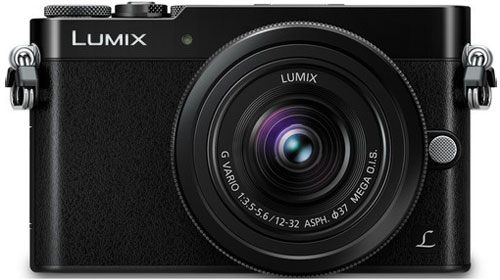 Panasonic LUMIX DMC-GM5 Mirrorless Micro Four ThirdsDigital Camera With 12-32mm Lens
The GM5 has a 16-MP sensor, shoots 1920 x 1080 HD video at 60 fps in AVCHD progressive and MP4 format, has a maximum ISO of 25,600, and has a number of creative modes, including time-lapse photography and stop- motion animation.
"I don't see a lot new in the GM5 for the category," photo guide creator Busch said. "The new features are improvements on Panasonic's own previous models. The GM5 is building on the popularity of the smaller GM1, and they've added an EVF and hotshoe for external flash."
Along with the GM5, Panasonic released a new Micro Four Thirds zoom lens. The F4.0-5.6 Lumix G Varo 35-100 mm (70-200 35mm equivalent) is built to be thin when fully retracted and compact when carried outside the camera. The lens also will be in stores in November, but its price has not yet been set.