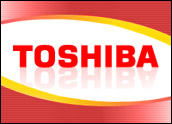 After losing the high-definition DVD format war to Sony's Blu-ray, Toshiba is digging in around the standard definition DVD market. The company has launched a new upscaling DVD player, the XD-E500, which promises to bring standard DVD quality closer to high-definition (HD) than ever before. The company has even launched a new Web site to help show consumers about the new player and a new upscaling technology that runs on it.
Toshiba's new US$150 XD-E500 features Toshiba's new eXtended Detail Enhancement (XDE) technology, which not only provides upconversion from 480i/p up to 1080p, but also offers three user-selectable picture enhancement modes to help refine the video quality, according to the company.
Three New Modes
With the XD-E500, users can choose from three selectable settings — Sharp, Color and Contrast.
Sharp Mode offers improved detail enhancement that is one step closer to high definition, Toshiba said. Edges are sharper and details in movies are more visible. Unlike traditional sharpness control, XDE technology analyzes the entire picture and adds edge enhancement precisely where it's needed.
Color Mode makes the colors of nature stand out with improved richness — blues and greens are more vivid and lifelike, according to Toshiba. Color Mode combines the improvement in color with the detail enhancement of Sharp Mode and is ideal for outdoor scenes.
Contrast Mode is designed to make darker scenes or foregrounds more clearly visible without the typical "washing out" that can occur with traditional contrast adjustment. Toshiba recommends this mode for dark scenes where detail may be difficult to notice.
In addition to XDE, the XD-E500 also incorporates key features found on most upconverting standard DVD players, such as HDMI-CEC, DivX certification, JPEG capability, and MP3 and WMA playback.
Another Upscaler?
"XDE offers consumers a simple solution to add on to their HDTV purchase. XDE works with existing DVDs to deliver a near HD experience with enhanced detail and richer colors. Toshiba is delivering to consumers what they want — a high quality experience at an affordable price," noted Louis Masses, Toshiba director of product planning.
Many households have sizable standard-definition DVD libraries, and perhaps Toshiba hopes to cash in as these households buy HDTVs. Even though Sony won the HD disc battle with Blu-ray, most consumers haven't jumped up to more expensive format yet.
"It's an interesting time for the market," Ben Bajarin, director of the consumer technology practice for Creative Strategies, told TechNewsWorld.
"After [Toshiba's] HD DVD finally phased itself out and we noted that Blu-ray was the clear winner, we saw a lot of consumers who were saying, 'When's the right time for me to buy … and if so, what's the right price?'" he added. Several complicating factors exist for consumers, such as their own libraries of standard-definition movies, their changing buying habits wherein they simply don't buy as many movies on discs as before, and the need for easily available Blu-ray rental businesses.
However, Bajarin doesn't believe that a simple HD upconverting device is going to be a long-term solution.
"We're at 1080p now, and that's going to continue to go up. With educated consumers, one of the main reasons the Sony PS3 Blu-ray player is so interesting is that it can be updated with software — so as new standards come out, they'll be able to update their PS3 Blu-ray player with software so that it's consistent with what's available on the market at the highest levels," he explained.
Of course, a typical Blu-ray player or PS3 is more than twice the price of Toshiba's new model, which itself is about twice the price of some other upconverting DVD players on the market. Is there room for some middle ground?
"Consumers already know Blu-ray is the winner, so I find it hard to believe that consumers will go out in larger numbers and buy a device that's not Blu-ray," Bajarin said.