Sony demonstrated its Move motion controller for the PlayStation 3 console at the 2010 Game Developers Conference in San Francisco on Wednesday, following up on its first demo at the Electronic Entertainment Expo in Los Angeles last June.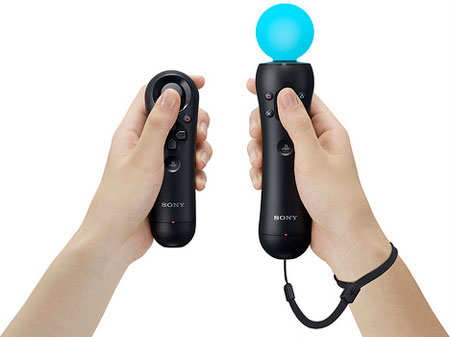 The PlayStation 3 Move motion controller
Together with the Move, Sony will release the Move sub-controller, a one-handed controller that's similar to the Nintendo Wii "nunchuck" and is an optional accessory for some games.
Sony said the Move and its sub-controller will be launched worldwide this fall. It says 35 game publishers and developers have signed up to support the Move.
We Got to Move It, Move It
The Move platform consists of the Move motion controller; the sub-controller; and the PlayStation Eye camera, a device that's already available.
The Move motion controller "delivers unmatched accuracy through a three-axis gyroscope, a three-axis accelerometer, and a terrestrial magnetic field sensor" as well as a color-changing sphere that the PlayStation Eye camera tracks visually, Sony said.
The system detects both swift and subtle motions ranging from swinging a tennis racket to painting with a brush. Users can provide direct input through action buttons and an analog trigger while receiving physical feedback from what Sony calls "rumble functionality."
Users will get visual feedback from different colors displayed by the system. The PlayStation Eye camera will also capture the player's voice and image to enable an augmented reality experience. In other words, you'll be in the game and outside of it at the same time — in your mind, at least.
The Move sub-controller comes with an analog stick and direction buttons. It has a built-in lithium ion rechargeable battery and Bluetooth capability.
PlayStation 3 owners can substitute Sony's DualShock vibration-feedback gamepads or its SixAxis controllers for the Move sub-controller.
Sony has not yet decided on the price.
Game Devs Support Move
There may be games aplenty for the Move.
Sony Computer Entertainment Worldwide Studios will release more than 20 games that are either dedicated to, or supported by, the PlayStation Move platform in fiscal 2010.
In addition, Sony announced that 36 third-party developers and publishers will support the Move platform.
They include Activision, Crave Entertainment, Disney Interactive Studios, Electronic Arts, Namco Bandai Games, and Warner Bros. Interactive Entertainment.
Activision's support is particularly intriguing — last June, it threatened to stop making games for the Sony PS3 and the PlayStation Portable unless Sony lowered its prices. Sony subsequently cut the PS3's price and launched the PS3 Slim series in August.
Sony Against the Wii
In launching its motion controller, Sony is taking on Nintendo's Wii, the original motion-controlled device and currently king of the video game console hill, in terms of sales. How will Sony fare?
That depends on whom you speak to.
Sony might win out against the Wii, contended Rob Enderle, principal analyst at the Enderle Group. "The price disparity between the Nintendo Wii and the PS3 has closed, and folks have high-definition television sets that the Nintendo doesn't make good use of," he pointed out.
"You couple this with 3-D, and the fact that gaming is the one area where 3-D will likely be a hit initially, and the result could tend to favor Sony," he told TechNewsWorld.
On the other hand, Pietro Macchiarella, a research analyst at Parks Associates, thinks the two devices will not compete directly.
"The PlayStation Move and the Wii target two different markets," Macchiarella told TechNewsWorld. Hard-core gamers will find the accurate movement tracking and immersive gaming experience that the Sony Move will offer very appealing, he said. "These are probably not the same people who buy the Wii," he pointed out.
However, Sony will also try to capture some of the broader market by introducing games such as the "Eye Pet" pet simulator, and that's where it might lock horns with Nintendo. "The individual games might compete with the Wii more than the actual controller," Macchiarella explained.
Whither Microsoft Natal?
Another competitor to the Sony "Move" technology will be Microsoft's "Natal" project. This is the code name for a natural user interface Redmond has been showing publicly since 2009. This technology was demonstrated last year and released to select developers in June. It will let Xbox 360 players control a game through body movements, unlike the Wii and the Sony Move, both of which require hand-held controllers.
The Natal is coming to retailers' shelves in time for this holiday season, Microsoft CEO Steve Ballmer promised at the Consumer Electronics Show in January.
Natal may pose a bigger threat to the Nintendo Wii than Sony's Move does because of its greater ease of use, Parks Associates' Macchiarella contended.
That's in line with Microsoft's thinking. "We believe controller-free experiences are the future of gaming and entertainment," Microsoft spokesperson Jessica Lange told TechNewsWorld. "Project Natal makes you the controller, putting you in the middle of the action and in complete control."
On the other hand, Natal may pose a bigger threat to Sony's Move, Enderle said. "If it works, Natal is much closer to true virtual reality than Move, and it has a bigger 'wow' factor," he pointed out.
Success will finally depend on who has the most compelling games and how quickly three-dimensional (3-D) content is released. "Game systems follow titles," Enderle pointed out.
One good thing that might come out of all this is that users may not have to dump their existing consoles.
"Project Natal and Sony's Move are likely an attempt by Microsoft and Sony to extend the lifecycle of their current consoles," Parks Associates' Macchiarella pointed out.