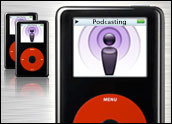 At first blush, the recent Podcast and New Media Expo held in Ontario, Calif., might have looked a bit frivolous — there was a guy with bright blue hair, a woman in a burlesque getup posing for pictures, and someone in a pickle suit handing out promotional buttons — but doesn't every trade show have its share of weirdness?
Podcasting is anything but a joke to the more than 2,000 who turned out at the 2007 Podcast and New Media Expo. In fact, the show itself is no joke, either. It won Expo Magazine's "Best New Show" award in 2006 and will move its venue to Las Vegas next year.
As the show itself illustrates, podcasting is growing into a serious online media phenomenon, said Tim Bourquin, the show's founder and CEO, and himself a podcaster.
"It really is an 'industry' now, and … people are starting to realize the value of small media companies that have the ability to compete with traditional media," Bourquin told TechNewsWorld.
---

Listen to a TechNewsWorld exclusive interview with Michael Geoghegan (12:42 minutes).
---
Podcasting's Identity Crisis
In fact, another indicator of podcasting's growth is its identity crisis. You can stream a podcast to your computer, smartphone or PDA (personal digital assistant) in addition to loading it onto your iPod, so the name itself is misleading, attendees and presenters alike were quick to point out. The industry is leaning toward "online media" as a more all-encompassing moniker.
The trade show itself is changing its name to reflect that shift, electing to become simply the "New Media Expo" beginning with next year's event.
Key to the growth of podcasting is the same factor that affects all online media: monetization. It's a tough topic, and one that formed a thread throughout the trade show.
"If your goal is to make money, podcasting will provide you with nothing unique,"GigaVox Media founder Michael Geoghegan told the audience. "You are not entitled to anything special because you have an RSS (really simple syndication) feed. There's something you have to realize, and you have to accept: It takes work."
Making Money Takes Work
Podcasters who want to attract advertisers need to prove that their audience is valuable to those advertisers, he said. Among the ways to accomplish this goal are conducting an audience survey, fostering your podcast's image through site design and production value, and — most importantly — creating a media kit to give advertisers all the information they need in one place.
Actually making money involves even more work, Geoghegan said. Those who have the time, energy and inclination to do it themselves will get more money out of direct advertising sales. It's a time-consuming process, however.
The more you know about your audience, the easier it is to match that unique group with specific advertisers that target that group, said Goghegan, who also founded the wine-related new media siteGraperadio.com. The advertiser might pay a higher amount per impression by sponsoring a Graperadio podcast, but more of the responses are likely to be converted into sales, he noted.
Otherwise, there are podcasting networks that aggregate and distribute content, or agencies that can sell advertising time. Both receive their cut of the advertising revenue that is generated from the sale.
The Old Way vs. the New Way
Agencies and networks, being grounded in the traditional advertising business, favor the payment model that the advertising world has used for decades: cost per mille, or CPM. Mille is Latin for "thousand," so it means the amount of money the advertiser pays for every 1,000 audience members to whom the ad is delivered.
"CPM is antiquated and does not apply to what you do," Geoghegan told the show audience. "People in the advertising business live in a CPM world."
Gary Puckett, a host onTheFlyPod.com, a new media network, said adapting existing financial models to new media is a tough fit.
"It's way too complicated at this point, but hopefully they'll get it resolved," said Puckett.
Podcasters are trying to change that model, but until they come up with another that works better, it's going to be a difficult struggle, said Matthew Snodgrass, vice president of advertising firmPorter Novelli's creative service department.
"They deal with television in a ratings model. That's the only one going. People have tried to come up with a bigger and better Neilsen rating system, and they've failed," he observed.
Knowing Your Audience
What podcasting offers is a more intimate connection with its audience, Snodgrass continued. "Podcasting is able to do that — precision micro-targeting — unlike anything out there."
Because of that, sometimes a sponsorship model — an advertiser supporting the entire podcast in exchange for a mention at the top or bottom of the podcast — might be better.
Remember "Texaco Star Theater?" That model is being tried with some success in podcasting, Snodgrass said.
Other Methods
Product placements are proving effective as well, especially in entertainment-oriented video podcasts, Geoghegan said.
As an example, he pointed to "French Maid TV," a video podcast that skews toward a younger, male audience thanks to its scantily clad namesake stars, who show the audience how to do everyday things, such as change their oil.
With a product placement, the oil in question is whatever brand happens to pay for placement, and it features prominently in the picture throughout the podcast.
However, give up too much control over your content in exchange for money, and your audience will notice, said Paul Vogelzang of "Mommycast," a popular podcast that offers parenting advice and is sponsored by Georgia Pacific's Dixie brand.
"Moms, in particular, are very skeptical. They won't listen to that," he said. "You don't want a shill. That's against the nature of podcasting."