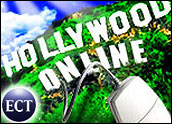 Another week, another round of bad news for those who bring you the bad news. Some California newspapers tell their employees to take a week off — without pay. A 24-hour news channel run by the Sarasota Herald-Tribune is signing off due to a lack of investors. The Washington Post's Book World stand-alone section is stand-alone no more. The CBS station in the nation's top television market guts its on-air sports department. And speaking of sports, when was the last time the number of media passes handed out for a Super Bowl actually declined from the previous year?
Coverage of the game's biggest day — sacked by the economy.
True, there are other layoffs going on in other industries; journalism is just one rusty gear in the nation's economic machine in this recession. But it's the industry I focus on with this column, along with technology and all its promise and peril for the news business.
I've expended more than my share of carbon credits in previous columns urging my traditional media colleagues to consider filling out the digital side of their resumes as a way to stay involved in storytelling — if that's what they decide they still want to do after that fateful meeting with a newspaper or TV station's human resources manager. So every so often I will be telling the stories of journalists who have made the leap to the Internet, either as newsgatherers, bloggers or providers of other kinds of digital media. I'll be asking about motivation, looking for lessons for others still on the traditional side of the business, and seeking insight into the transformation of what I think remains an essential occupation as we head deeper into the 21st century.
From the Times to TheWrap.com
There are two battleship-style industries currently in danger of being swamped by the smaller boats of the digital age: journalism and show business. Sharon Waxman became a dot-com entrepreneur to stay ahead of the changes happening in both arenas. TheWrap.com is the result: a Web site launched on Monday that focuses on Hollywood, entertainment and the media.
Waxman plays up hard-news habits she honed during a 12-year career covering Hollywood for The Washington Post and The New York Times as a way to get the attention of Hollywood's power players, but her new role as Web site founder/editor seemed to be putting her multi-tasking talents to the test during our phone conversation.
"Hold on while I get something up on the site," Waxman said. The story she was working on at the time I called will actually end up relating to one of my last questions for her. (Screenwriters call that "foreshadowing." Somebody get me an agent.)
"I think our strategy is to get the Hollywood movers and shakers to be our first readers, to become essential to their conversation," Waxman said after wrestling with her site's content management system. "Also to push Hollywood hard on where it's going at a time of transformational change, because nobody's covering that area. It's critical that Hollywood adapt because the world has changed.
"Once we have that audience, a very monetizable audience — a lot of advertisers want to be seen by those people — we can grow that out to a global audience that is interesting in the entertainment industry, that want intelligent stories written in a lucid way. If we become a must-read in Hollywood, we'll get the broader audience."
And because it's the Internet, Waxman knows that reader opinions unleashed by Web 2.0 tools will also play a part in TheWrap's long-term goals. "I believe the world will be a much poorer place without the role of professional reporters, coming together with the commenting and the reader contributions and the ratings and the rankings — to enrich our content and to connect to it and connect to one another. That's the big lesson we've learned from the Huffington Post. People want to hear their own voices, as well as the voices of the journalists."
The Story So Far
It won't just be Waxman's voice heard on TheWrap, even though she's the site's founder and has spent the last year working toward launch-day after leaving The New York Times last year. Joining her are a mix of traditional and online journalists along with Hollywood insiders; Kim Masters of Vanity Fair magazine and NPR; reporter and author Andrew Gumbel; former Defamer.com editor Mark Lisanti, former "Seinfeld" producer Peter Mehlman and Nicole LaPorte, Johanna Newman, Tim Doyle and Maria Russo, all late of either Variety or the Los Angeles Times. Contributing bloggers include actor Richard Masur and L.A. Times TV critic Howard Rosenberg.
Former Hollywood.com executive Kevin Davis is interim chief operating officer, charged with forging business development. The Seattle-based venture capital Maveron provided startup funding, and the site will be supported by advertising and syndication. Waxman didn't have specific traffic numbers after two days online. "All of the indications — a really huge amount of interest," she said. "A lot of people are reading, sending us notes. I probably had 300 yesterday (Monday, launch day) just to me alone, and I haven't been able to read them all yet."
I think it's been an auspicious debut. Although it pegged it as an exclusive, TheWrap didn't break the story that movie director John Landis is suing Michael Jackson over allegedly denied profits from the "Thriller" video — The Hollywood Reporter's Entertainment and Media Law blog had that item in a post dated Jan. 23 and included a link to the copy of the lawsuit, filed in court Jan. 21 — but TheWrap's original reporting on the legal wrangling was linked to by the likes of AOL, E!Online, Huffington Post and New Music Express. In what may be the ultimate LaLaLand compliment, even Perez Hilton threw Waxman's site some link-love.
TheWrap returns the favor, linking to news items from outside sources. But the Jan. 28 edition also had an interview with Screen Actors Guild president Alan Rosenberg and a chat with John Updike's longtime agent regarding the late author's relationship with Hollywood.
"We're doing proper reporting," she said. "We're doing original content. We're not commenting only on the news, we're breaking news in real time. That to me is what this endeavor is about — combining the tools of the Web and adapting to the changing needs and desires of people who consume the news, and who participate now in the making of the news."
Birth of a Notion
Waxman's reasons for leaving The New York Times were personal and professional. She was supposed to move her family back to New York last year, but "I looked around at the landscape, the signs we're seeing — very obvious now — but all of us in our business have seen the signs for two years now. Newsrooms and newspapers have become very unhappy places to work. I had to think very carefully about whether I wanted to move my family across the country at this stage of my career, or whether I wanted to pursue something challenging and exciting and join the digital age."
She says since TheWrap's launch she's fielded a lot of calls from professional journalists — employed and recently unemployed — wondering about job opportunities, so she knows she's made the right decision for her. "I believe there is a need for professional journalists to transform themselves in the age of the Web, and become the kind of reporters and writers that the Web demands and that people demand. There are some reporters who won't adapt, but there's a remarkable number of journalists who want to change, who want to transform themselves. But they're stuck in organizations that are not able to be flexible, small, like us. We all know what our job is and we're pulling in the same direction."
All her staff will be straining to heave TheWrap to the top of a Hollywood reporting pyramid that includes stalwarts like Variety, the Hollywood Reporter and the L.A. Times as well as blogs like Defamer, Gawker, Jossip and Nikki Finke's Deadline Hollywood Daily. But Los Angeles' traditional industry trades and newspaper beat reporters have seen layoffs thin their ranks. Waxman's chief competition could well be the blogs, which speak snark fluently. Finke's blog regularly breaks news before traditional media does, and she will be the first to let you know that. (Getting linked from The Drudge Report can't hurt; maybe Waxman should put Matt Drudge on the mailing list.)
Already the long blog knives have come out; TheWrap's launch was greeted with pissy postings at Defamer and Jossip. Waxman seems to be taking it in stride. "Defamer being snarky? That's like saying Defamer printed something today. If it's Defamer, of course it's snarky. I thought it was hilarious." Then she reminds me of why she had to put me on hold earlier in our conversation. "Just to make the point, that story you heard me talking about? We're putting it up on the site, we thought it was so funny. We have a funny graphic. Refresh the site, you'll see."
Sure enough, Defamer's welcome-to-Hollywood hazing item, "TheWrap Launch Marred by Rumor Downgrades, Sandwich Confusion" (Defamer Googled "The Wrap" and came up with a Massachusetts-based pita-and-falafel outlet) was answered with "Sharon to Defamer: You Want Salsa With That Wrap?"