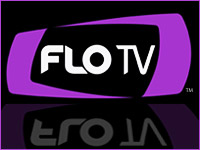 A society that is becoming more mobile yet more media-centric now has one more possible distraction to look forward to, thanks to a Wednesday announcement from FLO TV, the Qualcomm subsidiary specializing in live video you can take with you.
The new FLO TV Personal Television sports a 3.5-inch diagonal screen and a touchscreen interface. Users can watch live news and sports, as well as some time-shifted programming. It will cost US$249, plus a $8.99 monthly service fee.
Another announcement listing retail partners will be coming soon, according to Michael Hirsch, FLO TV director of product management.
It will be available in time for the holiday shopping season, he said, providing another difficult pocketbook decision for first adopters who are already besieged with options for watching live video on smartphones from carriers like Verizon and AT&T.
FLO TV, in fact, has been providing live video services to those carriers via its multicast network for the past two years.
"Our research indicates that a lot of people want mobile television on a phone — they want that converged device experience," Hirsch told TechNewsWorld.
"But some also want it on a dedicated device," he continued. "They want to be able to hand this off to a spouse or a child, whether in the backseat of a car or while out and about. They want longer battery life. They get five hours of TV viewing with this device. They don't want to lend their smartphone to somebody for an extended period of time. And becauase it's a dedicated personal TV, they don't have to worry about other smartphone buttons or functions or features."
Picturing the Business Opportunity
Mobile broadcast TV will be a US$2.8 billion market in 2013, said FLO TV, citing statistics from TeleAnalytics. As many as 50 million mobile users may be watching "CSI," "The Daily Show" and "Dora the Explorer," along with live news and sports from NBC, CNN, Fox and ESPN, on handheld devices such as smartphones or dedicated portable TVs.
As far as 2009 is concerned, there's still some consumer convincing needed, and content agreements may help.
"Our end-users are still learning about mobile TV in their lives," Hirsch said, "and we're still learning about programming. Things like sports and news — those have to be live. They have a shelf life of about a minute. But when it comes to time-shifting, we see a lot of difference in how [consumers] view mobile TV and how they view at home."
Therefore, some late-night programming will get aired during the lunch hour on FLO TV, and other non-news programs will get multiple re-airings. Discussion with possible content partners are ongoing, Hirsch added.
There's also the live broadcast potential for office workers and others who may want to check out breaking news but run into a wall of buffered, pixilated images when watching on computers.
"The moment you have an event that everybody watnts to watch — an inauguration or a plane landing in the Hudson River, everybody flocks to the internet, everybody flocks to cellphones, and those services come crashing down," noted Hirsch. "But being a multicast network, we have no issue with that."
Please Stand By for Reaction
Comparing Web video quality to what FLO TV provides may require a split-screen image of apples and oranges, "since mobile video delivery uses a completely different sent of technologies than that of the PC and TV," observed Dan Rayburn, principal analyst with Frost & Sullivan's digital media practice.
"All three devices have their pros and cons as well," he told TechNewsWorld, "as having been designed for different user experiences and being geared towards the playback of different kinds of content."
So far, adoption of video to mobile devices — whether live or not — has lagged," Rayburn noted, "and an economy wriggling its way out of a recession may not help.
"The biggest hurdles I see for the device is that it's something else someone would have to buy, the list price is expensive and it requires a monthly subscription," he explained. "While I think FLO TV will have a better chance at expanding their use base via handsets, this device is probably targeting a very specific group of users who may not want to use a handset or give the dedicated TV device to their kids.
"It's neat, but how many of these will sell is anyone's guess," said Rayburn. "I would not be willing to make any kind of sales prediction at this time."