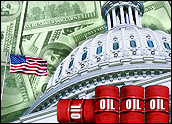 Some 450 leaders from the U.S. renewable industry's policy, financial and technology sectors assembled on Capitol Hill on November 29-30, meeting with members of Congress and government agency officials during the American Council on Renewable Energy's (ACORE) fifth annual national policy conference.
The event was clear evidence of the momentum surrounding the greater use of renewable energy sources and for building a supporting infrastructure.
Convening for this year's conference theme, "Renewable Energy in America: Phase II Market Forecasts and Policy Requirements," industry participants for the first time put together an industry-wide energy forecast stating that renewable energy providers would collectively be able to deliver 550 to 700 gigawatts (GWs) of electrical power in the next 10 to 20 years — more than enough to reach the industry "25 by 25" goal of meeting 25 percent of national electrical power needs by 2025.
"We have today put real numbers on America's renewable energy future that we have for years felt in our gut," said ACORE president Michael Eckhart. "This is a huge tipping point that will guide the public policy support required for renewable energy, to help lower CO2 emissions and reduce our nation's dependence on foreign fossil fuels.
"There is a convergence of issues and opportunities that make this a perfect time to let mainstream America and our policy leaders know we are here to help — 'here is what renewable can provide, capacity-wise, and here are the policies that will lead to solutions,'" he said in a press statement.
Growing Support
Broadbased — from the grass roots up — calls have been building for the U.S. to focus efforts and resources on the development of renewable energy sources and infrastructure, following the latest steep and sustained run-up in petroleum and fossil fuel prices.
Having made significant advances across the board in renewable energy production technology, and with growing backing from the financial industry and corporations, industry participants are responding.
Of the key factors necessary to foster the growth of a significant and sustainable renewable energy industry and infrastructure in the U.S., "I think the biggest … will be continued public and private support," Jeff Lipton, Jefferies & Co. managing director of investment banking, told TechNewsWorld.
"Clearly, incentives, rebates, RPS (renewable power standards), tax credits, etc., are important and critical to this sector remaining strong near term," he added.
"A timely renewal of the federal production tax credit in 2007, before its expiration in December 2007, will be the most important short-term factor," said Christine Real de Azua, assistant director of communications for the American Wind Energy Association.
"A timely renewal and long-term extension — at least five years — will allow turbine manufacturers to receive more advance orders and plan for long-term production, thereby easing shortages artificially caused by the credit's cycles," Real de Azua noted.
"Equally important, though not as prominent in media reports, is the fact that large multinationals are committing real dollars here," Lipton pointed out. "For some, it is about PR, and actual dollars are modest — but many large global corporates are putting real dollars to play, altering the way they do business, etc., because there is a bottom line financial impact to their business, and they see it and monitor it."
The momentum driving the development of renewable energy systems and infrastructure has now carried the issue up to the federal level, but it has been state governments that have really fostered the development of the industry to this point — California's Governor Arnold Schwarzenegger a standout among them.
California CSI
Governor Schwarzenegger, California's state legislature and relevant agencies have placed themselves at the forefront of a wave of renewable energy legislation enacted recently with the introduction of the California Solar Initiative (CSI).
"The two most important events in advancing the adoption of alternative energy technologies were the announcement of the CSI by the California Public Utilities Commission and the implementation of the Renewable Energy Law in China," Lipton wrote in Jefferies' Q3 2006 industry review.
The largest program of its kind, with a US$2.9 billion budget, the CSI aims to install 3,000 megawatts (MW) of rooftop solar power generating capacity on 1 million homes, businesses and public buildings by 2017 — an ambitious goal, given that the total global manufacturing capacity as of 2004 totaled an estimated 1,100 MW.
"California now offers the highest level of state incentives in the U.S. for solar energy, and with this plan is projected to become the third leading solar power generator in the world after Germany and Japan. With higher than average grid electricity prices, California, … Japan, Germany and Spain are driving the tremendous growth in demand for PV [photovoltaics]," Jefferies' Clean Tech research team noted.
As of today, solar power makes up only 0.3 percent of California's electricity supply, according to independent industry statistics. The CSI "could lead to increased demand for solar products and, more importantly, provide long-term visibility and continuing incentive for expansion of production," Jefferies' research analyst Jeffrey Bencik said.
Solar Unbound
California already requires homebuilders to offer home buyers the option of installing solar power systems, noted Travis Bradford, founder and director of the Prometheus Institute for Sustainable Development. This initiative will be replicated in other states, he added, which will be a key factor in building a sustainable solar PV industry.
"A lot more builders are doing this on a large scale now that they have the financing to pay for the panels," Bradford said. "The big manufacturers, such as GE, are selling directly to the builder. That's where the long-term market support is going to be."
The solar power industry's increasing use of silicon has caused supply shortages of solar photovoltaic and electronic grade silicon in recent years, which has led existing and new market entrants to make plans and break ground for new manufacturing facilities, as well as new production methods that use less silicon and methods that use other materials.
"Our research shows that the availability of polysilicon will double between 2006 and 2008, and triple between 2006 and 2010, which means that the amount available for solar will quadruple by 2010. Given that producers are also using it more efficiently, we can expect an effective quintupling in the amount of PV that can be produced by the end of the decade," Bradford forecasted.
Feed In, Turn On
Recently, Washington state joined 21 other states and the District of Columbia in instituting renewable energy quotas for electric utilities.
At the end of November, voters in Washington passed Initiative No. 937, known as the "Renewable Portfolio Standard," or RPS. In the southwest, Arizona looks set to increase its RES (renewable energy standards) by requiring the state's regulated utilities to cover 15 percent of their power sales from renewable sources by 2025.
Washington's RPS establishes progressively higher renewable energy targets for the utility industry, starting at 3 percent of a qualifying utility's load by 2012 and increasing to 15 percent by 2020. Seventeen of the state's 62 public and private utilities qualify, representing about 84 percent of the state's electricity-generating capacity.
The RPS's renewable energy goals must be achieved by generating electricity from eligible renewable resources, by acquiring equivalent renewable energy credits (RECs), or a combination or both. Electricity generated from Washington's hydroelectric facilities does not qualify, which has prompted strong criticism from opponents.
Feed-in tariffs — the legislated financial mechanism by which homeowners can receive credit for the surplus electricity they produce from renewable sources and feed back into a utility grid — have been a key element of Europe's rapidly growing renewable energy infrastructure.
On Nov. 22, the Ontario Power Authority introduced the Renewable Energy Standard Offer Program, which includes a feed-in tariff or rate schedule for renewable energy sources, an initiative that industry observers believe may be widely duplicated across North America. It is the first initiative of its kind on the continent since California introduced feed-in tariffs for wind power generation 22 years ago.
The Tax Man Giveth Too
Even the Internal Revenue Service is getting into the act. The IRS recently allocated $800 million worth of Clean Renewable Energy tax credit bonds to more than 600 projects across the U.S., including 434 solar power projects, 112 wind power facilities, 14 hydro power facilities and 13 open-loop biomass facilities, according to an ACORE report.
Out of the 700-plus applications received, 610 government and electrical cooperative projects were chosen to receive the tax credit bonds, which range in scale from $23,000 to $80 million.
With a tax credit bond, the federal government pays a tax credit to the bondholder in lieu of the issuer paying interest to the bondholder. The bondholder deducts the amount of the tax credit from total income tax liability.
A state-by-state breakdown shows that of the total 610 of 700 CREB applications approved, 231 went to proposed projects in California, 67 in New Mexico, 64 in Minnesota, 41 in New Jersey, 38 in Montana, 27 in Colorado, 24 in Massachusetts, 13 in New York and 12 in Ohio.
Speaking about the solar power market, Edwin Koot, founder of Netherlands-based Solar Plaza BV said, "The main market driver in the coming years will certainly be government policy and support. Without financial incentive schemes, the market demand will not grow substantially.
"The solar energy market is not yet a sustainable market," he added. "On the other hand, with more and more countries offering these incentives, further global market growth seems likely to happen. The solar PV industry is growing enormously, mostly upscaling production capacities. This will bring down cost and market prices. Within 10 years, a sustainable market without financial government support could well be within reach, making it possible for solar energy to really take off as a major energy source."