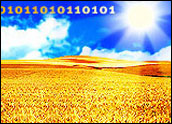 Across the U.S., both consumers and industry have called on the government to build out an infrastructure for renewable energy sources following the latest run-up in gas prices. Part 1 of this two-part series on renewable energy reviews some of the plans industry participants have outlined to support various "green" power initiatives, along with some approaches to achieve success.
With the introduction of the California Solar Initiative — due to go into effect January 1 — solar photovoltaic (PV) industry firms are scrambling to adjust to changes in application processes, rebate pricing, and energy efficiency and metering requirements.
Some are using California as a test bed for new renewable energy projects, including solar-powered suburban communities and a large job involving California public schools.
California's commercial and residential housing developers form one of the industry's long-term linchpins. They can consistently provide the demand needed for the development of a sustainable solar PV systems industry comprised of polysilicon and solar PV cell manufacturers, distributors, and large and small scale commercial and residential solar systems sales and installation companies.
Along with a growing number of state governments, the federal government is likewise increasing its support of the renewable energy industry.
More than 610 renewable energy projects will receive over US$800 million in Clean Renewable Energy Bonds recently issued by the IRS. Of that group, 401 are for solar power facilities and a state-high total of 231 are for proposed projects in California.
California Public Schools Go Solar
Large-scale solar commercial and residential PV installations have become increasingly common, noted investment bank Jefferies & Co.'s Clean Tech research team in its Q3 2006 market report.
"Building-integrated photovoltaics (BIPV) for the commercial and industrial sectors continues to expand rapidly, with large projects announced by ProLogis and Walgreens," the report states. "Additionally, local, state and federal government agencies and military institutions are also pursuing BIPV solutions to control rapidly increasing energy costs."
3rd Rock Systems has partnered withUnited Solar Ovonic to install grid-connected solar PV systems in public schools and to participate in the schools' educational renewable energy programs.
3rd Rock Systems has major solar PV systems projects in the works at 18 California public schools, giving the company "the unique opportunity to link our monitoring systems and provide powerful educational tools for our school clients," Elliot Jaramillo, 3rd Rock Systems' vice president of sales, told TechNewsWorld.
"To date, we have successfully developed and commissioned nearly 1.5 megawatts (MW) of traditional crystalline PV projects for clients including the Ross Valley School District, Alpine Union School District, New Haven Unified School District and Poway Unified School District," Jaramillo continued.
All of these public school projects are connected directly to the local power grid under net metering agreements with the local utility company — through which the schools receive credit for the amount of electricity the solar systems generate.
"Bidirectional meters account for electricity used from the grid and electricity generated by the solar system. These grid-connected systems range in size from several kilowatts to multiple megawatts in size," said Jaramillo.
Public Sector Solar Projects
Though the schools are allowed to produce as much electricity as they can, utility credits are capped at 100 percent of their annual electricity needs.
"Overproduction is typically not an issue. We typically run into area and space limitations before we run into an overgeneration limit," Jaramillo noted — which also makes an accurate electrical power needs assessment critical to any solar PV installation.
It takes a range of skills, knowledge and abilities to successfully implement any large scale, on-the-grid solar PV systems project, he added.
Especially in the public sector, solar PV projects involve working with many different and diverse entities — the local utility company, authorities, architects, manufacturers of PV modules and equipment, local and state rebate programs, financing interests, and, often in the case of public schools, the DSA (Division of State Architecture), which is the permitting authority for California public schools.
Commenting on the California Solar Initiative, Jaramillo noted, "Most people don't realize that California actually introduced much more aggressive rebate legislation over four years ago. However, back then there were very few large commercial or residential solar PV installations, so the public didn't know much about it."
"Since then, solar PV has become much more understood and widely accepted as a viable solution to our ongoing energy issues. All that said, we applaud California for continuing to be a leader in the development of renewable energy solutions," Jaramillo remarked.
Solar-Powered Communities
Focusing on the planned residential community market, home builder and developerEdenbridge Homes joined with solar PV systems providerPowerLight to include the latter's Sun Tile Solar Electric System in homes being built in its Vacaville, Calif., residential community project.
Each home features a PowerLight SunTile (2.3 kilowatt) roof-integrated solar PV system, which is expected to reduce homeowners' electricity bills by up to 50 percent, as well as provide a $2,000 tax credit and a 25-year product guarantee.
"There is a significant amount of interest in deploying solar power at residential communities being built around the State of California," Power Light's Susan DeVico told TechNewsWorld.
Edenbridge Homes is not passing the cost of the solar PV systems to buyers; rather, it anticipates that the included solar PV systems will be a differentiating factor that prompts buyers to purchase a solar-powered home over comparably priced non-solar homes in the area.
"Few new home builders offer solar and no one in Vacaville had pursued the opportunity. Our research led us to PowerLight and, after several conversations with other builders, we determined that the PowerLight folks had come up with the most integrated and turnkey solution," explained Chris Gatley, Edenbridge Homes' vice president of construction.
The project's "paseo style" three- and four-bedroom model homes were completed recently and are now open to the public, while the development's initial nine homes are under construction and currently available for sale.
Home prices are expected to range from the high $400,000s to the mid-$500,000s, according to an Edenbridge Homes press announcement. "We expect the entire community of 47 homes to be completed by the end of 2007," Gatley said.
The Retrofit Market
In contrast to PowerLight,groSolar is a company focused on systems installation and geographic diversification within the residential retrofit market, which, though potentially vast in size, is much more diffuse and piecemeal in nature.
groSolar is focused more on geographic expansion, as opposed to vertical integration, building a distribution system through regional networks and being a consumer brand, David Kirkpatrick, managing director of SJF Ventures, told TechNewsWorld.
SJF is an active groSolar shareholder, according to Kilpatrick, that does much of the "financing, blocking and tackling" involved in helping build the company's business.
On October 4, SJF announced it had closed a $2.25 million venture financing for groSolar that will be used to fund its national marketing initiative and expansion plans.
In addition to investing its own money, Calvert Social Investment Fund and Allco Financial Group participated in the private equity financing.
Following through on its strategy, groSolar is "technology neutral" when it comes to choosing solar PV cells, according to Kirkpatrick, focusing instead on choosing the most reliable, proven cell technology from what's suitable and available for the residential retrofit market.
In addition, groSolar is expanding on the West Coast. In its drive to establish the first nationwide solar PV systems installer and distributorship, groSolar on Dec. 12 announced that it had acquired Energy Outfitters, a wholesale distribution of renewable energy systems.
The acquisition will double groSolar's revenue base to $25 million and increase the number of its main North American-based distribution and installation centers to five, according to company information.
"We share the same values, mission and goals. And the strategic fit is great, because groSolar has strength in the Northeast, while Energy Outfitters has strong west coast and Canadian operations. We are very glad that Energy Outfitters is joining the outstanding groSolar team," Bob Maynard, Energy Outfitters' president, said in a press release.
Keeping Down Costs
"Residential solar power is cost-effective. Go to the California Energy Commission's Web site and read their two-page flyer. It shows that a homeowner that puts solar on their house and finances it properly with their mortgage can save money," opined Travis Bradford, founder and director of the Prometheus Institute for Sustainable Development.
The residential market "is a 350 MW per year market in Japan with no subsidies. Here in the U.S., it's happening in three markets — residential, commercial and large centralized systems at corporations, on campuses, on military bases, and by utility companies."