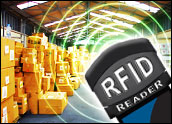 Vendors and developers have invested large sums in RFID (radio frequency identification) and heavily promoted its use, especially in the retail, credit card and transportation industries, as well as across sectors for supply chain and inventory management.
Retailers, among others — small and medium-sized businesses, particularly — haven't been keen to jump on the RFID wagon, however. High costs, system complexity and integration issues and technical hurdles have given them cause to take a wait-and-see approach.
While access control continues to be the biggest revenue driver for RFID tags, the technology has found early adopters in other places, and some rather far afield. Defense and transnational enterprise supply chain management and animal tracking are proving to be promising market segments.
RFID proponents are looking to recent performance enhancements, the adoption of open network systems standards, the benefits of using RFID along with other wireless network technology — such as wireless sensor networks — and regulatory pushes to light a fire under RFID fence straddlers, as well as make the technology a more viable option in a wider range of industries.
Tags and Chips
In-Stat forecasts that revenues in the supply chain and food industry will be the leading growth drivers for RFID through 2010, with tag revenues increasing by a factor of about 10.
"The most important issues to address in RFID today are education and ROI (return on investment). RFID is a mystery to many industries at this point. As RFID matures and makes inroads into more industries, it will become easier to implement; more people will become proficient in the use of RFID and its real-world ROI will become more pervasive, documented and better understood," Ronny Haraldsvik, vice president of marketing, business development and industrial relations at Alien Technology, told TechNewsWorld. "Implementing RFID should be as easy as placing a WiFi router in your office and applying a tag on a product."
A wide range of RFID chips — passive, active, low and high-frequency, smart and dumb — are now being fabricated for various applications and environments and sold at a range of price points. Chip costs are a big part of the overall cost to end users; hence proponents are looking forward to the day when demand gains the mass necessary to drive manufacturing costs down.
"The technology cost curves are all ahead of schedule in terms of their projections over the past few years. There are a wide range of chips in many different areas," commented Scott Burroughs, sensors and actuators solutions strategist for IBM.
"Standards compliance is very important for information sharing across trading partners, so there is a limit on the breadth of unique features for high volume, low cost tags," he told TechNewsWorld. "However, in vertical applications where location services are using active tag technology, there are widely varying chip capabilities for many different solutions."
Alien, Intermec, Philips, Texas Instruments, Red Prairie, EM Microelectronic, Impinj, and Cisco are leading RFID chip manufacturers, added In-Stat principal analyst Allen Nogee.
"Chip cost reduction is not easy, since RFID chips are so small now, but as process technology advances and gets cheaper in cost, chips will drop as well. The cost has to drop, where it is economically feasible. Nothing is going to change that," he told TechNewsWorld.
Finding New Applications
RFID is popping up in an increasingly wide range of industries, applications and devices, including conveyors and tunnels, large and durable handheld readers, kiosks, forklifts, toll gates, dock doors, carts, equipment racks among them, noted Alien Technology's Haraldsvik.
"Over the next two years, we will see RFID gain a foothold in new and exciting markets and form factors, including smaller 'smart antenna' devices and handhelds combined with tags for inspection, front office document management, entertainment, sport and game tracking, mid-size to small supply chain deployments, asset tracking, counter-fitting and prevention of illegal import/export," Haraldsvik asserted.
Haraldsvik listed a range of organizations as leading RFID adopters: Kimberly Clark, Proctor & Gamble, the U.S. Navy and Department of Defense being well-documented success stories.
There are notable successes among smaller organizations, as well, however, he noted.
"Metro, San Francisco Airport, Filetrail, Griva, Vicaima and Racetimer come to mind as excellent examples of cutting edge implementations. The key is to apply the technology strategically, and implement intelligently," he added.
Where in the World Is That Heifer?
RFID Canada's Robert Moroz sees two waves leading growth in RFID systems in the coming years. RFID systems for asset tracking, work-in-process, inventory and order management are being rolled out by the large automotive manufacturers and throughout their supply chain networks. Large manufacturers with transnational supply chains are doing similar implementations, along with international transportation and logistics companies, Moroz told TechNewsWorld.
Using RFID tech for identifying and tracking animals — such as deer and elk — as well as livestock and agricultural products are sending business RFID systems vendors' way. The Canadian Cattle Identification Agency has introduced RFID tagging requirements for all newborn cattle in the country. RFID Canada has also installed systems for tracking pigs, sheep, poultry and even fish.
Personnel ID and access control have been linchpins for RFID suppliers and this is expected to continue being the case. National electronic passport programs have catalyzed growth in this area and RFID-based luggage tracking and sorting systems are being used at a few airports, including in Las Vegas and Milan, Itlay, Moroz noted.
Other public facilities, such as the Toronto Public Library — the world's second largest — are using RFID systems for asset and document tracking by automating the check-out, return and sorting of books and other media. Toronto's largest newspaper, the Toronto Star, has put RFID tags on its newspaper pallets, enabling it to reduce costs by better tracking the quantity of newspapers delivered and their location at any given time.
RFID: Thinking Outside the Box, Part 2