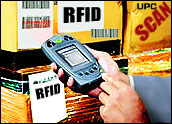 Radio frequency identification technology (RFID) vendors are now seeing demand from a wider range of end users for a broader range of applications — from ID and access control to asset tracking, traceability and supply chain management. Vendors and developers are looking forward to the day when process improvements and demand reach a point where competing suppliers will drive down costs and lever RFID growth to the next level, as was discussed in Part 1 of this series.
Part 2 looks further at the RFID market, the industry participants driving a second wave of adoption and how the use of RFID in combination with other wireless networking technologies will help make the technology's business case a compelling one for organizations large and small.
RFID's Second Wave
"Vendors need to offer simpler products, more form factors and lower cost readers, packaged as 'quick start' RFID solutions. We need more form factors for tags to meet the demands of emerging applications. The RFID services business will continue to grow to help educate and train larger enterprise teams on implementing RFID," Ronny Haraldsvik, vice president of marketing, business development and industrial relations at Alien Technology, told TechNewsWorld.
That's starting to happen. Pharmaceutical companies and hospitals are now beginning to add to the first wave of RFID adoption, at least in the case of high-value drugs such as Viagra. New federal regulations requiring pharmaceutical companies to better track pharmaceuticals throughout the supply chain to prevent tampering is spurring demand.
RFID Canada has rolled out systems for tracking pharmaceuticals, equipment and furniture in seven hospitals, including Toronto Sick Kids. These systems enable inventory management in real-time with little labor involved. For example, in operating rooms, used products are tossed into garbage bins equipped with RFID tags that read and forward the resulting usage data directly into inventory and order management systems, Robert Moroz, the company's president and CEO, told TechNewsWorld.
Moroz sees RFID roll-outs on the retail floor and greater use in travel, logistics and transportation as leading a second wave of growth in RFID systems. He also foresees the roll-out of consumer-based applications where RFID chips are integrated in cell phones and handheld devices that will enable consumers to obtain information about products and services through communications between tagged products and these devices.
Wider use in e-payments will also add to the second wave of RFID adoption, according to Moroz. Credit card companies have begun to distribute new contactless chip and multi-application cards, such as those used in Hong Kong's Octopus system for train, bus, ferry travel and e-payments, and he expects these will become more common.
"RFID is both a disruptive and enabling technology — and I emphasize the latter — similar to the introduction of the PC in the '80s and the Internet in the '90s," Moroz commented.
Eight Clusters
IBM has a broad portfolio of RFID solution clients large and small, stretching across many business sectors, according to Scott Burroughs, sensor and actuator solutions strategist for IBM.
During 2007, it has been targeting eight cluster solution areas for RFID: Consumer-driven supply chain; defense supply chain; work-in-process manufacturing; mobile asset management; location awareness and safety; pharmaceutical track and trace; data center resource management; and fleet optimization.
"We don't see unique attributes of the SMB sector in terms of RFID usage. Both large and small companies are using RFID for many different types of applications. … The key is not what size they are, but whether they are innovators and early adopters. Companies seeking competitive advantage are looking into RFID-enabled solutions to address a diverse set of business challenges," Burroughs told TechNewsWorld.
"There is no substitute for hands-on learning. The key is learning RFID works, where it can help improve processes and where those processes can transform the way a business is run. Innovation plays at each of these levels," he added.
Integrating With System Environments
The development of the ISO (International Organization of Standardization) 14443(b) near-field/proximity networking standard will make it cheaper and much easier to implement and run RFID systems, and likewise make it much easier to integrate them within system environments and use them in conjunction with other technologies and the Internet.
For instance, RFID can be used in combination with wireless sensor networks (WSN) and actuators to monitor, store and relay information having to do with a wide variety of physical conditions along with asset identification and location in real-time via the Internet, explained Roland Acra, president and CEO of Arch Rock.
"WSN is very much pulled by increasing needs for awareness and continuous visibility of spaces, assets or processes. Personnel safety, remote patient care, energy spending, environmental impact, conditions of factory machinery, conditions of buildings and structures, conditions of perishable or fragile items in transport and custody are but a few examples of growth drivers of WSN," Acra told TechNewsWorld.
RFID's key growth drivers are the technology's ability to locate assets as they come and go, as well as trace back through the custody chain of an asset, he said.
"Increasing concern for integrity of items, for human health, for proof of non-tampering [or detection of tampering], for environmental impact of human activity are all contributing to the success of WSN and RFID," said Acra.
New Competition
Alternatives to RFID are emerging in the likes of the RuBee, IEEE P1902.1, standard, which specifies the physical and link layers for low power, high-end smart tags.
Similar to Zigbee, RuBee is a lower-cost version of RFID based on an on-demand, peer-to-peer protocol that offers a number of performance advantages, explained John K. Stevens of Visible Assets, who chairs the IEEE P1902.1 Working Group.
One of RuBee's attractions is its ability to include more computing ability in tags, as well as the ability to store data and route and relay it in multiple hops across wireless mesh networks — an attribute it shares with WSN.
"We have an IP (Internet protocol) address, not a fixed ID, so we actually work very similarly to a TCP/IP (transmission control protocol/Internet protocol) network. The data is in the tag, not necessarily in the database — you keep it in both," Stevens said.
In addition to lower cost and using on-demand versus polled communications, RuBee offers enhanced security, longer range (up to 100 feet) and it can be used more effectively in a wider variety of environments, Stevens added. Visible Assets' RuBee tags "can actually turn metal into an antenna, to friend from foe. It is not affected by liquids and works well around noise."
Since coming out of testing about a year ago, Visible Assets has installed RuBee tags and systems in hospitals, in most U.S. Department of Energy sites and in other high security areas.
"We're also doing quite a bit in livestock — dairy cows — lots of work with state of Colorado," he said. "We're about to do the entire state of New York — captive deer and elk to track wasting disease and avoid transfer to completely domesticated livestock. It's a fairly big health problem. We'll probably then move on to Maine, Vermont and Pennsylvania. There are 250,000 deer and elk on U.S. farm and game ranches."