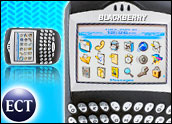 The maker of the popular BlackBerry mobile e-mail device, Research In Motion (RIM), plans to let Windows Mobile-based devices run virtual BlackBerry applications. RIM will offer the new software solution later this year for select devices that run on Windows Mobile 6.
Once installed, the software will give users a virtual BlackBerry application experience, including support for BlackBerry e-mail, phone, calendar, address book, tasks, memos, browser, instant messaging, and other applications that have been (or could be) developed for the BlackBerry platform, RIM says.
Devices running the BlackBerry application suite will be able to connect to BlackBerry services via BlackBerry Enterprise Server as well as BlackBerry Internet Service.
"Extending BlackBerry applications to a broader range of devices is an important element of RIM's strategy to provide an open platform that supports industry standards and addresses the various needs of our customers and partners," said Mike Lazaridis, president and Co-CEO at Research In Motion.
"This new software will provide a range of important benefits, including easier support of Windows Mobile-based devices within BlackBerry Enterprise Server environments, a consistent user interface for BlackBerry applications across various devices, and the ability to run third-party applications developed for the BlackBerry platform," he said.
Launches Like an App
The new BlackBerry application suite will appear as an icon on the screen in the same manner as other third-party applications on a Windows Mobile 6 device. To activate the BlackBerry feature set, a user clicks on the icon, which loads the user interface of existing BlackBerry smartphones. The Windows Mobile 6 device applications are unchanged, and the user can switch between them and the BlackBerry application suite.
Despite the highly-publicized BlackBerry outage at RIM last week, the RIM BlackBerry is a widely successful platform across enterprises.
"RIM device sales are going gangbusters, and the company is building up a really strong foundation for insuring that it has substantial built-in device upgrade cycles — Blackberry users are a loyal bunch — and that means built-in recurring revenue and the base for this continues to grow substantially," Tony Rizzo, an analyst for the 451 Group, told TechNewsWorld. "Heck, 1.02 million new subscribers in its last fiscal quarter is huge."
More Choices
Even though RIM has been attempting to broaden its appeal outside of the enterprise — for example, with the BlackBerry Pearl smartphone, a smaller unit available in multiple colors — there are several reasons RIM is offering Windows Mobile 6 support.
As Windows Mobile 6 gains traction in the enterprise, IT managers, particularly those who already support BlackBerry devices, are finding themselves in the position to also support Windows Mobile 6.
Smartphones, for example, have a tendency to work themselves into organizations through various business units, acquisitions or simply via powerful managers who want them for a particular application or service.
"RIM needs to offer Windows Mobile 6 support in order to ensure that an enterprise can build an application on the BlackBerry development platform and not worry about how to support Windows Mobile devices," Rizzo explained. "It's a move they could not ignore."
In addition, "the move counters anything Motorola Good Technology can deliver here. Moto's Q is a Win mobile phone, and new Moto enterprise devices will also be Win mobile phones," Rizzo added. "Now RIM can say, 'OK, if you want a Q we can still support it with our development environment.'"
A Linux Future?
Few IT managers want to develop multiple applications for multiple devices because doing so is time-consuming, expensive, and difficult to support. RIM's new support for Windows Mobile 6 offers IT managers increased support for new devices without the need to develop new applications or service solutions.
So, what's next? Which other mobile device operating systems make sense for RIM to support?
"I absolutely doubt that RIM will be offering Symbian support anytime soon, if ever," Rizzo said. "But RIM itself is in need of moving off of its proprietary and closed OS, and down the road the company may very well turn to mobile Linux for its OS needs — so mobile Linux support isn't too far away."