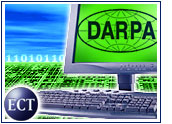 Established in 1958, the Defense Advanced Projects Research Agency — most commonly known as DARPA — has played a pivotal role in support of innovative research, hosting some of the best as well as the strangest research projects, and garnering a reputation as a hugely influential center of intellectual excellence.
But the organization has come under increasingly critical scrutiny in those areas where its spirit of scientific adventure has bumped into the hard realities of domestic politics. The following very different opinions, aired recently, are emblematic of the current mixed attitude toward DARPA:
"DARPA support of artificial intelligence and computer science is a remarkable story of the nurturing of a new scientific field."
"Some of these proposals would just pick regular Americans up by the ankles and shake them to see if anything funny falls out."
"DARPA is good at mixing up communities of disciplines."
"It sounds like maybe they got too imaginative."

The DARPA think-tank has been much in the news lately, not just for its plan — terminated with extreme prejudice by Congress — for a futures market that would have simulated trade in predictions about terrorist activities. DARPA has come under attack for other IT projects as well, especially for the Total Information Awareness (TIA) program, which alarmed many privacy advocates.
Risky Business
DARPA, the famed creator of DARPAnet, the Internet's precursor, was directly responsible for innovations leading to the M-16 rifle, Stealth aircraft, the Global Positioning System and a host of other transforming technologies.
However, in the midst of this parade of achievement, several ill-conceived or suspiciously motivated episodes occurred. There was the controversial TIA project, widely seen as an attack on privacy. There was also an incident involving a mysterious funding cut to a development company; the cuts allegedly resulted from a software designer expressing some reservations about Pentagon policies. And there is a proposed vehicle surveillance scheme — called "Combat Zones that See" — which has civil libertarians worried about the technology being used in the United States to the detriment of personal privacy.
Then there was the ill-fated announcement about the organization's proposed terrorism futures market, called FutureMAP. In this market, traders bullish on a biological attack in the United States, for example, or bearish on the chances of a North Korean missile strike, would have had the opportunity to bet on the likelihood of such events on an Internet site established by DARPA.
The idea was that investment trends would provide indications about the likelihood of the events occurring. FutureMAP proved to be far too controversial an idea when it was announced last month, and the project was quickly canned.
Reputation Compromised
These controversies — and many others — have prompted some to see the agency's pristine reputation as compromised. However, DARPA does little, if any, research on its own. The organization mainly serves as a catalyst and funding body, awarding development budgets to companies and universities for projects of military significance — however far-fetched.
The agency has a complex relationship with the private sector and academia: part benefactor, part customer, part collaborator. It rotates its technical experts between projects every three to five years to maintain freshness, and it ensures the transfer of military technology for commercial development.
Its own management structure is quite flat, and its philosophy, according to an official strategy statement, is to be "entrepreneurial, flexible and bold." It guards this principle jealously.
According to an agency spokesperson, who requested not to be named, "DARPA's most important value to the nation and the Department of Defense is its ability to think outside of the box, to take risks and be innovative."
To do this, the spokesperson said, DARPA must avoid putting in place "a risk-averse bureaucracy." Empowering the DARPA program managers to produce innovative ideas and programs is, according to the DARPA spokesperson, "essential to DARPA's continuing success."
Business as Usual?
The agency's list of funding recipients includes IBM, Hewlett-Packard, Sun Microsystems and many others. Will the consequences — if any — of DARPA's recent exposure to negative attention affect these relationships? Will savvy commercial organizations such as these grow shy of projects that might suddenly be axed, with or without public relations debacles?
That's unlikely, according to Steven Aftergood, senior research analyst at the Federation of American Scientists in Washington, D.C. "They would have to be extremely shy to turn down money," he told TechNewsWorld.
"I haven't seen that happen, and I wouldn't expect to see it happen just because there have been these tempests over two or three small programs," he said. "The bulk of DARPA's work remains unaffected, and the money continues to flow."
Budgets ultimately come from Congress, and it is there that any other damage to DARPA's credibility might play itself out. Aftergood said there is a common understanding that the effectiveness of the U.S. military depends to a large degree on advanced technology and on the regular infusion of new technology.
"So nobody's going to punish DARPA for these excesses, if that's what they are," he pointed out. DARPA's image, he noted, matters mostly in connection with particular programs. "That's why we saw the FutureMAP program canceled in record time; I can't think of another case where the distance from disclosure to cancellation was so short."
Greater Control
Some legislators are calling for greater control. The highest-profile politician currently calling for restraints on DARPA is Senator Ron Wyden (D-Oregon), who has proposed laws to limit the TIA program and is outspoken in his critiques of DARPA's information-gathering plans.
"In my mind," he has said, "such a broadly purposed program, snaking into so many areas of Americans' lives, cried out for Congressional oversight."
"There is value to oversight," acknowledged the DARPA spokesperson, noting that DARPA does have oversight by the Secretary of Defense and Congress. "DARPA also makes significant effort to explain its research to the Military Services and the Combatant Commands," she said. "And programs are examined continuously by many organizations and persons during the course of their creation and execution."
Nonetheless, controversial projects have been approved and money has been spent. Were these signs of defective process or mere public relations failures? Will anything change in DARPA's approach? The DARPA spokesperson said DARPA does need to think more carefully through its innovative ideas and explain them not only to the technical community, but also to Congress and the public.
"The Agency plans to do that in the future," she said.