As Uber reels from the fallout of a sexual harassment scandal that led to this week's ouster of Travis Kalanick and several of his top executives, the company faces twin dilemmas: how to clean up its corporate work environment and restock its executive ranks; and how to maintain credibility with its customer base and core team of street level drivers.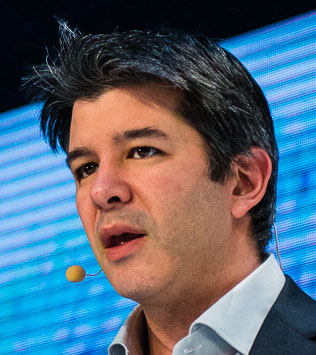 Uber controls more than 80 percent of the domestic ride-sharing market, by many estimates, and it competes strongly in major cities around the world. However, rival firms like Lyft, Juno and others have taken advantage of Uber's recent turmoil and are nipping at its heels. Their goal is to take its drivers, woo its customers, and step out of the way while Uber's corporate image disintegrates.
While the search for a new executive team continues, Uber must focus on three things, according to Roger Lanctot, director of automotive connected mobility at Strategy Analytics. It must 1) continue to attract customers; 2) continue to recruit quality drivers; and 3) develop a positive relationship with local regulators — a battle Uber has had to fight every time it has entered a new market.
"The battle for passengers and drivers — that's a hearts-and-minds kind of thing," Lanctot told TechNewsWorld. "People are just feeling icky about using Uber. They're feeling just enough that they're changing patterns of using Uber to using another local alternative."
Rebuilding the Brand
Lyft and other rivals have been winning the battle to attract talent, said Lanctot, because the perception among ride-sharing drivers is that Uber fosters a hypercompetitive culture that makes drivers feel like they are on their own without much support, while Lyft, on the other hand, "gives a sh*t about quality and service."
For example, Lyft last month unveiled new incentives to make it easier for drivers to control their work life and make more money. Scheduled pickups — which Lyft claims it's the first in the industry to offer — give drivers up to seven days warning about a customer appointment. Lyft also unveiled Power Zones in 17 cities, which allow drivers to get paid more for driving in particular areas during certain hours. Further, Lyft now offers a new app just for drivers.
While Uber was in the throes of its executive shakeup, Lyft earlier this week quietly doubled the default tip options for passengers on rides costing US$25 or more. Tip options now default to $2 to $10 on the more expensive rides from the old $1 to $5, and passengers also can opt for custom tips.
Lyft recently entered a partnership with autonomous vehicle firm nuTonomy, with plans to pilot its technology in Boston. The firm, founded by CEO Karl Iagnemma and Emilio Frazzoli, has been testing its autonomous vehicle technology in Singapore since the summer of 2016.
Uber's harassment scandal has not impacted the core product of the company, argued Steven Polzin, director of mobility policy research at the University of South Florida's Center for Urban Transportation Research.
However, it has seriously damaged the company's brand and attractiveness to investors and potential employees, he said.
"My perception is that the shenanigans regarding governance of Uber have most impacted their business reputation with investors, and their credibility as a future IPO or place of employment for talent," Polzin told TechNewsWorld.
It's likely Uber will face a more difficult time with government regulators in the future, he said, given the company's damaged reputation for employee relations, corporate culture and leadership.
"I do think the cumulative pressure on Uber will have an impact, as regulators are less likely to be intimidated and/or bullied going forward," Polzin said.
Saving Drivers
While the focus in recent days largely has been on Uber's corporate culture, there is another area where the company needs to tighten things up significantly, and that's with its still critically important base of ride-sharing drivers. Along with its astronomical growth, Uber has faced numerous battles with drivers. Many have complained over workplace rules and compensation issues, and they have sought union protection in key cities, including New York and Seattle.
Uber on Tuesday sent an email announcing a series of compensation and work rule changes geared toward improving its relationship with its core group of drivers, who are critical to the company's current business model.
The company unveiled plans to allow drivers to receive tips, with the new policy initially changing in Seattle, Houston and Minneapolis. Additional cities will be added over the next several weeks, and the system will expand nationwide by the end of next month.
Riders will have the option of tipping the driver when asked to rate their experience using the mobile app, and will be given up to 30 days to add the tip to their charges.
The launch of in-app tipping followed an April ruling by New York's Taxi and Limousine Commission to require the option after the Independent Drivers Guild, which represents 50,000 ride hail drivers, launched a public campaign to change Uber's policy.
Uber also announced that it would pay drivers a cancellation fee if customers canceled trips after more than two minutes — down from five minutes. Also, after two minutes of waiting for customer pickups, drivers will earn a per-minute rate
Uber announced the addition of injury protection insurance through Aon, which covers driver injuries and lost revenue. It also introduced additional perks toward its Quest driver incentive program, which gives drivers bonuses for reaching a certain number of trips in a given time period. The new incentives enable drivers to cash out their earnings instantly and allow all trips to count toward Quest.
Despite those actions, Uber has still failed to address core driver issues on the ground, said Leonard Smith, director of organizing at the Teamsters Local 117 in Seattle.
"Everything that we've seen so far points to direct employees at Uber," he told TechNewsWorld. "We haven't really heard about drivers issues."
Uber exercises direct control over how much drivers make, yet claims they are independent contractors, Smith said.
After factoring in the costs of operation and the amount of money drivers have to pay back to Uber, some drivers are only bringing home $3 an hour, he maintained, noting that "the majority of people we work with are struggling to put gas in the car."
Restoring Faith
In terms of Uber's upper ranks, the damage to executive recruiting and corporate branding likely require Uber to look for talent outside the company, said Karl Brauer, executive publisher for Autotrader and Kelley Blue Book.
"It reflect how much people had lost faith in Travis," he told TechNewsWorld.
Bringing in a strong female candidate, Brauer suggested, would go a long way toward sending a message that Uber's upper ranks understand they have a problem that needs to be addressed.