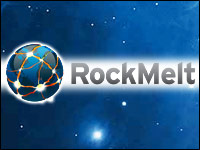 Given the dominance of the major players in the browser market, any press release announcing a new one might as well be a suicide note. That hasn't discouraged developers from introducing new browsers. Some of those browsers have even been able to spark some initial buzz — although the kind of buzz volume surrounding RockMelt hasn't been heard in browser circles in some time.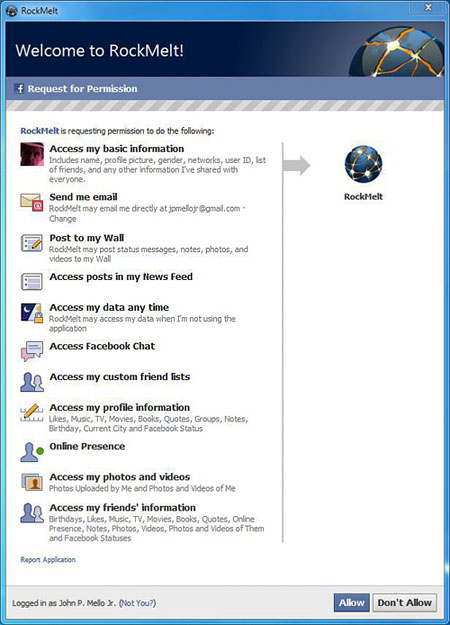 Connecting RockMelt to Facebook
What makes RockMelt different from other browsers is its melding of two white-hot technology trends — social networking and apps that work with the Internet but off the World Wide Web.
RockMelt, which is currently in beta and only runs in Windows, looks very much like Google's Chrome browser, on which it's based. Closer examination, though, will reveal two sidebars — one on each end of the browser window.
The left bar displays thumbnails of your Facebook friends who are online. There's also an "all friends" button there. With it, you can view a complete list of your friends, search through it and create a list of your favorite friends.
It also allows you to update your status on your social networks. You can tell your Facebook friends "what's on your mind" or send a tweet to your Twitter followers.
Chrome With Some Twists
From the right bar, you can access your Facebook news feeds, tweets from folks you're following on Twitter and add feeds from websites of interest to you.
Feeds can be added to the bar with a couple of clicks. You go to the site where the feed originates. Click the add button. Then click Current Site to add the site to your feed list. You can also add feeds manually.
In addition, you can turn on a live alert feature in the browser. It will flash messages on the Windows taskbar when something is posted to your Facebook wall or your news feeds, added to your tweet stream or created in a feed that you're following.
Another interesting addition that RockMelt makes to the Chrome interface is the addition of a share button. It allows you to immediately share a Web page address with your social networks, either as a Facebook wall posting or message to individual friends, or as a tweet.
RockMelt also adds a useful twist to searching from the browser bar: When you enter a search term, the search results appear in a popup window. You can review the results in the window or view them on a page with a click. Since the stimulus for a search is often a current Web page, the popup listing allows you to look at the results of a search without losing sight of the page that sparked the search in the first place.

Page showing thumbs of previously opened pages
Future of Web Browsing
One problem with switching to a new browser is all the stuff you've added to the old browser has to be added to the new one. RockMelt took the wrinkles out of that process by automatically importing items, such as bookmarks and the bookmark toolbar, from my default browser, Firefox. As much as I like that feature, I disliked the program ransacking data on my default browser without first asking my permission to do so.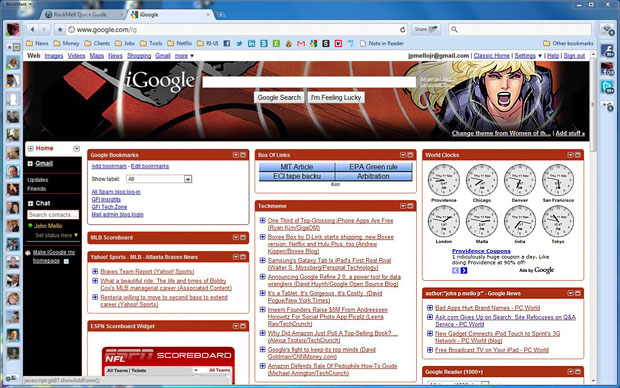 Browser with Google custom home page displayed
To keep RockMelt's tool area clean, most of its tools and menus are stored in a popup menu that can be accessed by a single button located at the left corner of its interface. From that menu, you can do things like create new tables and windows; cut, copy and paste text; hide or show the social networking and feed "edge" bars; and manage bookmarks.
You can also launch an "incognito" window from the menu. When you browse the Web in an incognito window, pages viewed in it won't appear in your browser history and traces of your travels — cookies, for example — will disappear after you quit the window.
Beta or not, RockMelt shows a lot of promise as a viable competitor to the big kids on the browser block. Packaging social media functions with browsing is a great idea. Better yet, the idea doesn't appear to have affected the program's performance. Anyone interested in the future of Web browsing will want to take a peek at RockMelt.