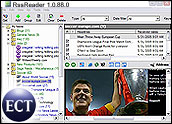 Really Simple Syndication, or RSS, is a convenient way to funnel news to your desktop — if you have an "always on" connection.
With RSS, not only can you receive up-to-the-minute feeds from heavyweight news sources, but you can plug into the blogosphere without blog-hopping on the Net.
Whatever you're interested in, chances are you'll find RSS feeds for it.
From Jobs to Jabba the Hut
Every day, RSS feeds keep me posted on breaking tech news and new product introductions. Freelance opportunities are delivered to my desktop through Craigslist feeds. And I can satisfy my interests in European soccer from a handful of RSS enabled Web sites and in science fiction from the SciFi Wire.
If you want to plug into the RSS universe, you're going to need a news aggregator. Aggregators allow you to subscribe to feeds.
Sites that support RSS usually have a small orange icon with an "RSS" or "XML" label. When you click on that label, you're whisked to a page of what looks like gobbledygook. You don't have to worry about what's on the page. All you want to do is copy its URL, or web address. That's what's used to subscribe to the feed.
Automatic Subscriptions
With some aggregators, you don't even have to worry about the little orange icons. The software will scan a page open in a Web browser, determine if it has links to RSS pages and automatically set your subscriptions to the site for you.
Once you subscribe to a feed, you can configure the aggregator to periodically pick up your news from your subscriptions.
Your aggregator can reside in a number of locations.
Web-Based Aggregators
If you work with several computers at different places, you may want to use a Web-based aggregator. It will allow you to catch up on your news from anywhere you can connect to the Internet.
Free Web-based aggregators can be found at bloglines.com, rojo.com and waggr.com.
The designer of Waggr adopted a Googlesque approach. It's interface is simple and practical. It has options for managing feeds, adding fees and importing OPML files.
If you flit from aggregator to aggregator as I do, you'll find OPML very handy. It allows you to create a file containing all your feeds. That file can be imported into any aggregator that accepts OPML, and it will avert the big hassle of subscribing to all your feeds from scratch when moving to a new.
Clippings and Tags
Bloglines and Rojo support OPML, too.
With Bloglines, you have the added attraction of being able to set up your own blog at the site and creating a library of "clippings" from your feeds.
Rojo has the most visual appeal of the three sites. It has a nice "tag" feature that allows you to attach keywords to items so they can be quickly accessed in the future. It also has an "explore" option that lets you browse what's available in Feedland.
If you're not a roamer, but your web browser is always open, you may want your aggregator embedded in your browser. The latest editions of Opera include an RSS reader. Sage is a very good aggregator for Firefox. And for Internet Explorer, there's Blogbot.
Treats for News Hounds
Another approach to aggregators is to incorporate them into an e-mail program like Microsoft Outlook. Blogbot comes in a version for that e-mail application, as do NewsGator and intraVnews.
Finally, there are standalone aggregators. An advantage to a standalone program is you can shut it off to gain some additional performance from your computer without shutting down a key application like an e-mail program or Web browser.
There are commercial aggregators on the market, but I've found two free programs that will satisfy most news hounds needs: Active Web Reader and RssReader.
Whatever kind of spoon you chose to feed yourself news, you'll find plenty of tasty treats in the realm of simple syndication.
---
John Mello
is a freelance business and technology writer who can be reached at
[email protected]
.
---

Read More Reviews…
---