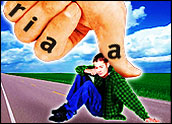 The Recording Industry Association of America (RIAA) has launched a new legal assault on digital radio in Washington, D.C. The "Perform Act of 2006" effectively hamstrings the ongoing growth and development of nascent digital satellite and Internet radio businesses, according to industry watchdogs, in the name of protecting musicians' and recording companies' property rights and leveling the playing field for traditional radio broadcasters.
Reflecting what critics call egregious favoritism and governmental heavy-handedness, the bill contains an item that could threaten the viability of the streaming MP3 format that has spurred the explosive growth of digitally delivered music, both legal and illegal. The wording of this section, say industry legal experts, would require that all digital audio be streamed using Digital Rights Management (DRM) formats — the requirements of which are currently met only by Microsoft technology.
The legislation has generated a cascade of fervent reaction and comment from across the digital music industry. Players from all sides have been making pilgrimages to the halls of Congress to make their opinions regarding the new legislation and its underlying issues heard — for the record.
Leveling the Playing Field or Protecting Vested Interests?
Sens. Diane Feinstein, D-Calif., Lindsey Graham, R-S.C., and Bill Frist, R-Tenn., along with co-sponsor Sen. Joseph Biden, D-Del., initially introduced the Perform Act (for "Platform Equality and Remedies for Rights Holders in Music Act of 2006") in the Senate on April 26. It was then introduced in the House on May 11 by Rep. Howard Berman, D-Calif., a Judiciary Committee Member; and Rep. Mary Bono, R-Calif., an Energy and Commerce Committee Member.
With impetus from the RIAA and its constituents, including a number of music artists who gave testimony before the Senate, the bipartisan bill seeks to reform the appropriate section of copyright law to assure satellite services play by the same rules as Internet music services — both in terms of rate setting and content protection standards.
The introduction of the Perform Act followed closely on the heels of an additional provision concerning over-the-air digital radio to the "Communications, Consumer's Choice and Broadband Deployment Act of 2006," proposed by Sens. Ted Stevens, R-Alaska, and Daniel Inouye, D-Hawaii, earlier this month.
"There is no mistaking the steady drumbeat from Congress on the issue of platform parity," said Mitch Bainwol, chairman and CEO of the RIAA.
"The RIAA and others in the music community have made it clear that satellite radio services should be required to obtain a license in the marketplace to offer the capability to cherry-pick individual songs and then permanently store them in a digital library," he pointed out.
"Legislation — such as the Feinstein-Graham-Frist bill — is needed to ensure that satellite services play by the same set of rules everyone else does and not profit from becoming a download/subscription model without acquiring the appropriate license and compensating artists and songwriters," urged Bainwol.
Protecting Copyrights or Stifling Competition?
It's hard to find a digital music industry executive or Internet radio broadcasting service provider who would agree with the above statement of the bill's intent, however.
If the Perform Act were to pass in its current form, said the Electronic Frontier Foundation's Activism Coordinator Daniel O'Brien, "the winners, at least briefly, would be the record industry, which would temporarily be able to freeze in law their current ideal market position — able to dictate terms to both the broadcasters and the technologists."
The implications of the bill and the precedent it could set are just as ominous, if not moreso, according to O'Brien.
"For everyone else, we'll get government-mandated technology decisions in radio and on the Web. We'll get cheap, open source innovation locked out of media devices," he predicted. "We'll see consumers hamstrung in their ability to do what they can do with lawfully acquired content in their own homes. It's not just about slowing the pace of improving media and technology in the consumer market — it would turn it back."
In addition, O'Brien added, the bill proposes restrictions that would have banned new services such as TiVo, had they been applied to digital video.
"In the end, the RIAA and its members would lose as much as anyone else. Tying the hands of satellite radio and Internet audio isn't going to expand the market for musicians or their management," he said.
A Death Knell for MP3?
A section of the bill aimed at ensuring copyright and payment rights protection to musicians and recording companies by establishing what is now a proprietary DRM format as a standard may also deal a staggering, if not a knockout, blow to the MP3 format.
Used around the world by webcasters large and small, from individual hobbyists to industry giants such as Apple's iTunes and iPod services, MP3 has grown from the grassroots up to emerge as a de facto digital music standard.
If passed in its present form, the bill would also set what many consider an intrusive and unhealthy legislative precedent by establishing a preferential technological standard by government fiat, as opposed to allowing a standard to emerge through regulated market competition.
"It's my understanding that the only one [DRM format] out there that does what the language of the bill requires would be Windows Media DRM. So, yes, this provision could be considered a mandate of a Microsoft technology," said Robert Schwartz of the Home Recording Rights Coalition.
Asked whether this might be a death knell for the widespread, large-scale use of streaming MP3 as a format, Schwartz said, "It would be indeed."