Getting a head start on the PMA '09 photography conference, which officially kicks off in Las Vegas Tuesday, Samsung has announced a new so-called hybrid digital camera. The new camera, the NX Series, is designed to provide the photo quality of large pro and prosumer DSLR (digital single lens reflex) cameras in the body of a small point-and-shoot.
It seems simple enough, but there's more to it than just attaching a big lens on a small camera body.
Like conventional DSLRs, NX Series cameras use an APS-C sized image sensor, which provides a large surface area for gathering light. That, in turn, helps produce higher-quality images than sensors from smaller digital cameras.
However, unlike a DSLR, the NX Series does not feature a mirror box that sits between the lens and sensor and reflects the true image to the viewfinder. Instead, it employs what Samsung calls an "ultra-precise" Electronic Viewfinder (EVF), though the company doesn't provide many details. The use of an EVF lets Samsung reduce the size and weight of the new camera system by decreasing the distance between the lens and image sensor by approximately 60 percent compared to traditional DSLRs.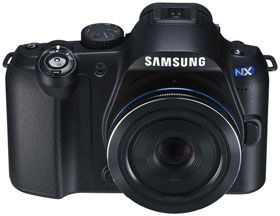 So, users will be looking at an electronic image through the viewfinder when they snap shots — or they can forgo holding the camera up close against their eyes and use the camera's larger LCD screen on the back to frame the shot.
"The concept of blending DSLR capabilities with the form factor of the point-and-shoot is really an intriguing idea. The typical DSLR customer base tends to be the serious amateurs and serious professionals, but I think quite a few people like the ease of use form factor of fully digital cameras, and Samsung may hit a home run with this," Charles King, principal analyst for Pund-IT, told TechNewsWorld.
Despite the technical tradeoffs that come with reducing DSLRs, "Samsung could be creating a new market opportunity for serious amateurs who want better quality but don't want to abandon the ease of use found in smaller automatic digital cameras," King added.
DSLR vs. Point-and-Shoots
"People like the idea of digital SLRs but they typically find that, after spending what is a considerable amount of money, the cameras sit on the shelf because they are simply too large and heavy to lug where they need to go," Rob Enderle, principal analyst for the Enderle Group, told TechNewsWorld.
"Even if they do take them, the weight gets in the way of enjoying the event, and they are left with a choice — either capture the event or enjoy it themselves. They would rather not have that choice and, over time, will often migrate back to smaller, more portable cameras," he added.
Samsung says it has recently intensified its focus on the digital imaging market by creating a separate company, Samsung Digital Imaging Company, that's dedicated exclusively to digital imaging.
Hybrids on the Rise?
Samsung estimates that the hybrid digital camera market will be more than 20 percent of the global digital still camera market by 2012. Three years off, that could be a reasonable figure if DSLR quality can indeed be successfully crammed into smaller form factors. Panasonic has released a similar hybrid with its Lumix DMC-G1, which also uses an EVF, but it's not much smaller than a standard entry-level DSLR, and it costs around US$650.
"DSLRs are premium cameras, and the current economic conditions are not favorable to premium lines," Enderle said, noting that consumer economic conditions may delay uptake of premium products.
The first model of NX Series will be available in the second half of 2009.