It's a phone, it's a tablet, it's the Galaxy Note 8.0, which Samsung unveiled this week at the Mobile World Congress in Barcelona. This device seems to hit the sweet spot between the 5.5-inch Galaxy Note II phone-tablet hybrid and the Galaxy Note 10.1 tablet.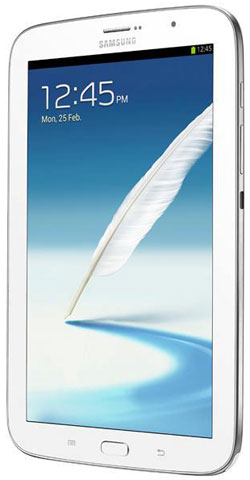 Samsung Galaxy Note 8.0
In terms of size, it's a step up from many of the 7-inch tablets on the market, including Samsung's own Galaxy Tab 7. It's also slightly larger than Apple's iPad Mini, which measures 7.9 inches.
The Galaxy Note 8.0 utilizes the S-Pen stylus, which was first introduced with the Samsung Galaxy Note II, and it also offers phone functionality.
Galaxy of Features
Samsung's Galaxy Note 8.0 runs on Android 4.1.2 Jelly Jean and features the Samsung TouchWiz user interface. The wide-screen TFT LCD display measures 8 inches diagonally and features 1280×800 resolution, which happens to be the same as the Note II.
It's powered by a 1.6 Hz quad-core processor with 2 GB of RAM and is available with either 16 GB or 32 GB of internal storage; both versions support microSD cards. The Galaxy Note 8.0 features two cameras — a forward-facing 5 megapixel camera that can also record 1080p HD video, and a user-facing 1.3 megapixel camera that can be used for video chat.
This tablet supports numerous wireless network options including GPS, WiFi, Bluetooth, NFC and GLONASS. What is particularly interesting is that there will be an LTE version that will allow the Galaxy Note 8.0 to be used as a dedicated smartphone.
Whether people will embrace an 8-inch device as phone — especially a primary handset — remains to be seen.
"We see people using Facetime and Skype and that sort of thing, but not as a classic telecom connector device," said Rhoda Alexander, senior manager for monitors and tablets at IHS iSuppli. "We don't predict that people will be utilizing this as a primary phone. The users are going to need another phone."
Phone-Tablet Hybrid
However, this device could be more popular with video chats, something that has long been promised for the home and has only taken off in recent years — not through the phone but through PCs and tablets. Instead of video chatting on a wall-sized TV that the Jetsons or a James Bond villain might utilize, people are calling friends and family with tablets.
There will likely still be a learning curve, as people may not be comfortable with an 8-inch phone.
"This blurring of the lines has been confusing for many users," said telecommunications analyst Jeff Kagan. "Is it a tablet or is it a smartphone, or what is it exactly? And we are just in the beginning of this part of the wireless revolution."
However, tablets that offer phone functionality could catch on.
"Because of the advancement of technology, we can turn anything into anything," Kagan told TechNewsWorld. "That means we can turn tablets into phones. That also means quite a few more ideas which we will have to sort through in coming years."
Super-Sized Tablet
Another thing that distinguishes the Samsung Galaxy Note 8.0 is that it is a step up from Samsung's own Galaxy Tab 7-inch tablet. Is this a way to get one-up on Apple's iPad mini?
"We're seeing a lot of experimentation in tablets, especially in the sizes and form factor," Alexander told TechNewsWorld. "This in especially notable in the wide-format category, which Apple doesn't support. There we have been seeing the traditional 7-inch and 10-inch devices, but we're also seeing companies look to fill the void with 9 inches and increasingly in a variety of 8-inch devices."
The Samsung Galaxy Note 8.0 also is notable for its inclusion of the stylus, which hasn't caught on in America, but is something that has been popular in Europe and Asia.
"The stylus is really important in the global market," said Alexander. "Asia is a huge part of the global market, and the stylus matters."