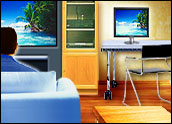 Every hour of TV viewing increases your chances of an early death, according to a new study by Baker IDI Heart and Diabetes Institute in Melbourne, Australia. Every one-hour program you sit through raises your odds for dying from heart attack or stroke by 18 percent, from cancer by 9 percent, and from other health problems by 11 percent, the researchers found.
Although excessive TV viewing has been previously linked to health issues, this study is the first to tie the popular past-time to actual death rates.
Since there is now direct evidence that TV kills, should the flat-screen be regulated or eliminated? Should Killer TV be on the FBI's Most Wanted List?
Sit-Ins and Death Squats
Umm, no, say the researchers. "The important message that we want to emphasize is that television per se is not the problem, it is what people do while watching television or sitting in front of a computer screen that makes the activity deadly — prolonged sitting," lead author David Dunstan told TechNewsWorld. Dunstan is head of physical activity and VicHealth Research Fellow in Epidemiology at Baker IDI.
"The default position for watching television is sitting, and we now have evidence that too much sitting is bad for health, whether it is sitting on the couch in front of a television or sitting for long hours at the office desk," he explained.
So why pin death to TV viewing? Why not simply say, hey, if you sit still too long you'll get stuck that way — for eternity?
"Our previous research had indicated that TV viewing time is a reasonable indicator of a person's overall sedentary behavior pattern, particularly in women," explained Dunstan.
The Devil in the Study Details
In earlier, cross-sectional research studies, the Baker IDI research team found prolonged TV viewing time to be strongly associated with risk factors for cardiovascular disease: abnormal glucose metabolism, high serum triglycerides, and the metabolic syndrome.
These associations were independent of leisure time exercise, indicators of socio- economic status and other potential confounding variables.
"We then had the opportunity to carry out a mortality follow-up (over 6.6 years) on our original 11,000 study participants, to look closely at what might be the contribution of TV viewing time to the risk of premature mortality from all causes and also from cardiovascular disease causes," said Dunstan.
He referenced another piece of research by his team, recently published in Diabetes Care, a journal for physicians and healthcare professionals published by the American Diabetes Association. That study describes the cross-sectional relationships between overall sitting time, television viewing time, and various risk factors for cardiovascular disease and diabetes.
The group has issued preliminary findings on the correlation between death and computer use as well.
Too Much Sitting vs. Too Little Exercise
The researchers differentiate between not getting enough exercise and sitting down too much. What the heck does that mean?
Dunstan says the easiest way to explain this is to use an example:
Sally is a person who sleeps eight hours each night, meaning that the remaining 16 hours of the day are typically filled with domestic and work duties. She exercises every morning before work with a 30-minute brisk walk. Therefore she is an "exerciser." However, when she returns from her walk, she sits for 15 minutes to eat breakfast, followed by a car trip to work that takes 45 minutes.
At work, she spends the next 3 1/2 hours of the morning sitting at the office desk while working on the computer. At lunchtime, she sits in the lunchroom to consume her lunch during the 30-minute lunch break. This is followed by another four hours sitting at the office desk while working on the computer.
At the end of the work day, she travels in the car for another 45 minutes before sitting down at the dining table to consume the evening meal. The day concludes with watching her favorite television shows with the family for the next four hours while seated on the sofa.
Overall, in percentage terms, for Sally, up to 97 percent of waking hours may be spent in sitting activities. Yet, by undertaking 30 minutes of brisk walking first thing in the morning, according to current public health guidelines, she is physically active.
The team elaborated on this conundrum in a recent review article in US Endocrinology.
In a nutshell, human bodies don't wear out so much as they rust away.
"When you lead a sedentary lifestyle, whether it be from watching TV, or sitting at computers, your body is not challenged the way it was meant to be and this leads to premature death caused from Disuse Syndrome," Suzanne Andrews, president of HealthWiseExercise.com and host of "Functional Fitness" on PBS TV, told TechNewsWorld.
Stand Up, Sit Down, Fight, Flight, Fight
So, would standing up while watching TV be a healthier stance?
"In our study, when we asked people how much television they watched, this had to be the primary activity," explains Dunstan. "This means that we specifically asked them not to include the time when the television was on but they were doing household chores."
"Therefore, our study is not able to speculate on your question about watching TV standing up," he said. "However, the important message here is that if you are standing up, you obviously are not sedentary. Hence, our tip — stand-up, move more, more often."
It is a life-saving message loudly promoted by other groups as well.
"All the new study has done is remind us that we must move if we want to live," Robert Kesten, executive director of Center for Screen-Time Awareness, told TechNewsWorld.
"We must engage our bodies and minds if we want to be healthy and we need to be in control of the machines, not let the machines control us," he added.