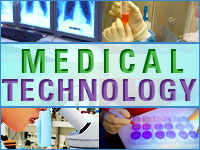 Despite long-standing concerns about the health effects of cellphones, a new study suggests that radiation from the devices may actually have a beneficial effect when it comes to Alzheimer's disease.
Specifically, long-term exposure to the electromagnetic waves associated with cellphone use may actually protect against — and even reverse — Alzheimer's, according to a study led by University of South Florida researchers at the Florida Alzheimer's Disease Research Center (ADRC) and published Wednesday in the Journal of Alzheimer's Disease.
"It surprised us to find that cellphone exposure, begun in early adulthood, protects the memory of mice otherwise destined to develop Alzheimer's symptoms," said lead author Gary Arendash, a research professor at the Florida ADRC. "It was even more astonishing that the electromagnetic waves generated by cellphones actually reversed memory impairment in old Alzheimer's mice."
Beta Amyloid
The study involved 96 mice, most of which were genetically altered to develop brain deposits of the harmful protein beta amyloid along with memory problems mimicking Alzheimer's disease as they aged.
The sticky brain plaques formed by the abnormal accumulation of beta amyloid are a hallmark of Alzheimer's and are the focus of most treatments for the disease.
Some mice were "non-demented" — that is, they were given no genetic predisposition for Alzheimer's — so researchers could test the effects of electromagnetic waves on normal memory as well.
Brain Deposits Erased
Both the Alzheimer's and normal mice were exposed to the electromagnetic field generated by standard cellphone use for two one-hour periods each day for seven to nine months.
To accomplish that exposure, the mice's cages were arranged around a centrally located antenna generating the cellphone signal. Each animal was housed the same distance from the antenna and exposed to electromagnetic waves typically emitted by a cellphone pressed against a human head.
What the researchers found, ultimately, was that exposing old Alzheimer's mice to electromagnetic waves generated by cellphones actually erased brain deposits of the harmful beta amyloid. In addition, among the younger Alzheimer's mice, it prevented the protein's build-up.
Memory Impairment Disappeared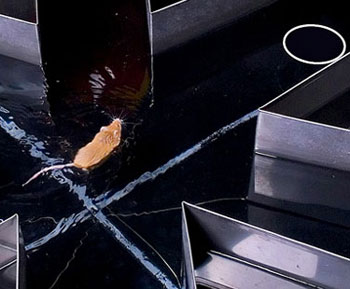 The memory and thinking skills of both Alzheimer's mice and normal mice were tested in a specially designed water maze with visual cues, before and after long-term exposure to cellphone EMF. (Photo by Eric Younghans, USF Health Communications)
Not only that, but in the genetically programmed mice who began cellphone exposure as young adults — before signs of memory impairment were apparent — cognitive ability was protected. When older Alzheimer's mice who had already exhibited memory problems were exposed to the electromagnetic waves, meanwhile, their memory impairment disappeared.
Months of cellphone exposure even boosted the memories of normal mice to above-normal levels, the study found.
Based on the results in mice, the researchers concluded that electromagnetic field exposure could be an effective, noninvasive and drug-free way to prevent and treat Alzheimer's disease in humans. They are currently evaluating whether different sets of electromagnetic frequencies and strengths will produce more rapid and even greater cognitive benefits than those observed in their current study.
Cellphone Danger?
"This is an interesting though very preliminary study," said William Thies, chief medical and scientific officer for the Alzheimer's Association.
"The significance of the findings is unclear," Thies added. "What is clear is that much stronger evidence exists that says using your cellphone in your car is dangerous and potentially harmful than for anything in this article."
Consumers should certainly not try to "self medicate" by spending more time on their cellphones, Thies asserted.
"That said, this idea deserves further study," he said. "The unexpected effects observed are potentially interesting and justify further study."
'Users Are Not Very Concerned'
Recent studies have both supported and refuted the notion that cellphones are dangerous for human health.
How concerned consumers are, of course, is another question.
"I can infer that users are not very concerned, because the number of cellphone users keeps on growing," In-Stat analyst Allen Nogee told TechNewsWorld. "I have heard of some users switching to Bluetooth, whereby they can keep the phone further away from their head, but I'm not sure if one's better than the other."
'People Will Chuckle About It'
Indeed, "health concerns about cellular have always been a low-level concern," agreed Chris Ambrosio, executive director of wireless within the wireless practice at Strategy Analytics.
"People are concerned about it," he told TechNewsWorld, "but not enough to stop talking on their phones."
The issue, in fact, is in some ways comparable to global warming, Ambrosio suggested: "It's one of those issues where you'll get support on both sides, but you can never definitively prove it either way."
The current study, then, "is an interesting headline," he concluded, but "people will probably chuckle about it and go on their way."