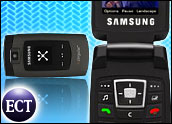 With Apple grabbing all the headlines of late with its iPhone, it's difficult for other spiffy mobiles to garner any mindshare in the market. That's a shame because a recent offering by Samsung deserves some attention.
The new cell phone — Samsung's answer to Motorola's Razr — is called the Sync (a.k.a. SGH-a707) and it contains quite an array of features wrapped in a sleek package.
The black Sync follows the form factor popularized by the Razr. With dimensions of 3.7 by 1.9 by 0.68 inches, it's taller and wider than the conventional clamshell mobile, but it's much thinner.
Cingular, which also has first dibs on Apple's iPhone, is the exclusive distributor of the Sync and is selling the unit for US$49.95 with a two-year service agreement and $100 mail-in rebate.
3G Ready
The phone is designed to work with the carrier's 3G network, which uses the High-Speed Downlink Packet Access (HSDPA) protocol and can achieve data transfer speeds of from 400 to 700 kilobits per second with bursts of more than 1 megabit per second.
The network is fast enough to accommodate music and video downloads, as well as real-time Internet applications such as instant messaging (IM).
The unit comes equipped with mobile IM software for Yahoo, MSN and AOL. It also supports SMS, MMS and mobile e-mail messaging.
After watching video and listening to music over the network connection, I'd say it's Internet speed is comparable to a wired broadband connection.
Extra Keys
With its wide, long body, the Sync can accommodate a good-sized keypad. I found its large, flat keys easier to poke than those found in more diminutive flip phones.
For the most part, the mobile's keypad is laid out conventionally, with the exception of two additional keys — a music key and a swap key.
When you press the music key, you get a menu of music-related items. For example, you can access the phone's music player, shop for music online, listen to streaming music from the Internet, watch music videos and run music applications such as XM Radio Mobile, MySpace Mobile and MobiRadio.
You can listen to music from the Sync through its built-in speakerphone, a wired headset or Bluetooth stereo headphones. The headsets are optional equipment. While the unit's built-in sound system isn't bad as a speakerphone, using it for any length of time leaves a lot to be desired.
The swap key allows you to access an application without leaving the program you are currently using. For instance, while in Cingular music, you can access one of the unit's instant messaging programs or access your personal Cingular mobile home page on the Web.
iPhone Alternative?
As with many clamshell units, the Sync has two LCD displays– one on the cover and one on the inside.
The 96 by 96 pixel full-color cover display measures about an inch diagonally and shows the date and time. Below the screen are touch-sensitive keys that let you control the device's media player without having to open the unit.
The interior display measures 2.2 inches diagonally and has Quarter VGA resolution of 320 by 240 pixels. When viewing movies or pictures on the screen, the display mode can be changed from portrait to landscape quickly with the press of a button.
A two megapixel camera with video capture is built into the phone, as well as support for 3-D gaming. The camera can hold up to one hour of video.
Extra storage for the mobile device can be gained through its built-in slot for a microSD card.
The unit is a quad-band GSM (Global System for Mobile Communications) phone — 850 MHz, 900 MHz, 1800 MHz and 1900 MHz — meaning that it will work around the globe.
With the Sync, Samsung has introduced a formidable competitor to Motorola's Razr and, once the hoopla subsides, it may have created a conventional alternative to the Apple iPhone.
---
John Mello
is a freelance business and technology writer who can be reached at
[email protected]
.
---