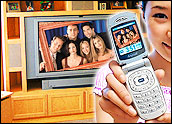 The real estate crisis in this country is felt in the workplace. It's impacting our leisure time. It's affecting the way we look at everything.
Actually … make that how we look at everything that's in the video we watch on our smartphone screens.
The 2.5 to 3.5-inch screen real estate on our iPhones, Storms, Dares and G1s is training a generation of users to consume their video on a very small scale. The picture quality may be impressive, and it can be the height of coolness and convenience to watch "The Dark Knight" on a device that wouldn't look out of place on Batman's utility belt. Or to view content-rich enterprise applications while in a cab between business meetings without opening your notebook computer. But it's still a postage-stamp view of media on gadgets that promise us a big-picture view of our world, thanks to e-mail and Web browsing.
Stunted Growth
And don't look for the screens to get much bigger just to accommodate all the video-rich content that's now heading their way. "The largest screen size today is probably three-and-a-half inches," Frank Moizio of Texas Instruments told TechNewsWorld. "That's about what we think is the limit of what you can do. There are some four-inch screen sizes, but that's close to compromising the ability to put it (the phone) in your pocket."
It's a quandary for a technophile nation that's come to take for granted the modern miracles provided by hardware and software. Forget the Me Decade; we're living in the Wii Decade: Can we please have bigger video on smaller phones, so we don't have to lug around our oh-so-heavy laptops? And can you make it snappy? We're late for a PowerPoint presentation.
Projecting Your Needs Onto Your Phone
"People don't want bigger phones, according to surveys," In-Stat Analyst Alan Nogee told TechNewsWorld. "I think they've accepted them in the smartphone area for a while, but they'll balk if [they're] too big and heavy. The iPhone is very popular because it does a lot in a small space."
Even the iPhone now has an accessory that helps give the media loaded on its internal drive some elbow room: the Optoma Pico, an example of a new generation of miniature projectors that use Texas Instruments' digital light processing (DLP) chip technology. The Pico (US$400) is only slightly bigger than a second-generation iPod, which makes it still palm-sized. In fact, it could easily fit in an inside suit jacket pocket. It comes with cables that connect it to current-generation iPods and iPhones, along with digital cameras and camcorders.
Dell has its own version of a DLP-powered projector, the M109S ($450); it's square where the Optoma is rectangular but still fits in the palm of your hand. It's designed to mate with notebooks or DVD players.
Moizio, who works in the DLP division of TI, says the biggest benefactors of pocket projectors are business road warriors. "Envision yourself being at a dinner, or in a meeting on a customer call, and you have a slide or some information you'd like to share. You can instantly show that from a cell phone or mobile device. We think those are the first enterprise applications that we see that will benefit from this technology."
Business users or consumers wanting to show off their newest Beyonce' music video shouldn't expect the HD experience. Early reviews leave the audio experience wanting; you'll need headphones. The Optoma runs on batteries but gets about 90 minutes worth of power ("The Dark Knight" viewed over two nights, anyone?) while the Dell projector is AC-only.
Also, the Pico and iPhone's mating can be a strained relationship. "iPhones and later versions of the iPod require a special cable with authorization chip on it," William Cogsshall, president of Pacific Media Associates, told TechNewsWorld. "Apple doesn't let you ride free on their signal. The plug-in on the iPhone only lets you play canned videos. It's not a true what-you-see-is-what-you-get device."
But as long as you are within 10 feet of the surface you're projecting onto, and can control the ambient light, analysts say you've got a handy way of extending the media experience from your smartphone. "These devices are not all that bright in terms of raw lumens, which is the horsepower of projectors," Cogshall said. "It's not as much as 2,000 lumens, which is your basic conference room projector. To date they don't add much in the way of pixels. You won't see any more information but you'll see it bigger and you can share it."
"You can get rid of your laptop," Nogee said. "Now you can do PowerPoint and Excel and Word on your phone. But you have to carry the projector with you."
Or do you? Forthcoming cell phones will have projector capabilities via TI's DLP pico technologies integrated into the devices, Moizio said. "We're very close to that. You'll start to see the first products in 2009, and they're not from obscure manufacturers — they'll be from top companies. And you'll see some really compelling products start to hit the market." TI executives teased technology observers earlier this year with the same hints during appearances at international conferences.
Rolling Out Other Possibilities
Another possible way to expand the screen experience from a smartphone: rollout screens, like the one unveiled earlier this year in Polymer Vision's Readius integrated mobile phone/e-reader device. But analysts focus on the Readius' black-and-white limitations on its five-inch rollup screen and say the technology for making this a viable option is still a few years away.
"Almost everything now is LCDs (liquid crystal displays)," Cogsshall said. "Theyr'e getting some OLEDs (organic light emitting diodes) into tiny displays and they're really bright, but I'm not sure those can be made flexible so you can roll them.
"It's not so easy to make a flexible display. Rolling and unrolling will typically wear it out. There's a 14-year development cycle for new display technology and we're not too far along for flexible displays. This won't challenge pico projectors for a while yet."
The ubiquity of screens also have some companies looking to help smartphones make the connection to larger displays, such as plasma TVs in conference centers or hotel rooms. "I know some manufacturers are working on connecting external monitors or maybe giving video to another nearby screen," Nogee said. "Screens are everywhere; maybe a standalone screen that you maybe keep on your desk and wirelessly beam your phone to it."
Salt Lake City-based Celio's Redfly ($299) is an 8-inch screen with keyboard that wirelessly talks to your smartphone's operating system, microprocessor and storage, "which essentially turns your cell phone into a netbook," Cogsshall said. "They provide the finger and eye part. The cell phone has the logic, storage, communications and power. Celio figures that netbook people probably carry cell phones anyway."