The Solus Project is alive and well and continues to offer a fresh approach to uncomplicating the computer desktop. That says a lot, given the sometimes sordid developmental path of the almost 5-year-old Linux distribution.
Solus 4.0 Linux "Fortitude" was updated earlier this month. The Solus team provided improvements to each of the distribution's supported desktop environments — Budgie, GNOME and MATE.
The Budgie desktop, a custom desktop environment developed and maintained in-house, has a new minor release to version 10.5.1 of the Budgie 10.5 series. Budgie received several enhancements, gaining improved menu handling, new font options, and the ability to work with multiple modern versions of the GNOME software stack.
The under-the-hood components and the distro's software package all received refreshing and updating. Solus follows a rolling release model that makes good on the notion of "Install Today. Updates Forever." So once you install the current ISO, all new upgrades will be pushed to your computer without having to reinstall and reconfigure a thing.
An independent Linux distribution built from scratch, Solus is available for 64-bit computers only. The Budgie desktop can be set to emulate the look and feel of the GNOME 2 desktop and is tightly integrated with the GNOME stack.
---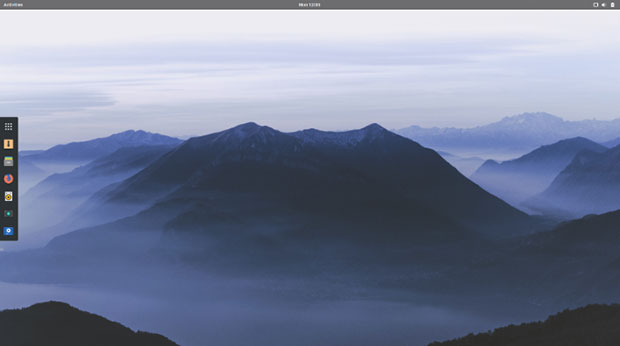 Solus' integration fine-tunes the latest GNOME desktop design.
---
However, Budgie offers much more than a GNOME 2 retread. It provides a very modern desktop environment.
History Revisited
Ikey Doherty was the lead developer of what originally was named "Evolve OS" and later morphed into Solus OS in 2015. The morphing included a new desktop called "Budgie." Early in the development of the original distro, the developers had to rebrand the distro's name due to a conflict with another Linux distribution. Now the Linux project is called simply "Solus."
Over the summer of 2018, due to unclear circumstances, Doherty relinquished his leadership and affiliation with the Solus OS community. Under Doherty, the distro was based in the UK. The current development team now is based in Ireland.
When I first reviewed the fledgling Solus Project in its early years, the Budgie desktop was something simple and new. It was clearly suffering from its immaturity, but it was based on a concept that promised to get better with age.
I noted back then that Solus OS had impressive potential for being uncomplicated and different. The latest update shows that the developers have lived up to my initial assessment.
Sordid Background
Doherty's Evolve OS was built from scratch. Solus OS was based on Debian. The current Solus Linux operating system is an independent distro built around the Linux kernel.
Doherty developed the Budgie desktop from the ground up. The current developers have continued with Budgie, turning it into a more capable desktop that remains simple to use.
I have made "desktop hopping" a sort of professional hobby. When reviewing Linux OSes each week, I look for new distros and old ones with a developing desktop option rather than replaying the mainstream default offerings.
Back in its early days, Solus OS lacked the glitz and glitter found in distributions with more seasoned desktop environments. Animation was nonexistent, but simplicity was consistent in every aspect of the Solus experience. It still is in version 4.0 with the current developer community.
Better Budgie Performance
Budgie has grown from its inception. Designed with the modern user in mind, Budgie still focuses on simplicity and elegance. It has a plain and clean style. It is easy to use. The Budgie Desktop is a feature-rich, modern desktop designed to keep out the way of the user.
---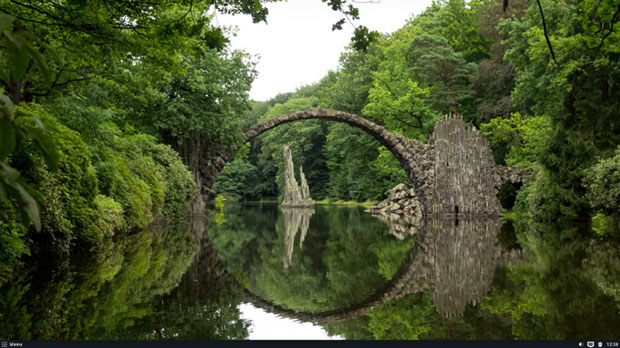 The homegrown Budgie desktop offers a flexible look and feel with many modern treatments.
---
The heart of adjusting the desktop in Solus is Raven — an applet, notification and customization center.
Raven is key to controlling the user experience through easy customizations. Within the Raven applet, you can change widget, icon and cursor themes. You can show desktop icons with a single click and tweak a variety of system fonts.
Budgie uses GNOME technologies such as GTK+. Its popularity is spreading to an increasing number of Linux distributions, such as Arch Linux, Manjaro and Ubuntu. Other Linux OSes that offer the Budgie desktop are Debian, GeckyLinux, SparkyLinux and Void Linux.
A huge advantage for the Budgie desktop is that it is not a fork of another project. It is designed for easy integration into other distros and was an open source project in its own right until May 2018. That is when the Budgie Desktop project merged back into the Solus Project umbrella.
Budgie View Close
I am impressed with the clean and functional performance of all three Solus desktop choices. Either one can provide you with a reliable, out-of-the-box computing platform. Installation is hassle-free. Under the hood, the Solus inner workings give you a stable and satisfying operating system.
The Budgie desktop is my focus here since it is one of the newer desktops offered with MATE and GNOME — but unless you have an undeniable favorite, any one of them will be a great choice for your daily computing needs. Themes and features are integrated consistently. The look and feel is a comfort in all three choices.
The homegrown Budgie desktop got much more than spit and polish since I last visited this distro. That was just before the leadership change within the Solus community. Budgie is much more functional now. This latest Budgie upgrade to version 10.5.1 is very inviting.
I have not been thrilled with Budgie as a desktop choice in other distros, but I found that what annoyed me in Budgie integration elsewhere was not an issue in the Solus release.
The Budgie desktop is easy to customize. Everything you need to give it your own personal touch is laid out in a smart-looking control panel. You can manage Budgie settings right from Raven and download more options from the Solus Software Center.
For example, you can add a virtual workspace switcher applet to the bottom panel with a single click. You get "one place for everything" design to control for notifications and functionality. Raven also lets you control media playback and sound devices.
MATE and More
The Budgie desktop is an ideal choice for Linux newcomers who want simplicity. MATE offers its own style of simplicity in a more traditional desktop for advanced users and older hardware.
---
The MATE desktop provides classic GNOME functionality.
---
It comes with the Brisk Menu to provide a balance between preserving the traditional feel of MATE and the efficient modern design of Solus Linux itself. This menu brings quick access to the Software Center and system settings.
The GNOME desktop has its own degree of Solus customization that may be more inviting for those who want a finely crafted, contemporary user experience.Like the other two desktop choices, GNOME is ready to use right out of the box.
For example, it is preconfigured with a variety of extensions tweaked to enhance the Solus experience. It handles transforming the app launcher to a dock with Dash to Dock functionality to speed up animations with the Impatience feature.
Bottom Line
Regardless of how you spend your time at the keyboard, Solus can be an ideal solution for all your computing needs. It comes with a collection of specially designed tools to make using and maintaining the operating system a uniquely easy experience.
For technically minded users, Solus supports a wide variety of editors, programming languages, compilers and version-control systems. It has tools for containerization/virtualization technology, such as Docker and Vagrant. Whether you're writing drivers in C or writing backend Web services in Go, there is software that will fit your needs.
Home or office users will be pleased with the latest LibreOffice suite version 6.2.1.2. The Solus Software Center has options for accounting, Personal Information Management and more. Content Creators can animate in Synfig Studio, produce music with Musescore or Mixxx, do graphic designing with GIMP or Inkscape, and edit videos with Avidemux, Kdenlive or Shotcut.
Gamers can enjoy open source games natively configured for Solus with support for many gamepads and controllers. With little or no setup required, gamers can play Steam titles for Linux with a modern, optimized gaming runtime. There is also built-in support for the Itch.io and Lutris gaming platforms.
Want to Suggest a Review?
Is there a Linux software application or distro you'd like to suggest for review? Something you love or would like to get to know?
Pleaseemail your ideas to me, and I'll consider them for a future Linux Picks and Pans column.
And use the Reader Comments feature below to provide your input!