If you are able to read one of novelist Patrick O'Brien's rousing naval adventures on Sony's new Daily Edition electronic book reader, then you will also participate in helping Sony send its own shot across the bow at Amazon and its popular Kindle reading device.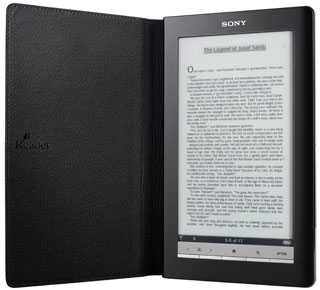 Sony Reader Daily Edition
Sony announced Tuesday that the Daily Edition reader will sell for US$399 and will be available in December, just in time for holiday shopping sprees. The real news, however, focused on the Daily Edition's wireless capabilities. Just as with the Kindle's Whispernet technology, the Sony device will allow for instant downloads of books no matter where the user is, thanks to back end infrastructure provided by AT&T.
The Daily Edition also offers touchscreen capabilities, which lets users highlight words and paragraphs, and will allow consumers to "check out" books from libraries nationwide thanks to a partnership with OverDrive. The latter feature helps shore up a previous weakness with Sony's reading devices compared to Amazon's Kindle — the sheer number of books available for download.
Look, Ma, No USB Cables
"Amazon set the standard in being able to integrate wireless," Gerry Purdy, chief analyst of mobile and wireless for Frost and Sullivan, told TechNewsWorld. "It isn't that just adding wireless makes it important, but what it enables is important. It's that the bookstore goes along with you as you're out and about. Before, you had to be connected to a PC to download stuff to your Reader, but now if somebody tells you about a book or you see a book, you can download it right then and there. It's a much better user experience."
However, the pressure is on for AT&T to deliver the same kind of seamless integration with wireless book downloads that has brought Amazon's Kindle so many critical kudos. The embedded wireless/emerging products group at AT&T now has until December to deliver on that promise, Purdy said. "AT&T has a heck of a high brand value and more quality and delivery to make that happen. You'll see a lot more deals like this. I would expect you're going to find it works like Whispernet."
Purdy sees an advantage to the AT&T connections, that being the global nature of the carrier's GSM network. U.S. buyers who do a lot of traveling might end up doing a lot of overseas downloading of books as well.
Reading at Your Fingertips
The touchscreen is another potential key differentiator for Sony's Daily Edition. "Quickly being able to highlight a word and look up a definition or synonym is a lot easier than going to a menu. There are a number of things you have to do on a Kindle to do that. Yes it works, but touch is important. If I was giving feedback to Amazon, I'd like to see touch added to their capabilities," Purdy said.
Of course, if a rumored forthcoming Apple tablet offers color and graphics support to any electronic book-reading features, that could add a whole new chapter to the e-book competition story. Color screens may be battery hogs, but they also provide better contrast ratios for reading, Purdy said. "As soon as you add color and media, then textbooks become viable. They need color and symbols. It's not easy to publish graphics, and you can't make them move on a Kindle. The days of kids with backpacks full of books may become numbered" with a color reader on the market, he added.