Sony debuted Project Morpheus, its virtual reality headset for the PlayStation 4 console, at this week's Game Developers Conference in San Francisco. The project is in active development with a view to a future commercial launch. A software development kit also is under development.
Morpheus features a head-mounted unit with a visor-like display, which operates in tandem with the PlayStation Camera. Several inertial sensors built into the unit and camera track the player's orientation and movement. With a twist of a player's head, for instance, the game world rotates to match that perspective in real-time.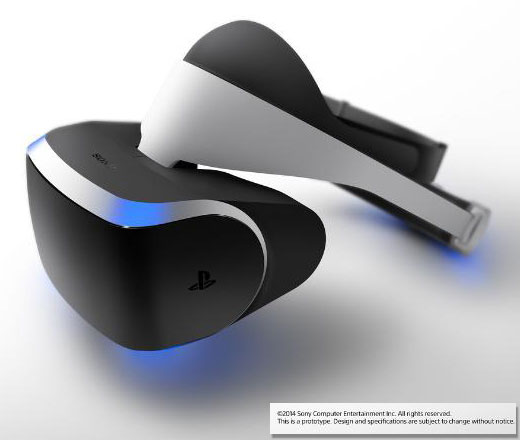 Players can use the system's optional motion controller, the PlayStation Move, as an in-game object, such as a sword. When Move is in use, the Morpheus system will track the movements of a player's hands and replicate them in the game. A player's arm swings and thrusts translate into combat moves when battling enemies in the game, for example.
Sense of Immersion
The system will let developers create a deeper sense of immersion that allows gamers to feel like they're physically inside a game world, according to Sony.
Meanwhile, the unit uses 3D audio technology that recreates sounds heard from all around the player's character — not just at the front, back and sides, but also above and below. The directions the sounds originate from also change when gamers shift the orientation of their heads.
The prototype of the Morpheus unit includes an LCD screen measuring 5 inches with a total resolution of 1920 x 1080. It has a 90-degree field of view, includes a gyroscope and accelerometer, and has USB and HDMI connectivity. However, these specifications may change, Sony said.
"It's a cool technology but it's a prototype technology, said Lewis Ward, research director of gaming at IDC.
"I believe at the end of the day it is a niche product, but I think what it does is that it pulls together some strengths that have existed for some time within Sony," he told TechNewsWorld. "I think they think it is a cool technology and the time is right for VR to take a next step forward. I'm skeptical that it's going to be made available at a price point that many consumers are going to jump at the chance to buy one."
Dogfighting Demo
Sony is demonstrating the prototype at the ongoing GDC with games including the popular Thief and EVE Valkyrie, a dogfighting shooting game that positions players as a pilot of a spaceship in the EVE Online universe.
Other applications for Morpheus include virtual tourism and interactive media. The system will be connected to the PS4 by a cable, but Sony is looking into developing a wireless version.
'Specialist Allure'
"Over the past few years, we've seen a huge number and variety of potentially disruptive gaming hardware initiatives stroll on up to the games market," said Steve Bailey, senior games analyst at IHS.
"They usually leave little mark, because specialist devices need a specialist allure in terms of software line-up. The Rift, and now Morpheus, are [among] the better-positioned prospects, I feel — in terms of both fresh experiences and adding dimensionality to existing ones," he told TechNewsWorld.
"Oculus was able to launch itself from the Kickstarter platform, and since then has had numerous applauded appearances at various trade shows and events, and has accrued some heavyweight staffers," Bailey continued. "Morpheus, meanwhile, is proof that an incumbent like Sony is also already taking it seriously."
It's unclear at present how successful Morpheus and Oculus Rift will be when they are released commercially, but there's clear potential for virtual reality to alter the way gamers play their favorite titles.
"To be honest, the immersive allure of something like virtual reality, when done right, is so strong that the Morpheus and Oculus Rift could cause a splash simply by being home to updated versions of well-known games," IHS' Bailey suggested.
"Given the importance placed on production values in modern gaming, these devices have the capacity to bring atmospherics and other details to the fore of player attention unlike anything we've previously experienced," he maintained.
New Golden Age?
"We could see entirely new game types. We could see a new golden age for horror games. Or we could simply have high-end versions of big-name multiformat games," Bailey added.
"I think it comes down to what kind of experience it is going to deliver and what the price point is going to be," Susan Schreiner, analyst at C4 Trends, told TechNewsWorld. "This whole market with virtual reality headsets certainly has potential as we're starting to see with the attention the Oculus Rift is getting. We know that it has a lot of possibilities."
Yet the potential success or failure of Morpheus "really comes down to the software," IDC's Ward said. "You cannot just take, for example, a stereoscopic 3D game developed for PS3 or PS4 and repurpose it so that it plays easily within Morpheus. It is a ground-up development process, because you need the software to deliver 360-degree visuals and the audio has to be just right. Custom content needs to be created from scratch."