Sony officially launched its PlayStation Vita handheld gaming console in the United States on Wednesday, a week after it was made available online in a premium bundle.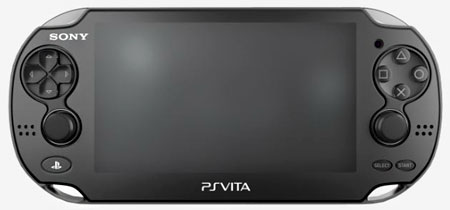 The Sony PlayStation Vita
The WiFi-only version of the console is available at US$250; the 3G/WiFi version goes for $300.
Several games have been made available, and Sony on Wednesday added apps for Netflix, Flickr and LiveTweet to the mix. The apps are available at no charge.
There have been questions about the PS Vita's future, as critics contend that it's arrived in a market that's already spiraling downward. Others, including Sony, contending that the device will remain in demand.
"We view mobile gaming on tablets and smartphones as additive to our overall business" John Koller, senior director of handheld/mobile platforms at Sony Computer Entertainment America, told TechNewsWorld. "We know from the PSP that many mobile gamers gravitate to handheld gaming devices over time … and that's why we are so bullish on the PS Vita."
What the PS Vita Is
The 3G/WiFi version of the PS Vita runs on AT&T's 3G network.
The device has a five-inch OLED multitouch screen, a rear touch pad, GPS, front and rear cameras, a six-axis motion sensor and dual analog sticks.
"The dual analog sticks are for shooters and games that need the fast twitch," said Lewis Ward, research manager of consumer markets and gaming, told TechNewsWorld.
The PS Vita also offers cross-platform play with the Sony PlayStation3. This mean a user can begin playing a game on a PS3 console, pause it and pick up on the PS Vita where it was left off. Or the gamer can play multi-player games on the Vita against others using PS3 consoles.
The Vita is compatible with more than 250 digital Sony PlayStation Portable (PSP) games.
Games available on the Vita include "Uncharted: Golden Abyss," "Asphalt: Injection," "Hot Shots Golf: World Invitational" and "FIFA Soccer."
Sony had previously announced that it will offer Skype functionality as well as access to Facebook and FourSquare on the PS Vita.
The PlayStation Vita comes with six augmented reality play cards as well as one voucher for owners to download augmented reality mini-games from the PlayStation Network.
Livin' La Vita Loca
One of the main criticisms leveled at the Vita is that it's competing with tablets and smartphones, which do far more than just play games.
But that's not much of an argument, Charles King, principal analyst at Pund-IT, told TechNewsWorld.
"It's a bit like comparing a Swiss Army Knife to a 10-inch chef's knife," King pointed out. "Just because you could perform a given job with a specific implement — say, digging a hole with a teaspoon or scrubbing a toilet with a toothbrush — doesn't mean you should."
The PS Vita "offers a better overall experience via superior controls and performance for serious gamers," King stated.
Smartphones and tablets "are primarily for the more casual gamers, with short-form titles, while Vita games are multi-hour titles," IDC's Ward said. '"I spent four hours playing [the Vita] on a flight and forgot at times I was on a hand-held device. You certainly can't get that on a smartphone or tablet."
Will the Vita Make It?
"We designed the PS Vita to supersede the mobile market over the next few years, and the tech inside will certainly allow the platform to offer incredibly compelling games that before now were only seen on consoles," Sony's Koller said.
"I'm projecting sales of 2.5 million to 3 million in North America in 2012," IDC's Ward said. "I'm not projecting it to be a runaway hit, but if it [hit those figures], that would make it a respectable launch."
While there may be some concern about the Vita's chances in the dedicated hand-held gaming device market against the Nintendo DS, "the games are different — the DS has games like 'Mario' and 'Pokemon' aimed at younger kids who don't have cellphones and tablets," Ward suggested.
The Vita "is targeting younger, wealthier urban males who like the HD console experience and would like that sort of experience on the go," Ward said. That means it has "a market differentiated enough by the unique experience" to hold its own.
The PlayStation Vita came in fourth in a poll asking consumers what their most anticipated tech product of 2012 would be, Chris Dominguez, CEO of SodaHead.com, told TechNewsWorld