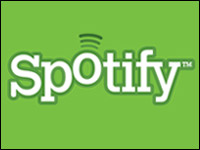 Stockholm-based Spotify is still trying to navigate a maze of licensing obstacles before it can launch a U.S. version of its much-hyped desktop streaming music application. Yet its developers showed how they've been keeping busy Wednesday with an Android smartphone app demonstration during the Google I/O conference in San Francisco.
Spotify's demo highlighted a feature that could be a very attractive proposition for U.S. mobile music lovers and could make it an iTunes competitor: the ability to store streamed music. It could turn any smartphone running it into something like an iPod. Subscribers will be able to enjoy their music cached offline without having to buy on a per-song basis and without the need for an Internet connection. There is also instant syncing between desktop and mobile versions, as well as what appears to be a lightning-fast search mode.
Other than the Wednesday video demo, specific details about potential deals with T-Mobile or HTC — current Android handset supporters — were not available at the San Francisco event.
When asked if his company is also talking to Apple about eventually joining its App Store, Spotify spokesperson Andres Sehr didn't offer much elaboration.
"We are working on a number of different mobile applications, not just Android," Sehr said.
"Each one takes separate development, so we'll release more info as we have it," he told TechNewsWorld.
Spotlight on Spotify
United Kingdom smartphone users have already been getting a taste of Spotify's highly lauded user interface and music catalog. There are over 1 million users in the UK, Sehr said, which makes it Spotify's largest market in Europe.
As for progress on U.S. licensing negotiations or potential launch dates, Sehr said he had nothing to report.
However, the service's caching/streaming ability will be key to the company's strategy going forward, he said, as it continues discussions with handset makers and carriers. "Anything we can do to make a great user experience is important for us. That includes making sure users can access music even if they're not within connection range."
The Spotify experience is like having a Slingbox or other time-shifting mechanism in a smartphone, according to 451 Group mobile/wireless research director Chris Hazelton.
"Definitely, the user or subscriber would really like to have that — and [have] the freedom to listen to their music or view content when it's good for them," Hazelton told TechNewsWorld.
Playlist customization for a cached streaming service is also a plus. "A number of music delivery services don't allow you to choose the music that's coming to you. It's almost like radio — you don't know what's coming up and you can't skip it," he said. "The ability to stream it and record what you want and filter the recordings you want to keep for specific bands would be very powerful."
The iElephant in the Room
Wireless carriers may not be pleased to see yet another media-rich streaming app straining their networks, though, which could present a problem for Spotify. While music is not as bandwidth-intensive as video, a high volume of users could create some logjams, according to Hazelton.
There's also the question of whether Apple would open the doors of its popular App Store to a company like Spotify, whose model puts it in competition with iTunes. Music streaming applications like Pandora and Last.fm already are featured as iPhone apps, but Spotify may bring something different to the digital music game.
"Apple is very protective of iTunes. You could be taking iTunes out of this model" by allowing Spotify in the App Store, Hazelton said.
Users in Finland, Sweden, Norway, France, Spain and the UK can download an ad-supported version of Spotify's desktop for free, or they can pay for a premium ad-free service. Spotify guarantees that users will hear fewer ads than those found on commercial radio.