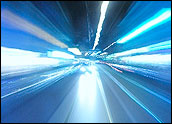 Sprint has provided a software upgrade to the HTC Mogul smartphone that will let it be the first smartphone to use Sprint's 3G EV-DO Rev. A network, which has previously been limited to laptop PC cards. EV-DO Rev. A is much faster than its widely used predecessor, EV-DO Rev. 0.
EV-DO Rev. A lets users send and receive data at broadband speeds comparable to basic DSL (digital subscriber line) — 400 kbps (kilobits per second) to 1.4 mbps (megabits per second) for downloads with upload speeds averaging 350 to 500 kbps. In contrast, the slower EV-DO Rev. 0 technology averaged 400 to 700 kbps for downloads and only 50 to 70 kbps for uploads.
The HTC Mogul is a touchscreen smartphone with a slide out QWERTY keyboard. It runs Windows Mobile 6 and was released in June 2007, and while it has WiFi capabilities, the faster EV-DO Rev. A cellular network connection will make it much easier to download or send large e-mail attachments when a user is on the go or out of range of a handy WiFi network. Unlike the popular Apple iPhone — which runs on the much slower AT&T EDGE (Enhanced Data Rates for GSM Evolution) network — the Mogul can also be used as a wireless modem with a laptop.
For Mogul users, this has been a long-awaited update — many expected to see the Mogul use EV-DO Rev. A by the last quarter of 2007. Sprint reported that its Sprint Mobile Broadband Network reaches more than 234 million people, 13,453 cities and 1,321 airports, with the vast majority now upgraded to the faster EV-DO Rev. A technology.
Faster, Faster, Faster
"EV-DO Rev. A is a legitimate upgrade, not hype," Tony Rizzo, director of mobile software analysis for The 451 Group, told TechNewsWorld. "It will definitely enhance the overall user experience simply in terms of crispness of use — as in sharp instead of dull."
While attachments will download faster, most e-mail users won't notice much of a difference, Rizzo said. He also said he expects EV-DO Rev. A to let users stream content at consistently higher rates of speed; however, he noted, "The biggest problem with streaming is the issue of maintaining consistent bandwidth — it isn't the size of the bandwidth itself that is the main issue — [but] EV-DO Rev. A should allow for more regular use of higher streaming bandwidth levels, so there will be an improvement."
As for business customers, "Business apps will get a boost as well in those cases where larger downloads are part of the overall application — otherwise it won't make all that much of a difference," Rizzo said.
GPS Too
Besides enabling increased data speeds for e-mail, Web, document management and other tasks, Sprint reported that the free software download also provides advanced GPS (global positioning system) functionality — again, a feature existing users have been waiting for.
"At launch, the Mogul supported location-based services including E-911 Phase II, 411 Driving Directions, AAA Location Services, Sprint Family Locator, Sprint Business Mobility Framework and all other Control Plane LBS features offered by Sprint," Amy Schiska-Lombard, a spokesperson for Sprint, told TechNewsWorld.
"Advanced User Plane and Autonomous GPS functionality has been added in this most recent ROM upgrade. This enhancement supports new applications such as Sprint Navigation, which provides turn-by-turn directions similar to an in-vehicle GPS system," she explained.
The Touch Is Next
After the Mogul software update, which Sprint phone will get to access EV-DO Rev. A next?
"Currently Sprint plans to upgrade the Touch by HTC to support EV-DO Rev. A speeds later this year," Schiska-Lombard said. "We have not announced a specific time frame for this upgrade."
Existing Sprint Mogul-using customers can download the ROM software patch here.