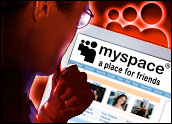 The Indiana Court of Appeals has ruled that a student's obscenity-filled MySpace post blasting a school principal is protected free speech. The student, who is identified as "A.B." in court documents, was originally placed on probation by a lower court judge in Indiana after she commented about her body piercings and school policy on a MySpace page created by another student.
"While we have little regard for A.B.'s use of vulgar epithets, we conclude that her overall message constitutes political speech," the Indiana Court of Appeals notes in its opinion on the case.
The key finding in this particular case is that A.B. was speaking out against her principal and his policies rather than causing actual harm.
A Growing Trend
"We keep seeing issues cropping up all the time — it seems like every week there's a new incident," David Hudson Jr., a research attorney for First Amendment Center, told TechNewsWorld. "There's some chance that the Supreme Court may delineate the line between what is exactly on-campus and off-campus speech, and how far the disciplinary arm of the school reaches, but right now it's a fairly muddled legal landscape as to how much principals have jurisdiction over this."
Other recent cases include that of Eric Trosch, a principal in Pennsylvania who is suing his former students for creating fake MySpace pages in his name and posting comments that allegedly defamed his character and damaged his reputation and earning potential, the Associated Press reports. Trosch says the pages made unsubstantiated claims over drugs, beer and pornography. The principal's attorney, John E. Quinn, was unable to comment at press time, but the case does appear to illustrate some key differences in student MySpace usage.
"Even if the school officials don't have jurisdiction, that doesn't prevent students from being subject to generally applicable civil or criminal laws," Hudson explained. "We've seen some students charged with actual crimes and some students being sued civilly for defamation by teachers, but there's certainly a difference between critical comments and pure outright defamation or libel. Just because someone says someone is a bad teacher or is a bad principal, that's really not actionable, but if they say a teacher is a sex offender and that's false, they could be liable for libel."
School officials at Hickory High School in Hermitage, Pennsylvania, suspended Justin Layshock in 2006 for creating one of the several MySpace profiles of Trosch. Layshock and his parents filed a federal lawsuit claiming a violation of his First Amendment rights, but it hasn't yet been decided.
Bigger Questions
Free speech is perhaps not the first issue on the minds of most students posting parody MySpace pages of their school officials, and many may not immediately recognize the longstanding ill effects of their online actions.
"I think that the Internet is really just like everything else; there's both positive and negative speech," Hudson said. "The danger for students is, if they put stuff on the Internet, there's a record of it, and they can be denied jobs," Hudson said, noting that he's heard of some college admission boards that have looked into social networking sites as they made admission decisions.
"I think as we get more press and more lawsuits, there will likely be more education on these issues," he added.