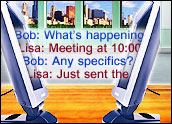 Employers long have viewed instant messaging with a wary eye. Because it started as a tool primarily for personal use, the technology was slow to make its way into the workplace. Much like mobile phone text-messaging of today, IM had many detractors, who insisted that the tool created just another way for employees to waste work time on personal conversations.
That myth is being dismantled, thanks in part to research that shows that instant messaging can indeed increase the productivity of workers.
One such study recently completed by R. Kelly Garrett, assistant professor at Ohio State University, found that workers who used instant messaging on the job reported less interruption than colleagues who did not.
This proves especially true for those in management and professional occupations, Garrett told TechNewsWorld, as those workers tend to be interrupted more often during the course of a workday.
Strategic Use
Garrett and his research team surveyed 912 people who worked at least 30 hours per week in an office and used a computer for at least five hours in a workday. The survey phone-dialing program randomly selected participants from 12 metropolitan areas.
Respondents did indeed report that they held more conversations over the computer due to their use of instant messaging. However, IM often served as a substitute for conversations over channels that would be more disruptive to the employee's work — a telephone call, for instance, or having another employee drop into one's office for a chat.
IM conversations tend to be shorter, said Garrett, and more focused on the task at hand, such as getting an answer to a particular question or scheduling a time for a more in-depth conversation.
"We found that the effect of instant messaging is actually positive," said Garrett. "People who used instant messaging reported that they felt they were being interrupted less frequently."
Age Not a Factor
It might be expected that those who use IM in the workplace tend to be the younger crowd — that is, people who have grown up using online chatting tools. Not so, said Garrett.
"Most of the respondents were in the 46-to-55 age group," he noted, but "all age groups that we talked to were using IM to some degree or another."
In addition, the study controlled for factors such as work experience, types of occupations, education level and autonomy on the job.
In fact, because most people initially learn to use IM tools at home — regardless of their age — they have developed ways to make it support their work efficiency, speculated Garrett.
It is socially acceptable to ignore or dismiss an IM, for example, he noted. For that reason, many IM users in the workplace defer conversations that would interrupt their workflow to a more suitable time later in the workday.