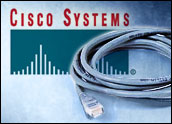 A study on enterprise routers released today by Infonetics Research shows Cisco Systems rates better than the competition when it comes to pricing, security, technology, management features, product roadmap, financial stability and service and support.
The study, "User Plans for Routers, North America 2004," is based on interviews with network managers at 184 medium and large organizations from six vertical markets — healthcare, federal government, education, retail, finance, and manufacturing — about their perceptions of leading enterprise router manufacturers and products, how they select and evaluate manufacturers, and their reasons for switching to new manufacturers.
The study data is cut by vertical market and organization size, and includes scorecards of five router manufacturers, including 3Com/Huawei, ADTRAN, Cisco, Enterasys and Nortel.
"Even though Cisco rated higher than the competition in the areas we asked about, their competitors will find it interesting that on the price issue they didn't rate much higher, and certainly not by as much as in all other areas," said Jeff Wilson, author of the study and principal analyst with Infonetics Research.
"The chinks in Cisco's armor are very small, but they are there, and mostly revolve around their ability to charge high prices because they don't have stable competition. But there are several vendors, including Juniper, that have a chance to take a run at Cisco's dominant share in this space, which will heat things up in the enterprise router market in the coming months."
Most respondents in the study see integration with existing technology and capital costs as barriers for investing in new router technology. They also agree that training costs are a negligible issue.
Concerns of using an emerging technology or product seem to be strongest where the network infrastructure is a revenue-generating tool, such as in the finance sector, and weakest where the network is purely for support, such as in education.