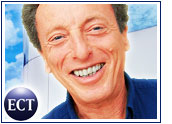 I've been looking forward to publishing my first column for ECT News Network. After doing an interview with TechNewsWorld about the intersection of technology and music, I was invited to write a regular column on music, technology and related subjects.
In my opinion, there are lots of crossovers between the worlds of technology and music — and not just where file-sharing technology intersects with the music industry. I know, for example, that when I write a song, my thought process always works in a kind of after-the-fact fashion. When I'm writing music, I don't think — I just am. Inspiration comes of it's own accord, and what I could call my ego is displaced for a while.
The clear difference between intuitive and rigid thinking typically leads me, for example, to attempt to be more intuitive and allow my stream of consciousness to take the lead. After all, I am an artist, and as such, I often climb on to a feeling, let go and create. All my finest work has come to me without my realizing what I've been doing until it has already been done.
So I certainly can understand that those who develop technology — whether software, hardware or somewhere in between — know well those two states of being. Was letting go of the mind the impetus for the great technologies of the past? Isn't it usually some unthought possibility that trips your circuits and leads you to find another reason for you to be alive?
Based on Vision
My monthly columns on TechNewsWorld will be based around the concept of cutting-edge vision. Every significant discovery made in the history of the world has been based on an ability to see, perhaps even to see beyond traditional technological paradigms and come up with something truly inventive. You can call that sort of thinking "super-vision."
Super-vision is what every human craves. Yes, we as humans operate to some extent as organized biological engines, functioning through the input of food and air. But living also requires a state beyond the low-level biology. You can call that state the "will" or the "human spirit."
The will's code is largely unwritten, so it's of course impossible to pinpoint exactly the right mental algorithms required for transformational super-vision. Being machines of sorts, we sometimes forget that we have the ability to climb onto a feeling and let go. And that's often what it takes to break through and build or create something revolutionary.
But caught up in our traditional if-then analysis structures of thinking — binary thinking — we often forget the bigger picture.
Hold on a Second
Does this mean that technology can mirror or contribute to the wonders of our inventive spirits? Is this series of human extremes — like day-night, up-down, right-left, in-out — a parallel of the binary system? Is it all a mirror of eternity in which creation and deletion are the language of growth?
Are technology developers now discovering some sort of ancient numerological language that existed before the advent of words? Is Bill Gates' charity work more than the attempt for good press, or has he discovered that the tech revolution was meant as a pathway to understand the structure of the very beginnings of the cosmos and the meaning of creative systems?
Big questions for a small column, but the answer doesn't have to come this month.
Makes You Wonder
Most of us of the 1960s generation came across Tarot cards and vaguely heard of the Kaballah, an ancient numerological language. How these sorts of early creative "technologies" affected the beginnings of what we now know as technology remains to be seen. Even the I Ching, the ancient Chinese Book of Changes, was an oracle using binary opposites. It certainly makes you wonder if the '60s generation climbed upon a feeling and let go to push forward the technological revolution and rediscover the wisdom of the ages.
It's worth bearing in mind that the fear in society now about an uncertain future could take us on the path to overthinking, to being far too controlled by ordered thought and machines that have often been depicted in speculative fiction like Animal Farm, Fahrenheit 451 and 1984.
In this column, in the coming months, I will be writing about people with vision in the area of music, the arts and the technical arts. Specifically, I'll focus on what they have created, their views of now and the future, and what motivates them to create. I hope that by writing about unique people working at the cutting edge of technology and music, we'll all be able to learn a little more about the creative process and the role technology is playing today in that process.
Be prepared for some lightheartedness, for we all know how serious technology can get.
---
Paul Korda's
new album "Not for Robots" is available online at
PaulKorda.com
. His songs have been recorded and sung by Roger Daltrey, Frankie Valli, Dave Edmunds, Allan Holdsworth, Robert Palmer, Italy's Patty Pravo and many others, with sales in excess of 20 million copies.
---