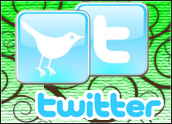 It may not have qualified as true breaking news, but the new media and digital technologies showed once again Monday how they are breaking traditional news rules, thanks to a spur-of-the-moment post on Twitter from an ABC News anchor involving President Barack Obama.
ABC "Nightline" anchor Terry Moran and some network colleagues were monitoring a CNBC feed at the time; the two networks share a fiber optic line, and CNBC's John Harwood was preparing to interview President Obama. During informal pre-interview remarks that CNBC understood to be off the record, the subject of rapper Kanye West's interruption of Taylor Swift's MTV Video Music Award acceptance speech came up. The president was heard calling the rapper "a jackass."
Soon Moran was tweeting the following:
"Pres. Obama just called Kanye West a 'jackass' for his outburst at VMAs when Taylor Swift won. Now THAT'S presidential."
A handful of other ABC employees also tweeted what they heard, but it's Moran who seemed to catch the most flak for it. ABC executives heard about it, and within an hour the tweets were taken down.
The President's statement itself hardly sounds like top news, but the incident raises some true 21st-century media questions: Can you really take back a tweet? Should a journalist have to do that? And does "off the record" have any meaning anymore for public officials in a media universe filled with smarthphones and social networks?
The New Media Rules
Moran was not commenting, but an ABC spokesperson issued a statement to Politico and other news outlets covering the Twitter dustup: apologies were issued to the White House and CNBC for violating the off-the-record status by prematurely tweeting Obama's remarks before the editorial process had been completed.
"There are 'news' tweets and then there are personal accounts for people who are reporters," said Kathy Gill, an instructor in the digital media graduate program at the University of Washington. "The first is usually a straight RSS feed, no judgment required. The second is where the line between personal and professional blurs — this person has to be mindful of what they say in the same way that they would be mindful on the air. The old adage about 'would you want your mother to read this?' or 'would you want to see this on the front page of the New York Times' plays out," Gill told TechNewsWorld.
"The fact that Terry Moran deleted the tweet speaks volumes about the lack of mindfulness. News organizations clearly need a policy for anchors and senior reporters who tweet, just like they need policies for people who blog."
Think Before You Tweet?
Linda Thomas, a Seattle-based freelance print/radio journalist who tweets as The News Chick, said that vetting posts on Facebook and Twitter may defeat the purpose of employing a unique, real-time digital communications platform for news in the first place.
"All these news organizations need to send out memos that say, 'We don't trust you' to their reporters," Thomas told TechNewsWorld. "They need to have common sense. This is Terry Moran, he's got a million-plus followers, he's significant in the Twitter world. You have to trust your people. If you don't trust them on Twitter, why would you trust them on your broadcast, which is actually attached to advertising dollars?"
Granted, the reports that go through the broadcast editorial process go through a different system, but Thomas believes having to vet every single tweet is a losing proposition in the lightning-fast world of the 24/7 media universe.
"I don't like that Terry had an editorial comment — 'that's presidential' — on the tweet, but he shouldn't have to take it back. It's the stuff that might not make it into a news story for publication or evening news, but it's that kind of interesting stuff that people want to know. I think that's a perfect use of Twitter. Obviously, ABC disagreed on that."
Off the Record in a Wired World
The White House and other public officials may have to draft their own memo: "Off the record" may have gone the way of the big-city afternoon newspaper. "There is no such thing as 'off the record' when mikes are running or cellphones are present. Obama should know that," Gill said.
The entertainment/gossip Web site TMZ.com, famous for breaking the news of Michael Jackson's death earlier this summer, has posted the audio of the "jackass" exchange. "So who leaked that?" Gill asked. "The TMZ recording illustrates that there really is no 'off the record' if there is more than one other person in the room."
Thomas has been in situations where she had a one-on-one interview lined up with a newsmaker in a public area, but other reporters were nearby listening to the conversation. "Because we're all waiting to ask our questions, what you hear is up for grabs. People have to understand is that everything is out there now, you can't take stuff back anymore, or you can't go up to the reporter and say, 'you can't put that audio out.' It's not the way the world works anymore. Then you've got TMZ getting the actual audio of it. It's just a different media world now."