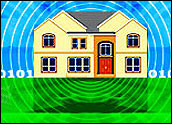 In the world of information technology, businesses turn to servers to manage the storage, flow and backup of just about every bit of important data. What about the family home? Many households around the world have broadband wireless networks, multiple PCs and everything from priceless vacation photos to bank account information stored on individual PC hard drives. Their networks are already in place with PCs in multiple rooms, but where's the central home server to connect and protect them all?
Microsoft and HP have paired up Windows Home Server and HP's MediaSmart Server to create the dominant lead in this nascent home server space, though the dynamic duo is far from the first to tackle the mass-market digital home. Tech-savvy enthusiasts have been building and deploying their own servers — often Linux-based since they're relatively cheap. However, solutions that are pre-built and ready for consumers remains the key needed to unlock the well-served home.
Consumers are confused, and what's worse, technology vendors have made their own missteps as well. So what's going on? What's here and real and useful? Is there a home server that millions of households can call their own?
A History of Home Servers
"I think part of the problem with the market for home servers is, there's been a great deal of confusion at the vendor level about defining what a home server is going to be," Charles King, principal analyst for Pund-IT, told TechNewsWorld.
"There has been a lot of visionary products. For example, Intel had Viiv, but it didn't take off, and they finally put a bullet into it a few weeks ago. And that sort of confusion of what the integrated home network world is going to look like has translated into confusion for consumers," he explained.
What Does It Do?
A home server is basically a PC-like device capable of storing files, running applications and providing access to files and applications over a local network or even over the Internet. It's also a backup device, but it's more functional than a network-connected hard drive, and far more functional than a standalone PC-connected external backup drive (like the common USB (Universal Serial Bus) drives available at any electronics store).
What about Apple TV? Is that a home server? Apple TV is more of a media extender — while it comes with a hard drive and connects to a TV and home wireless network, it's all about using media files stored on a Mac or PC and moving them to the living room HD TV for viewing. It doesn't provide a backup of the files, let alone a backup of the entire Mac or PC where the files are stored.
What about Microsoft's Windows Media Center? Is that a home server? Nope. Windows Media Center is an application — albeit a really cool application — that uses the PC on which it's installed to work as a home media hub. To get it from Microsoft, you need to have Windows XP Media Center Edition, Windows Vista Home Premium or Vista Ultimate. The application then uses a second device, called a "Windows Media Center Extender" — or even an Xbox 360 — to bring photos, videos and music to a home's television. There are other features built into Windows Media Center, and PCs can utilize integrated television tuners for watching and recording shows.
Still, while Windows Media Center and Windows Media Center Extenders can let consumers use media all around the house, it's not a home server.
More PCs
How about an extra PC that's designated as a home server, even though it may not have been mass-produced for that idea in mind?
Some tech-savvy consumers will use an old PC and set it up to function as a server on their networks, but usually this means it's just a PC with a hard drive that other PCs can access. Some Apple aficionados have used the little Mac Mini as a central storage hub for iPhoto and iTunes libraries, for example, but it's not designed to be a home server either.
PCs for Home Theater
Home Theater PCs (HTPC) as simply PCs designed to be connected to home theater systems, most notably to HD televisions. The primary benefit of an HTPC is to access and use all your home media files in the living room, on the big screen. An HTPC has an advantage over a media extender, for example, in that it'll let you run any PC application you want on your big screen, as well as browse the Web. HTPCs have been all the rage for a small number of enthusiasts, but haven't really caught on with a broad range of consumers.
"Home theater PCs are suffering a well deserved death in the market. The PC does not belong in the living room," Van Baker, vice president of research for Gartner, told TechNewsWorld. "The confusion [with home servers] lies more in the advantages of a dedicated device versus just using the PC with the biggest hard drive to back up other PCs."
When it comes to dedicated home servers, the main benefit for consumers is automated backup, Baker said. "But there are a number of applications that are coming along as well, including an integrated iTunes library and photo library on the HP server. More will come, I am sure. But that said, this market will be slow to develop. Most consumers are going to ask why they need a home server, and that education process will be a slow one. It is also hard to demo the value at retail," he added.
Retail Breakthrough
"One of the issues is as simple as the term 'server' to consumers. It tends to conjure up nightmares of technical problems and IT support from some people," Joyce Putscher, principal analyst of residential connectivity for In-Stat, told TechNewsWorld. "However, when you ask consumers if they would like to listen to their digital music that they have on their PC on a stereo system that is in another room in the house — think legacy stereo system in the living room — most broadband consumers say, 'Yes.'"
Right now, there aren't a lot of easy-to-buy options.
"Microsoft's Windows Home Server was built on top of Microsoft's Windows Server 2003," Putscher explained. "MS Windows Home Server is still in its early phases and emerging into end products, and HP was one of the first to announce that it planned to launch products with that platform."
Other manufacturers will likely enter the home server space, though as one recent Forrester report noted, adoption may be fairly slow. Forrester expects the home server to become increasingly important but only projects that 4.6 million will be in households by 2012. However, the firm also expects growth to start taking off strongly in 2011.
So where's Dell's offering, anyway? The company seems like an obvious choice for an easily purchased home server product.
"Dell is very astute at leaving markets alone until there's enough momentum to generate positive sales and then jumping in with both feet," King noted. "That may be an indication that the market is not mature."
Easy Is Good
While there aren't a lot of easy-to-buy options, the HP-MS solution has been getting generally positive reviews.
First, the price is reasonable — the HP MediaSmart Server can support up to ten PCs, and it prices out at US$599 for a 500 GB drive and $750 for a 1 TB drive (you can add additional storage via external USB drives). Plus, the HP black box is sharp looking and sports cool blue light bars.
As for the application end, Microsoft's Windows Home Server is almost ridiculously easy to set up — definitely a pleasant surprise for most consumers. All you have to do is plug it in, connect it to your home network broadband router, and then install the Windows Home Server Connector software from a CD onto each PC you want to automatically backup everyday.
---
This story was originally published on Feb. 19, 2008, and is brought to you today as part of our Best of ECT News series.
---