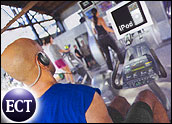 Years ago, endurance athletes spent a big chunk of their training energy mapping routes, measuring distances and figuring paces. That's because the only way to determine how long and fast they were running or cycling was to drive the distance in the car to establish mileage and then time the workout to calculate speed. Those same athletes would contort themselves to touch their neck pulse points during exercise, the other arm crooked to see a watch and track their heart rate.
That was all before the advent of devices like the digital heart monitor, pocket-sized MP3 player, and, more recently, GPS (global positioning satellite) systems to automate all those cumbersome calculations. As gadgets and the Internet make running and cycling training more accessible to novices, people are flocking to the sports, Jody Herzog, owner of Fleet Feet Sports in Northfield, Ohio, told TechNewsWorld.
'Dirt Simple'
One such system is AllSport GPS, offered by Trimble Outdoors, a division of a manufacturer of GPS systems for industrial uses. AllSport makes use of the GPS chip in many current mobile phone handsets to track a runner, cyclist, hiker or walker by mileage, route and even elevation. The mobile application runs on the phone that many exercisers likely already carry with them for safety and security purposes, Rich Rudow, managing director of Trimble Outdoors, told TechNewsWorld.
The AllSport system is built on two premises, said Rudow. "First, most consumers in the next two years will have GPS on their phone by default," he noted. "Second, we wanted to create a product that was insanely easy to use."
Elite athletes, Rudow noted, tend to use very sophisticated GPS and heart-rate monitoring systems that require significant knowledge and are very expensive. By contrast, he said, Trimble sought to make AllSport "dirt simple."
Simple is important, stressed Rudow, when seeking to reach all those new sport enthusiasts pushed out the door by "the wholesale push by many agencies today to try to get the American consumer up off the couch." While 32 percent of the users of AllSport are runners, and another 36 percent are cyclists, a substantial 26 percent are walkers, usually the activity that new exercisers find most accessible.
You Already Have It With You
The idea of making better use of devices that consumers already carry with them "fits into a bigger macro trend," Mike Goodman, director with Yankee Group's consumer research group, told TechNewsWorld.
"The 'anywhere consumers' have expectations that they can have pretty much what they want when they want it," Goodman noted. "They are unshackled by bounds of time and place."
For example, many runners already own an iPod. A collaboration between Apple and popular running shoe maker Nike led to the creation of the Nike+ system. Nike+ comprises an inch-long sensor that fits into the user's Nike running shoe that sends information to a receiver plugged into the bottom of an iPod nano.
The Nike+ application transmits information on the user's most recent workout whenever the nano is synched with the iTunes application on a personal computer. The data uploads to the NikePlus.com Web site, where users can track their training goals and see graphs and charts of their daily progress.
Newbies and Their Gadgets
Web-based individual training tracking is a big improvement over the handwritten training logs endurance athletes used to keep. However, the ability to participate in training activities with far-flung friends gives exercisers a whole new way to bring interest to their sport, said Herzog.
"Everyone's doing Internet-based training," Herzog stressed. At the Nike+ site, Herzog can set a mileage or speed goal and then challenge a running buddy across the country to see who will reach the goal first. Anything, he says, that "breaks the monotony" of endurance sport daily workouts is a boon to someone in training. This is especially important to new runners and cyclists, who need encouragement to slog through the hours and miles necessary to build confidence and comfort.
New Content
Just as in other areas, new running and cycling content is springing up on the Internet at an exponential pace. That iPod or mobile phone with MP3 player that a runner already carries along can also provide music, podcasts and even closely choreographed workouts to make the miles go past more interestingly and quickly.
The popular PodRunner podcast by disc jockey Steve Boyett bases each week's episode on a particular number of beats per minute. Users can download the music mix that best fits their training goals for how many footsteps they wish to take to reach a certain pace. The Fitness Rocks podcast by Monte Ladner, M.D., examines a particular health topic each week by reviewing the medical studies available on the subject.
This ability to provide very specialized content to a particular niche is the "epitome of a free market," said Goodman. Popular podcasts, he noted, may begin to use newly available tools to insert ads into their shows to create a revenue stream. Whereas a broadcast radio station likely never would create a show just for marathon runners, a number of podcasters already have.
"This creates a democratization of distribution," asserted Goodman, "and it opens up a whole realm of content possibilities."