New technologies are transforming how artists make and market their work. Google Earth sometimes makes mistakes: Freeways look like they are upside down or waterfalls flow sideways. For engineers or programmers, these might seem like things to fix. For artists like Clement Valla, however, they're artistic opportunities.
Valla's project Postcards from Google Earth, for instance, looks at these mistakes and asks not how to get rid of them, but what they mean.
"Artists help us to see things that you would think of as bugs in the technology world," said John Maeda, president of the Rhode Island School of Design, where Valla teaches. "As an engineer, your goal is to stamp it out. Artists take bugs and ask what they might mean and have us try to figure out what they might mean, as well."
By using and responding to technologies in the 21st century environment, artists are, in essence, doing what they've always done.
"Art is always evolving with the times," Maeda told TechNewsWorld. "Painting was a technology — a chemical technology. Now there are new technologies, and artists always adapt to technology and find way to express themselves."
3D Art
One of the new technologies affecting the world of art is 3D printing. Though it's perhaps best known as a technique in the world of product design and manufacturing, 3D printing is also giving artists new ways of expressing themselves and creating art.
Fab Labs are one way that 3D technology and other new manufacturing techniques are finding their way into the hands of local artists and artisans. The Fab Lab movement, inspired by the work of Neil Gershenfeld, a professor at MIT, advocates exploring the intersections of art and technology. There are now Fab Labs around the world that offer local artists and artisans access to 3D printers, laser cutters and other high-tech machines.
Australia's Fab Lab Adelaide, for example, is managed by the Australian Network for Art and Technology and is located at Adelaide College of the Arts. It offers the use of several 3D printers and hosts workshops for community members who want to use them to create art.
"I was starting to see some really interesting artworks being produced using 3D printing and realized that if these technologies were easier for artists to access, there would be great scope for creative experimentation," Fab Lab Adelaide's manager, Karen Marsh, told TechNewsWorld. "Hence the idea of setting up a dedicated space with accessible equipment was born."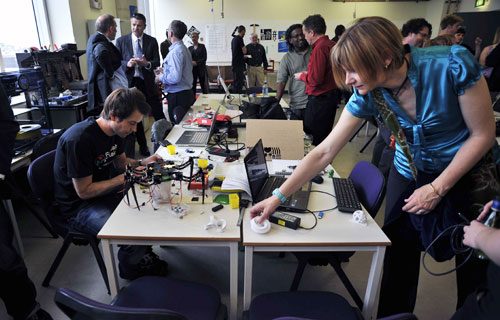 Jewelry designer Ben Densie uses the lab to create prototypes that he then sends away to be formed into brass, sterling silver, and ceramic pieces.
"The artists that use our 3D printers primarily use them for prototyping and developing their artworks, rather than for creating finished works," explained Marsh.
"This is because desktop 3D printers are fairly limited in the materials they can use. That said, we know of artists using FDM printers to print in materials other than plastic that have a variety of different properties — for example nylon and a wood-based 3D printing filament. So the opportunities for artists to experiment with materials are increasing all the time," she pointed out.
Augmented Reality Art
Augmented reality is another realm being explored by artists interested in pushing the digital envelope. Artist Mark Skwarek is one of those exploring the possibilities offered by AR technology.
"I work with AR to create art and game-based experiences," Skwarek told TechNewsWorld. "I do this to transform the passive media experience of the monitor into a physical one in the real world. AR allows the artist to overlay the real world with digital content."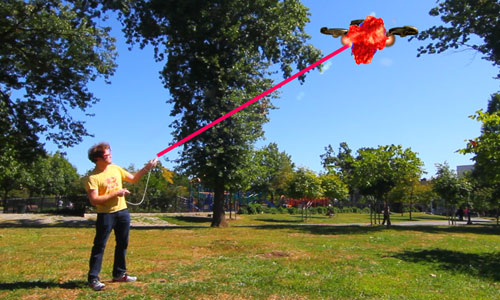 AR technology as a medium gives artists the chance to play with reality and its borders of time, space and place.
"I use augmented reality to create relationships between space and place," explained Skwarek. "Humans increasingly experience their daily lives through some type of digital filter. I see AR creating possibilities for artworks that were once thought impossible. AR's low cost and borderless limitation means that artists can focus on ideas rather than limitations that once held them back."
Teaching a New Generation
Young artists are evolving all the time, and new technologies increasingly are being introduced in art classrooms.
"I use technology in art instruction and art production with all my k-5 population," said art instructor Tricia Fuglestad, who incorporates a variety of digital technologies into her lesson plans atDryden Elementary School.
"We explore art concepts digitally through interactive lessons on the interactive board, and we use our green screen and video-editing tools to make Fugleflicks, [which are] student-created, art-related movies," she told TechNewsWorld.
Video-editing and sharing technologies have become central to art education for Fuglestad, and she says they give her students new and unique ways of expressing themselves and communicating.
"Because of my access to technology, I can open up new opportunities for my students to extend and enhance their learning," said Fuglestad. "I've been able to connect my students to authentic audiences [and] give them art-making opportunities like animation moviemaking and graphic design that would otherwise be inaccessible."
For all of these artists, old and new technologies alike are simply tools — and they're being used to deal with age-old human emotions, questions, dilemmas. In this sense, digital art isn't all that different from its analog versions, since it's still about telling stories and examining what it means to be human.
"We have this belief that technology is changing everything," said Maeda. "It's changing some, but it's not changing the fact that humans like to experience things emotionally. We keep looking for new technologies to do it, but our feelings aren't going to change very much. We're coming to terms with the fact that technology won't radically change the content, but it will change how it's made and delivered."