Billionaire high-tech entrepreneur Elon Musk has announced plans to build a test track, most likely in Texas, for his envisioned Hyperloop high-speed transportation system.
The goal is to allow company representatives, students and others to test out Hyperloop pods, the equivalent of train carriages.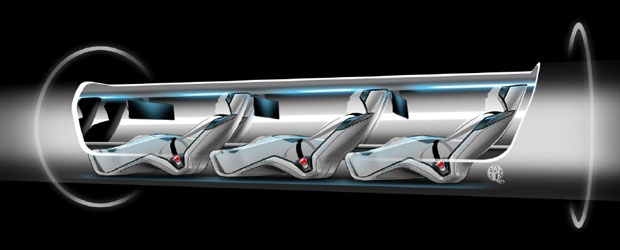 Hyperloop Passenger Capsule
Musk also suggested establishing an annual student Hyperloop pod racer competition.
Responses to the proposal have been mixed.
"You're the man," tweeted Joseph@LivingByThe_ISM.
"Now that it's in Texas, can I be a test Hyperlooper?" tweeted James Wester.
"Yay! Come to Austin!" tweeted Jen Savage.
"Ever consider Canada?" asked nrXic. "Weak dollar means reduced costs, provinces like Alberta were looking at building their own."
On the other hand, "How long can Musk have so many irons in the fire without turning a profit?" asked Dan Walters.
What's Happening With Hyperloop
Musk's team had a five-mile test track under internal evaluation prior to the announcement, said Vishwas Shankar, automotive and transportation program manager at Frost & Sullivan.
"Entirely funded by Musk's companies and other interested private companies, it's seen as a giant step to support different teams and universities to help validate and keep the concept alive," he told TechNewsWorld.
However, a short test track will not address the more fundamental challenges facing long-distance construction of a hyperloop, such as the need for long straight tracks with minimal curves, or the political obstacles of funding and siting the elevated loop, observed Robert Cruickshank, founder of the California High Speed Rail Blog.
The CHSR line, which is currently under construction aims to connect San Francisco to Los Angeles by 2029 — as does the does the Hyperloop project.
CHSR will have trains going up to 200 mph and will cost more than US$68 billion. Musk contends the Hyperloop can be built for between $6 billion and $7.5. billion.
Can the Hyperloop Be Made Real?
Texas "has a lot of open land and excellent universities and technology centers," noted James Moore, vice-dean for academic programs at the University of Southern California's Viterbi School of Engineering.
The Hyperloop "would have to be nearly airtight and built to precise dimensions," he told TechNewsWorld, but he had "no way of estimating the resources required to meet [Musk's] test objectives" without knowing more about them.
The test Hyperloop reportedly could become a reality in about 10 years, but "the whole point of experimenting is to learn more about known unknowns and identify unknown unknowns," Moore said. "Putting that process on a clock would be pointless at present."
Whether the success of the experiments can be translated directly into plans to build the actual Hyperloop remain to be seen.
"I suggest we allow Elon Musk the time to make his discoveries before asking him when we'll be able to use them," quipped Moore.
Taking Hyperloop to the Next Level
Musk's release of the alpha plan for the Hyperloop in August of 2013 spurred JumpStartFund to back Hyperloop Transportation Technologies, a research company aiming to translate the Hyperloop concept into reality.
HTT last month announced it had selected a core team of 100 engineers — from Boeing, Airbus, NASA and other companies across the U.S., as well as from Stanford, Harvard and UCLA — who have agreed to work up to 40 hours a week on the project in exchange for stock options.
Contributing corporations include GloCal Network and Ansys.
UCLA's SupraStudio will lead the design efforts.
In the meantime, HTT has expanded on Musk's vision — it wants to offer the Hyperloop to cities all over the world as a low-cost, high-speed transportation system that could change transportation and road congestion, and minimize the global carbon footprint.