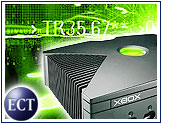 It seemed like a no-brainer for Microsoft: Use its massive software market share to win over game players to its Xbox console. It could sell a powerful, graphics-enhanced computer for about US$180 and sit back as the dollars rolled in from royalties paid by its partners for every Xbox game sold.
According to Microsoft's vision, the plan to practically give away its Xbox hardware would be offset by all the money it would make from selling software games. After all, who could resist picking up a Pentium III 733-MHz computer with full graphics and audio components for $1,000 less than a comparably equipped desktop computer?
That was the plan. What Microsoft didn't count on was the fervor of game fanatics intent on hacking its hardware to get a nearly free computer.
Dollars and Sense
Since it entered the game box competition about two years ago, Microsoft has been sandwiched between game-world favorite Sony's PlayStation 2 and Nintendo's GameCube. Analysts have said the Xbox platform simply isn't generating the level of software sales that Microsoft needs to become a winner at the cash register.
"Xbox software is a very distant second to Sony," James Turley, principal analyst at Silicon Insider, told TechNewsWorld, adding that this is a bad sign for the company's continued success.
The popularity of game software is built on consumer buzz, and Xbox titles are selling, but they're not generating the revenue Microsoft wants them to generate, said Turley. Likewise, Laura DiDio, a Yankee Group senior analyst, told TechNewsWorld that although Xbox units are "flying out the door," Microsoft isn't making any money on them.
Analysts blame Microsoft's royalty arrangements as one of the culprits in lackluster Xbox game software sales. "You can't write programs for the Xbox — it's illegal," said Turley. "Game developers must sign a contract and pay a royalty to Microsoft for each game sold."
Those contract details are highly secretive. For Microsoft, the royalty amounts to about $15 per game. "So it's imperative that Microsoft not allow unauthorized sales," said Turley. Microsoft intended that its game development partners be able to sell their software in two ways. Under the license terms, game makers could port game code they had developed for PCs to run on an Xbox, or they could develop games directly for the Xbox platform.
Microsoft's newcomer status in the gaming world, however, coupled with the need for strong Xbox game sales to make up for hardware losses, have conspired to hold the company's gaming success at bay.
Hacker Delight
In addition to this, two other factors have been causing trouble for Microsoft. One is the relative ease of hacking the Xbox. The other is the availability of an open Linux operating system specially tweaked for the Xbox. To some extent, Sony's PlayStation 2 console suffers from similar hacking issues. But those efforts seem to fall short of the widespread attacks hackers have leveled against Microsoft.
A version of Linux is readily available on the Internet to replace the Xbox console's own Windows-based operating system. The Linux version created for Sony's PlayStation doesn't compromise that game box — which has no hard drive — but the Linux version available for the Xbox makes converting the Xbox little more than child's play.
"Microsoft should have known it was creating a target," said the Yankee Group's DiDio.
Dozens of Web sites and several books dedicated to hacking the Xbox also have made Microsoft's game machine easy prey. In fact, DiDio told TechNewsWorld that the Internet is so full of how-to articles on hacking the Xbox that it has become "as easy as building with Lego blocks. It's the next big challenge in the progression."
Silicon Insider's Turley agreed with Didio's view of how easy it is to hack Microsoft's game console. "Any 16-year-old can hack an Xbox," he said.
Easy Target
Many Xbox hackers echo the findings of some analysts, who say Microsoft is getting what it deserves. Sony's PlayStation was also modified by hackers, but those efforts never became a rite of passage for hackers as they did on the Xbox.
The author of one of the leading books on hacking the Xbox, Andrew Huang, said Sony's hacking woes never caused this kind of furor. Huang, who has a PhD in hardware engineering from MIT, wrote Hacking the Xbox: An Introduction to Reverse Engineering. He is widely credited as being the first to successfully get inside Microsoft's game machine.
"Sony has had similar hacking problems, actually," Huang told TechNewsWorld. "Modchips are very popular for the PlayStation One and PS2 consoles. It is just not as controversial a subject, for some unknown reason."
Huang believes Microsoft's reputation as a bully in the software industry as well as its game-box strategy are motivating people to repurpose the Xbox.
"I think the fact that Microsoft is hawking locked-down PCs as game devices accounts for a large part of the controversy," he said. "Microsoft has been deemed a monopoly by some courts, and some fear that this is the first step toward Microsoft locking down all PC hardware to their proprietary OS."
Chipping Away
The heart of the hacking procedure is to override the Xbox' ROM command structure by installing a modchip. The modchip is a storage device that contains several program binaries. Huang said the modchips that are readily available for repurposing the Xbox exploit various debug and diagnostic facilities built in to the device's ROM to aid manufacturing.
"The art of chipping a box has been greatly simplified by modchip designers," explained Huang. "Modchip designers have crafted chips that require only a screwdriver with two special bits (T10 and T15 torx) to install. No solder, wires or other items are required."
Huang said he believes Microsoft could be the victim of its own hardware design. He sees modchipping as helping to fuel sales of Xbox consoles. "Many young adults are attracted to the prospect of buying hardware with potentially free game libraries, and that alone is enough to make up the mental difference in price between consoles," he said.
Legal Fight Looming
Some analysts claim Microsoft is working quietly in the background to wage a war against major modchip makers and hacking gurus like Huang. In fact, Huang said, Microsoft has already gone after one modchip supplier in court. But he feels such efforts will only make matters worse for the corporate giant.
"To some extent, however, the cost of persecuting and stopping all such activity is probably not worth it," Huang told TechNewsWorld. "Stopping one modchipping individual may save them $100 but cost tens of thousands of legal dollars."
Even stopping one modchip vendor probably is not profitable, especially if it involves international politics. "Lawyers are not cheap; games and modchips are," said Huang.
Microsoft declined to comment for this article.