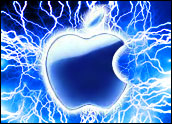 There's a lot shaping up for Apple this year, and it's going to bewild. In fact, there's so much going on at Infinite Loop in Cupertinothese days that it makes me believe that 2014 will be the first post-Steve Jobs year when Apple — in the eyes of the broader tech world –stops dancing around and finally brings the rain.
For starters, the profit-generating juggernaut that goes by the nameof "iPhone" will ship in a new form factor with a bigger screen. Thiswill hit just when a huge number of Apple-loving consumersare shifting the bulk of their Internet activity to their mobiledevice, which means they'll upgrade in droves.
Apple doesn't even haveto entice big-screen Android users to make iPhone 6 the fastest andbest-selling mobile device ever.
Apple can pump up iPhone sales in the U.S. next year by 30 percent with a bigger iPhone, suggested Morgan Stanley analyst Katy Huberty, and this is if 80 percent of iPhones sold go to upgrading customers.
It gets better. The sapphire glass manufacturer in Arizonaappearsto be shipping product to China, which means the displays of thebig new iPhone 6 really could be made of sapphire glass. Ifsapphire is as scratch-resistant as they say — better than GorillaGlass — this is a big leap forward over the competition. Huge, infact.
This is important for a couple of key reasons: First, Appleinvested heavily in GT Advanced Technologies, reportedly footing thebill for hundreds of sapphire furnaces capable of churning outscreens. Second, Apple has snapped up sapphire glass supplies. Unlessthe competition is actively investing in sapphire production, Applemight build a significant lead. Either way, you can bet that we'll beseeing some sort of cool promotional video at iPhone 6 launch time.
While we're at it, here's something I haven't heard anywhere else:When the iPhone 6 ships with a bigger, easier-to-use screen, it'llgive Apple's App Store and iTunes ecosystem another boost, too –simply through a better customer experience.
So the Apple Money Machine — the iPhone — will rev up to the redline this year and coast through 2015 … that's it?
No way.
Enter the iWatch
While everyone has been talking up the mythical iWatch ascompetitors deliver new smartwatches and exercise bands, Apple hasremained behind closed doors. Instead of getting here first, Apple hasquietly been hiring medical, exercise and engineering talent, as wellas patenting potential innovations that could be applied to an iWatch.
Will Apple actually deliver a wrist-worn device this year? It's hardto imagine that it will sit out 2014. Apple CEO Tim Cook has hintedat new product categories, and an iWatch seems to be a slam dunk.
There's more, though. Longtime fitness partner Nike just droppedFuelband manufacturing in favor of working on software only. This is abig signal that Nike knows the iWatch is on the way this year and ismaking a business adjustment for it.
The New Mac Experience This Fall
The PC-decline-defying MacBook Air just got a teeny processor update. That's not a big deal now — it just makes roomfor a more expensive MacBook Air with Retina Display to have aprofitable spot come fall.
More to the point, the MacBook Pro is readyfor an update, too, but the key action will likely center around theredesign of Mac OS X. While iOS got its refresh last year, OS X 10.10is ready for 2014.
Onereport now suggests that OS X 10.10 will take center stage atApple's Worldwide Developers Conference in June.
September is the traditional time of year thatApple releases new iPads. Bare minimum, we can expect an A8 generationof Apple's own processors, which should bring better performance andbattery life. I would not be surprised if Apple finally came up with anew keyboard or keyboard/case option, both because there is anindustry demand for it and because there've been multiple rumblings about it.
Meanwhile, while Microsoft Research has posteda video of an augmented mechanical keyboard that can sensegestures both on and above the device, AppleInsider found an Apple U.S. patent application for a multifunctional keyboard assembly, too.
Will the keyboard tech show up in Macs this year? In a keyboardavailable for pairing with an iPad? If so, this is like extra frostingon a cake.
What About the Apple TV?
While rumors of a full-size Apple-created HDTV have faded away, prettymuch everyone expects a major Apple TV set-top box update. Not onlydid Cook publicly remove the Apple TV from "hobby" status this year ina quarterly financial report, but Apple also threw down the gauntletwith its own Amazon Fire TV unit.
The Fire TV lets you search for content with your voice, and the remote control is smart enoughto let you play Android-based games on your HDTV. Plus, Amazon isactively building its own ecosystem of content and games, even goingso far to develop a game and create a dedicated console-style gamecontroller.
Will Apple sit on its hands here? Doesn't seem likely.
Apple can jump out ahead with a wicked-fast new processor, Siriintegration, and by opening up the Apple TV to developers for newapps. If Apple delivers on itsown gaming controller specifications — with or withoutthird-party controllers — then the company can make a stronger move tocapture game time in the living room.
All of these moves are totally doable for Apple this year. Might weget a taste at WWDC in June? I hope so, but rumors are trending towardan OS X fixation. A new Apple TV world in time for fall programmingand holiday sales could technically work better anyway. Wild card?Some sort of broadcast or cable-TV content deal.
Apple Is 'On the Prowl'
As revealed at Apple's quarterly conference call with investors lastmonth, Apple bought 24 companies in 18 months — several of which aresecret, and therefore important to new products or services.
"Obviously," Cook noted, "We're on the prowl."
What might these new companies offer Apple? If it is attempting tokeep their identities a secret, it's for a good reason — one thatusually leads to a new product or service.
Speaking of financial reports — until now, Apple has weathered monthsof getting beat up by Wall Street analysts for a slowing rate ofgrowth in both its iPhone and iPad sales. It has started to manageWall Street expectations more proactively by doing things likeincreasing its dividend payments and buying back much of its ownstock.
Plus, Apple will issue a 7-for-1 stock split that should dropthe price of a single share to under US$100, making it more accessibleto a broader range of buyers — and potentially get Apple added tothe Dow Jones Industrial Average.
The point?
As Apple starts releasing a large batch of products and upgrades thisyear — and as relatively new ones like CarPlay start hitting thestreets — public perception will rocket even higher. What mightthat stock split mean then? I don't play on Wall Street, but I havesome guesses.
Any way I look at it — and this is even if Apple does not release anynew game changer product category that is off the radar — Apple seemsto be orchestrating a huge 2014.