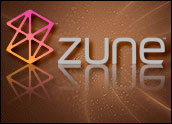 At the stroke of midnight — the first second of Dec. 31 in the Pacific time zone — 30 GB Microsoft Zunes started spontaneously dying. The Microsoft Zune support site discussion boards started filling up with posts, in addition to others on ZuneScene and ZuneBoards, the latter of which may have experienced a server crash.
In any event, Zune users said that their Zunes automatically restarted last night and then froze on their boot screens, rendering them unresponsive and, of course, unable to play music. Some Zunes were playing at the time, while others were hooked up to PCs and charging. Some owners woke up to find their Zunes seemingly bricked.
"I had my Zune docked on it's iHome ZN9, charging, and all the sudden I hear it start whirring as I'm sitting here at the laptop. I looked up just in time to see it restarting itself at exactly 12:00 midnight, watched the loading bar, and then, the freeze. Great. WHAT is going on!?" wrote Zune owner VS VeNoM SHOT on the Zune.net forums. The Zune.net forum thread on the subject has since ballooned to more than 1,400 posts.
Reportedly, only 30 GB model Zunes have been affected, and some Zune 30 GB owners said that they had multiple 30 GB Zunes that failed at the same time. Others have reported no problems at all.
Speculation has turned to a date-related issue. Since Dec. 31 is the last day of a leap year, it's day number 366, rather than day 365. Also, what about that extra second the world is going to get this year? That one shouldn't be an issue since the second is added at the end of the year, not last night.
Microsoft at Work
Microsoft acknowledged the problem Wednesday morning on its main Zune support Web page but offered few details.
"Customers with 30 GB Zune devices may experience issues when booting their Zune hardware. We're aware of the problem and are working to correct it. Sorry for the inconvenience, and thanks for your patience!" the message read.
Some frantic Zune owners described a possible fix that requires a user to crack the device's case, disconnect the battery, wait at least 30 seconds, and reconnect it.
However, since cracking a Zune voids its warranty, perhaps the smartest course of action is to wait a while. It's possible that the moment 2009 hits, the Zunes will work again. Either way, the administrator of the ZuneScene message boards is urging caution and forcing compliance with a new rule at the same time — and then froze its official Zune 30 thread.
"If you post instructions on how to take the Zune apart to reset it, I will personally disable your account. I am doing this because I do not want anyone not experienced enough to open this device and then they break their Zune and void the warranty," wrote Unicron Social on ZuneScene.
It Happened to Zune, but It's Still Rare
So, how often do consumer electronics spontaneously turn into lemmings and leap to their doom?
"Large-scale failures are rare among devices from major consumer electronics manufacturers — they can be expensive to correct and generate negative publicity that reflects poorly on the company as a whole," Susan Kevorkian, an IDC analyst and program director of IDC's consumer markets practice, told TechNewsWorld.
"Other wide-scale device problems we've seen in the past have been related to particular components, such as batteries. Y2K Windows updates, to hedge against possible problems related to the OS entering the new millennium, come to mind as well, and in that case we had advance warning about updating a Windows OS-based system before midnight on Jan. 1, 2000," Kevorkian said.
"This problem may have more complex origins. All of the Zune devices are based on the Windows CE OS. That this is affecting the 30 GB version specifically suggests that there's a problem with the Windows CE OS combined with this particular hard drive capacity. In a best-case scenario, Microsoft would be able to offer an online software upgrade to get the 30 GB Zune up and running again, which would be preferable to the cost, time and negative PR associated with a full-fledged device recall," she explained.
"The company's been working for more than two years now to compete with Apple's iPod in the portable media player market, and negative publicity is the last thing it needs right now," she added.