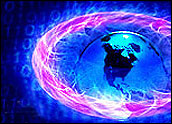 There's been a bioterrorism attack in Chicago. You must find a way to administer medicine to roughly 3 million people in less than 48 hours. You need to set up points of dispensing, create makeshift care facilities, obtain refrigerated trucks and create morgue space — not to mention handle crowd control. What do you do?
The best way to prepare for a disaster of this magnitude is to play a game, according to Kevin Harvey, assistant director with CADE (the Center for the Advancement of Distance Education) at the University of Illinois at Chicago (UIC).
However, don't call it a game. The training takes place in Second Life, which is a MUVE, or a multi-user virtual environment.
Virtual Learning Environments
Improvements in the processing power of personal computers combined with Internet delivery applications provide a tremendous opportunity for novel approaches to preparedness training. The power of virtual learning environments lies in creating 3-D spaces that give users a sense of learning by doing. Harvey points to Advanced Realities as providing an unprecedented level of engagement and retention for players.
Although proponents hail virtual worlds as an effective, efficient and cheap way to provide immersive, emergency preparedness training, surveys conducted by the eLearning Guild show overwhelmingly that respondents shy away from the idea of playing what they consider to be a "game."
While the majority of people surveyed recently said they use basic classroom instruction methods of e-learning is about 75 percent, Steve Wexler of the eLearning Guild told TechNewsWorld. Those who said they use games and simulation methods sometimes or often was 37 percent and 60 percent respectively. The amount of people planning to use more immersive e-learning scenarios in the next 12 months is high: More than 60 percent of respondents said they would use more "serious" games in the coming year.
"Sure, [Second Life] is a great place to go and goof around and fly around and have sex, but it's also a great teaching tool," Harvey told TechNewsWorld.
The authenticity of the experiences endured on Second Life make it an ideal, efficient and cost effective way to plan, implement and train people to deal with large-scale emergencies, he said.
"We do believe strongly in this," Harvey said. "We've seen evidence of the immersive nature of the virtual world. It's a safe environment to test things out. We believe in the social nature of Second Life. You feel like you are having real relationships, cognitively, they're as powerful as relationships in the real world. I don't think any translation is necessary, the same neurons are firing, the same emotions are happening. It's identical."
Proponents of these e-learning tools say that as people and the world become increasingly technologically advanced, a simple approach to learning is no longer acceptable. Major emergencies and critical incidents such as public disorder are typically complex, initially chaotic and often challenging to manage.
Immersive games and other virtual environments allow educators to recreate the difficulty and disorder of real-life emergencies. In this way, simulations and immersive virtual environments are more effective than traditional methods of modeling at training students to deal with the real thing, according to Harvey.
Preparing for the Worst
"I don't want to scare people, but if we have a pandemic flu like the one we had in the 1800s, we're going to have to deal with the massive fatalities that will occur," said Harvey. It was with this thought in mind that Harvey helped create a brand of immersive e-learning tools geared toward helping the city of Chicago save itself from disaster.
CADE works with the UIC to develop immersive, simulation games in virtual worlds like Second Life for the purposes of training in emergency preparedness. They employ the immersive virtual reality of Second Life to create real world scenarios — from emergency response planning for cities to prevention of gang violence and enterprise connected applications in Fortune 500 companies. They have seven islands on Second Life, with which they do various immersive training scenarios.
They've brought emergency preparedness down to an affordable level; the reason its affordable is because of immersive virtual worlds like Second Life, Harvey said. It costs nothing for someone to go and be a participant.
"We like [Second Life]," he noted. "It's user created content, it's immersive, it's 3-D. You don't need higher fidelity to do what you need to do there."
The first responder training program consists of an inventory of objects people might ask for when running through an emergency preparedness plan.
"We use an emergency plan that already exists and run through it in the virtual world," he said. "So for example, we might need some cones," he said. "We give them a list, a book basically of objects they might need. They have right in front of them of objects they might need, if there isn't something, they have to go about getting it. It's just like as if the emergency is occurring."
Man Your Battle Stations
A simulation-based training game designed to equip players with the ability to deal with crises in a military situation was developed by research and development firm Stottler Henke.
The system — developed by the Navy to train tactical action officers (TAO) — allows players to train within a battlefield simulation. As officers second in command to the captain, they are the individuals who run the ship in a crisis situation.
"In real life, the captain commands a cadre of about 15 people," Jim Ong, group manager for Stottler Henke, told TechNewsWorld. Ong leads the development of artificial intelligence-based systems for training, performance support and decision support. "It would be the people who are on the deck. They report immediately to the captain, so that's who the TAO works with in real life."
The first generation sim deployed in 2001 was a dashboard application similar to a computer game, according to Ong.
"In the game, the student controls the weapons and sensors and helicopters of the ship," Ong said.
The main difference between the first and second generation software is the ability to more literally demonstrate how the TAO would work with the simulated teammates.
Instead of pressing buttons on a dashboard, the player is talking to a person through the use of automated speech recognition and speech synthesis provided by a tool called "Symbionic." It's an intelligence agent toolkit used to monitor the students actions. It consists primarily of voice commands and questions and assesses whether or not the student is doing the right thing or not.
"The reason why it's a tough training problem is because it's fast paced. Things happen very quickly, the information is often very ambiguous," Ong said. "The TAO sees a blip on a radar screen and they have 30 seconds to decide if it is a slow incoming missile or an airplane."
Stottler Henke specializes in turnkey applications and developing tools. Their main area of expertise is developing advanced training systems. Their core competition is artificial intelligence.
"We use [artificial] intelligence to make training more effective," Ong said. "A lot of simulations used by corporations tend to be pretty simple. Artificial entertainment games tend to have the intelligence of the characters that are in the game, the non-live characters."
The way to make the characters smarter is to enable the sim to automatically assess the students' performance, Ong said.
"You have to try to figure out what the players know, what they don't know, what they can do, what they can't do," he said. "If you have a more precise, richer way to do that, you can provide richer feedback and the training is more successful."
Web's Largest Sandbox
Second Life is not a traditional game in the sense that there is no central or overriding theme and no particular goals or missions to accomplish. It is just as its name suggests: a second life.
Players can make of it what they want much more easily than they can in the real world. Would you like a purple mohawk? That's done easily. The same is true of disasters and emergencies, which is what makes this virtual environment so useful for preparedness exercises.
Linden Lab created Second Life in 2003. The software needed to run the virtual world can be download for free from the Second Life site.
As of December 2006, there were 2 million registered residents. However, the average number of users logged-in in a 24-hour period is about 33,000. Second Life's economy is thriving. There is an average of US$1 million exchanged between residents in a 24-hour period.
Once downloaded, users create a free account and use the software to connect to Linden's remote servers. The software is available for Windows, Mac OS and Linux.