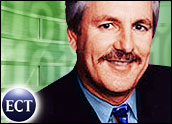 Last week, HP launched an impressive array of new products — but few noticed, because the news once again surrounded events that happened when their ex-CEO was still there, screwing up the company.
Meanwhile, Gateway finally got a new CEO in J. Edward Coleman, who has a good pedigree as a turnaround manager, and we got a huge update on Microsoft's Zune while anticipating Apple's big movie announcement on the 12th.
Is Carly Fiorina a Zombie?
The folks at HP must be starting to think they are living in a bad horror flick at this point. Things were going really well and BAM!. Suddenly returning from the dead was some bad news related to events that happened during Carly Fiorina's years at the firm — just in time to ensure that HP's new PC products wouldn't get any attention.
The firm launched some products based on Intel's impressive new Core 2 Duo processor last week. They were wrapped with what may be the best services offering in the industry currently, and they were incredibly "green" — that is, environmentally safe — too. Still, all eyes were on HP's board as the facts behind a recent investigation into who leaked information to the press during Fiorina's termination period came to light.
In reading through the coverage, and there was a lot of it, one could really get the sense that Fiorina was out of control when she was there, and this left the board extremely frustrated with her. One board member who had a government pedigree did something common in government but highly illegal in public companies: He leaked inside information to the press and then wouldn't admit to doing it.
As a result, the chairman of HP's board authorized an investigation that identified the leak, but the methods used were questionable. What made them questionable was the investigators' use of something called "pretexting" — which I've done myself in a previous career. It involves pretending you are someone you are not to gain access to private information. In this case, that information was personal phone records.
When the investigation came to light, one board member resigned on the spot — but the guy who leaked the information refused to resign, which made all of this very public and embarrassing to HP at a time when that company is performing at an incredibly high level.
Bending the Rules
During an era when the U.S. government is authorizing extreme and often questionable methods to protect U.S. citizens, it shouldn't be a surprise that others might follow that example in some — perhaps more limited — way to protect the integrity and viability of the corporation they are pledged to serve. Considering the tale told in ABC's "Path to 9-11" miniseries, I personally like the idea of folks bending the rules to do the right thing and protect what they have been paid to protect — whether it's the country or a company like HP.
Given the choice between HP's investigation and the resulting firm we have today versus continuing with the HP that existed under Fiorina, I have a hard time believing that employees or HP customers would choose the latter.
Strangely enough, this event eclipsed not only HP's launch, but also IBM's announcement that it started volume shipments of the processors for the Nintendo Wii, which many think will own the gaming space this Christmas. This may be a case where HP could take — and IBM could give — advice on how to keep evil dead CEOs from coming back.
In the end, while I can understand why many would question the longevity of the current board, a company was saved that might otherwise be in deep trouble right now. While the ends often don't justify the means — in this case, they may have. Of course, at HP they are probably looking for the stake and hammer to make sure Carly Fiorina doesn't come back yet again. Gateway might want to borrow it for the guy who sold them eMachines.
Solid Background
Speaking of Gateway, that firm got a new CEO last week. I briefly interviewed him and, at first blush, J. Edward Coleman looks good. Gateway had been operating with the chairman of the board acting as CEO; particularly after the Fiorina incident, I'm not a big fan of that practice and was glad to see Gateway once again separate those two critical duties.
Coleman seems to have a strong background in channels and corporate governance. The channel experience will be particularly important, as Gateway needs to shore up its retail channels in the face of increasing competition. It also needs to rebuild its direct business, which suffered badly under the firm's previous administration.
Gateway needs to grow to fill its potential, but it must grow intelligently so that costs don't get too far out of line with revenues. Coleman's performance at both IBM and CompuCom both seem to speak to a strong financial background. He was at IBM when I was working there. This was during one of the most successful turnarounds of that decade — and one that had an incredibly well-executed financial component.
Coleman has no apparent reputation for packaging companies for sale and, similar to HP's Mark Hurd, appears to be very strong operationally. This suggests, then, that the company is not being packaged for sale, which should provide a renewed level of comfort to both Gateway's customers and its employees. This is nice, especially after the person who sold eMachines just popped up with a bogus offer to buy part of the company at a fraction of what it's worth.
Finally, this gives Gateway a permanent leader who will eventually be able to articulate a strategy people will believe in. Without a CEO, any strategy the company called out would, for good reason, have little weight with anyone.
Coleman was apparently the lead candidate throughout the hiring process, which should create a strong affinity with the Gateway board and a good working relationship with its chairman, which is in sharp contrast to the train wreck that characterized Fiorina's tenure with HP.
Apple's Surprise
Tuesday the 12th is supposed to be the day Apple announces its big move into movies, and speculation is running hot and heavy. Many have asked if I think they could do something with movies that is as big as the iPod. My answer is that it is possible but not probable.
The possibility comes from the fact that the downloadable movie/media center experience is probably worse now than the MP3 player market was when Apple opened it up. The issue for Apple is that the problem involves a group of content owners that are even more difficult to work with, much larger file sizes, and a more limited — in terms of where you actually watch movies and TV — usage model.
Unlike music, it is not clear that it is possible, right now, to address what needs to be addressed to make a movie product as successful as the iPod is. However, it could be a big success if Apple simply were able to come much closer to the ideal than anyone else has so far.
The firm will also have to run against Zune, which will have its coming out party shortly — then we'll get a chance to see if Microsoft can create a credible counter to the iPod.
Come to think of it, maybe Apple could give HP advice. I mean, what ever happened to Gil Amelio anyway?
---
Rob Enderle
is a TechNewsWorld columnist and the Principal Analyst for the
Enderle Group
, a consultancy that focuses on personal technology products and trends.
---