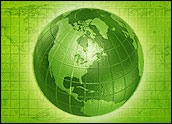 There's a lot to "green" in the global IT industry. A growing number of leading IT companies active in business lines spanning the entire industry value chain — from chip fabrication and equipment manufacturing to retailing consumer electronics — are now putting themselves at the forefront of the green tech wave.
For years, tech companies have been making use of a host of toxic materials, releasing a range of pollutants into the air, land and water, and employing energy-intensive processes to put out product that leaves hectares of e-waste upon disposal. The potential is there for the IT industry to make a huge difference in efforts to reduce greenhouse gas emissions and environmental degradation.
Energy demand is expected to grow 2 percent per year through 2030, rising from 400 to more than 700 quadrillion BTUs (British thermal units) per year, according to the base case reference scenario built into the U.S. Energy Information Administration's International Energy Outlook 2006. Developing countries account for most of the possible increase.
Today, the developed world, as represented by the Organization of Economic Cooperation and Development, uses half the world's total energy supply to produce half its GDP (gross domestic product). More than 80 percent of the world's population is projected to live in developing countries by 2030.
The good news is that green tech has become a priority for a growing number of IT companies. Chip fabs and high-tech corporate parks are making use of electricity from photovoltaic cells, hydrogen fuel cells and biogas generation projects.
Data centers are making use of virtualization and new heating and cooling systems to reduce electricity usage, reduce emissions and save space. Wireless sensor networks are being used to minimize the use of natural resources, such as water, by monitoring machines and facilities on-demand. Reinvigorated efforts to reduce the mountains of e-waste accumulating in toxic hotspots around the world through equipment take-back, reuse and recycling programs have also been set in motion.
Environmentally Challenged
It's not easy to minimize resource use and polluting emissions. With increasing economic activity comes growing demand for more polluting, energy intensive products and services.
Due to a combination of factors — newer, better technology and rising fuel costs high up on the list — the economics of increasing energy efficiency and reducing greenhouse gas emissions has improved steadily during recent decades. While the goodwill value of "going green" has appreciated considerably, more IT companies are finding that doing so can cut costs and improve the bottom line. That's proving to be the biggest motivator.
"Green technologies are becoming very hot, especially in the West and migrating to the East as well. Many global companies view green initiatives as necessary to stay competitive today, which is quite a change from the philosophical viewpoints from a decade ago," observed Mareca Hatler, director of research at ON World.
Private sector investment in clean tech and renewable energy has passed a growth curve inflection point and is accelerating because of better economics and government incentives.
"Investments in alternative energy sources are expected to grow to between US$6.2 billion and $8.8 billion by 2009 as decades of U.S. and European research and development mature," according to the Cleantech Venture Network.
There is substantial interest in the clean tech/energy sector that is being driven by several factors: rising gas and oil prices; increased awareness of global warming; a commitment by several large global corporations to go green, including GE, Wal-Mart, Dow and BP, among others; and increased incentives and policies by governments in the U.S., Europe and Asia to support development of clean technology, said Pradeep Halwar, director of the Energy and Environmental Technology Applications Center at the College of Nanoscale Science and Engineering (CNSE).
"We see growing interest among leading global high-tech companies in pursuing clean tech research, often in collaboration with CNSE's Energy and Environmental Technology Applications Center. These industry-university partnerships at CNSE will serve to advance research and commercialize alternative and renewable energy technology more rapidly for the benefit of both industry and consumers," he added.
As it has been for the IT industry, Silicon Valley has become a center for clean tech and renewable energy capital and finance.
"Much of the activity and interest is centered in Silicon Valley," Kevin Brosnahan, spokesperson for the U.S. Dept. of Energy's Office of Energy Efficiency and Renewable Energy, told TechNewsWorld. "Technology venture capitalists are often quoted as viewing clean energy technology as the 'next big thing,'"
Green Tech and the Developing World
A lot has been made of the potential developing nations have in terms of taking advantage of the latest generation of technology to "leapfrog" phases of the development cycle and launch themselves into the 21st century.
In large degree, however, these nations are simply making the same mistakes as their predecessors in order to grow their economies as quickly as possible. They continue to use traditional neoclassical economic measures that ignore the public costs associated with the degradation of critical natural resources, including clean air, water and arable land, to measure progress and guide them.
If emerging market countries are to avoid the mistakes developed industrialized nations have made in the past, they will need to take a more imaginative, forward-looking approach to energy and natural resource use — and they'll need help.
Transnational IT companies are typically among the largest sources of fixed capital investment in developing countries. As such, they have the potential to be natural leaders when it comes to promoting clean tech, sustainable energy and resource management.
Though Africa, for instance, currently accounts for only 1.4 percent of global carbon emissions, foreign investment has been pouring into countries across the continent. While demand for increasingly costly natural resources is a primary driver, there also seems to be a growing realization among both investors and recipients that more has to be devoted toward developing domestic infrastructures and economies that are sustainable and do not irresponsibly compromise the natural heritage that is Africans' birthright and draws millions to the continent every year.
Increasing environmental awareness and promoting efficient, sustainable resource use is a big part of the equation if efforts to conserve these natural resources and minimize environmental degradation are to have any chance of succeeding. Leading IT companies, including IBM, are playing a growing role in this effort.
Best Practices Applied Worldwide
"IBM is uniquely positioned to work in all industries and all sectors bringing thought leadership and industry best practices," Maureen J. Baird, business development, winback and solutions executive at IBM South Africa, told TechNewsWorld.
"Research has shown that there is a direct correlation between economic growth and carbon emissions. As economic growth accelerates in Africa, IBM is positioned to help companies understand their current carbon footprint, to help customers develop their policies and governance models for carbon footprinting and to identify areas for immediate carbon footprint improvements," Baird said.
IBM has devised the IBM Carbon House Solutions toolkit to help customers find answers to what it has identified as seven key areas related to carbon footprinting: strategy, customer and product, supply chain, people, IT, property and information.
The company is not just evangelizing, however, it is practicing what it preaches.
"IBM South Africa is responsible for managing, evaluating and reporting on our internal green initiatives and our environmental affairs," Baird noted.
In its Country Annual Environment Report, IBM's operations are measured and assessed according to a range of environmentally related criteria: climate and energy, air, waste management, ground and water, chemical management, regulatory activity, environmental cost and supplier evaluation.
IBM's Big Green program extends to its suppliers and service providers, multiplying the impact it has even further.
"Supplier evaluations are done every second year by procurement, under the guidelines of CI109 (Corporate Instruction 109). Suppliers are required to have certain certificates and permits, completed an environmental impact assessment and require insurance [coverage] for environmental impact damage control," Baird elaborated.
The Green Technology Revolution, Part 2: Easing the Burden With Virtualization
The Green Technology Revolution, Part 3: Cleaner Energy, Less Waste