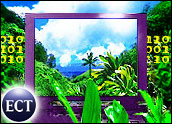 Leading IT companies are crafting ambitious green technology programs and enacting them throughout their own transnational organizations and along their supply chains, as well as promoting them to customers, as Part 1 of this series discusses.
Going green costs capital, time and effort, but by finding ways to reduce energy and materials usage, save space and reduce greenhouse gas and polluting emissions IT businesses are creating new business opportunities. Many companies are discovering ways to improve productivity, cut costs and reduce environmental degradation.
As a major consumer of electricity, water and a range of metals and fossil fuels, the IT industry directly or indirectly produces massive amounts of greenhouse gas emissions and other toxic waste materials to manufacture products.
Several major IT companies are leading the pack when it comes to making use of new energy saving and alternative energy technology and establishing programs to reduce, reuse and recycle materials, pollutants and waste. Part 2 takes a closer look at some of the principal means they are employing to do so.
The Benefits of Virtualization
Reducing electrical power usage, emissions and minimizing the space taken up by data centers is a focus of the IT industry's clean tech drive.
"Green IT is turning out to be a huge issue where all leading companies that maintain and manage large servers in today's information and innovation economy are identifying approaches to power these data centers with clean sources of energy. Implementation of large-scale solar photovoltaics at Google's headquarters is a perfect example," Pradeep Halwar, director of the Energy and Environmental Technology Applications Center at the College of Nanoscale Science and Engineering, told TechNewsWorld.
Virtualization is becoming one of the most effective tools in the IT industry's clean tech toolkit, though its cost savings rather than environmental benefits is proving to be its main sales point, according Ravi Shekhar Pandey, manager of syndicated research at Springboard Research.
"While virtualization does mean a greener IT, my understanding is that not many organizations pursue it keeping environmental concerns in mind. Rather, they look at the plain economics of running their data centers. With virtualization, it's always less expensive to run them, and in the process they end up contributing to a greener IT," Pandey told TechNewsWorld.
Virtualization's benefits are multi-faceted and can be substantial. Pandey offered the following as an illustration.
"A leading global telecommunications provider used virtualization to reduce the number of its servers from around 1,350 to 100, even as it deployed more than 1,700 new applications.
"By doing that, the service provider was able to save around US$1 million annually from reduced power consumptions as it had now less number of servers to run. Its power consumption decreased by around 880 kilowatts. It also saved saved around $2 million from the reduced floor space that the fewer number of servers now occupied. Moreover, the telco was now spending around 70 percent less on server management as that became far less complex and required fewer technical and manpower resources," Pandey said.
Virtualization at Big Blue
Companies can realize energy savings of 80 percent and space savings of 85 percent by moving to a virtualized infrastructure and taking advantage of emerging hybrid systems that use special purpose processors to improve performance and reduce energy consumption. The savings are achieved by consolidating workloads onto fewer physical processors, explained Maureen J. Baird, business development, winback and solutions executive at IBM South Africa.
One of virtualization's main benefits is significantly increasing server utilization. "Today, many computer systems use 5 percent to 12 percent of their capacity. IBM's mainframe, which includes the world's most sophisticated virtualization technologies, already allows clients to reach nearly 100 percent server utilization," Baird told TechNewsWorld.
IBM offers a line of virtualization technology that supports client data center mainframes, Unix and x86 operating system servers, as well as storage systems. Making use of the company's BladeCenter for IT consolidation results in reduced power consumption as well as integration of IT infrastructure.
"According to IBM internal studies, an average BladeCenter with embedded Ethernet and Fibre Channel switches can help save clients up to 50 percent power per port over a typical rack optimized server," said Baird.
Reductions in power consumption and footprint can also be realized by more energy efficient, higher performance virtualization tools, such as WebSphere DataPower SOA (service oriented architecture) appliances and the IBM Cell Broadband Engine, Baird continued.
The former has performed XML and Web services security processing as much as 72-times faster than standalone server-based systems while the latter, in use at the Mayo Clinic, speeds processing of 3-D medical images for use by radiologists up 50 times as compared to a traditional processor configuration.
Greater Energy Efficiency and Architectural Flexibility
About $29 billion was spent on powering and cooling IT systems in 2006, according to researchers at IDC. It's no surprise then that increasing the efficiency of data center heating and cooling systems can play a big role in an organization's efforts to reduce power consumption and carbon footprint.
Rhode Island's Bryant University has been able to do just that while at the same time upgrading to an enterprise-class data center that is enabling it to meet the increasing IT demands of students and faculty.
"The IBM and APC solution should enable the university to reduce its energy consumption and carbon footprint — a consideration that is becoming increasingly important for institutions like ours," Bryant University Chief Information Officer Art Gloster stated in a case study.
Bryant University consolidated 75 servers spread across several rooms into one scalable modular data center comprising 40 IBM BladeCenter servers equipped with virtualization technology and an advanced InfraStruXure architecture from IBM Alliance partner APC.
In addition to saving floor space, an improved cooling system pumps cold air only to areas that require it, saving on power as well as heating and cooling costs. IT staff are also able to take advantage of the computing efficiency and flexibility virtualization provides by provisioning new virtual servers in less than a day.
Exploiting liquid cooling solutions inside and out of the data center is one of seven areas in the Carbon House Solutions toolkit IBM is promoting to its customers.
IBM "is announcing a patented 'stored cooling' solution that dramatically increases the efficiency of the largest single use of power in the data center — the end-to-end cooling system," Baird said.
Up and running at an IBM data center in Quebec, Canada, the IBM Data Centre Stored Cooling Solution realized a 45 percent savings and has been named the "Best New Energy Product" by the American Society of Heating, Refrigeration and Air Conditioning Engineers.
IBM also offers and makes use of patented cooling doors, dubbed the "Rear Door Heat eXchanger," across most IBM Systems offerings. The system, while requiring no additional fans or electricity, reduces server heat output in data centers up to 60 percent by making use of chilled water to dissipate heat generated by computer systems. Following up on work done at IBM Research Labs, the company also plans to introduce a new set of liquid cooling technologies later this year, Baird noted.
The Green Technology Revolution, Part 1: Gaining Momentum
The Green Technology Revolution, Part 3: Cleaner Energy, Less Waste