With Thursday's introduction of the faster, thinner, goldier iPad Air 2, Apple has revealed a gap in its shiny armor. This gap is the place where competitors have a chance to attack.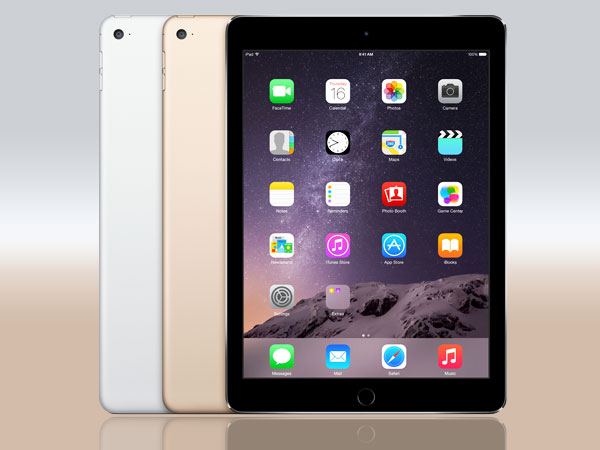 However, the gap remains protected by a suit of chain mail.
Let me explain.
More of the Same Excellence
The iPad Air 2 sure looks like an amazing feat of engineering — at just 6.1 millimeters thick, it's 18 percent thinner than its already super-thin predecessor. Its Retina display is made up of three layers fused as one — plus, it has a coating that gives it the lowest reflectivity of any tablet screen on the market. It's an iPad Air, and it's better than ever.
It will sell, and it will be profitable. More importantly, it will do its job and fill its niche as a great tablet. The iPad has become a piece of armor for Apple.
Still, it's not so perfectly formed as to leave no opening for a competitor. There are some customers who want their tablets to be more than just tablets, and some who want their PCs to be more than just PCs. How many? Not many at all, according to Apple — but that might not always be the case. Such is the gap between what Apple is willing to build and what some customers want.
In fact, Apple went to great lengths to show off how strong its iPad armor really is — the mission and justification for why Apple is delivering another iPad Air… 2.
Apple likes to tout numbers, of course, but sometimes the numbers are less about joyful bragging from an underdog in a market segment than they are about stating a defensive position as the leader.
The iPad once was Apple's sword. It has been widely successful, as Apple CEO Tim Cook felt it was important to point out. In fact, over the first four years of its life, Apple sold more than 225 million iPads, which is more than any other product in the history of Apple in as many years.
iPads vs. PCs
What about in the last 12 months? Cook showed a graph that illustrated the number of PC units the top four competitors have sold — Acer, Dell, HP and Lenovo. At 70 million units sold in the last 12 months, the iPad handily beats Lenovo's 57 million units, HP's 54 million, Dell's 40 million, and Acer's 24 million.
"And this is their entire PC lineup — every notebook, every desktop, every 2-in-1, every all-in-one, every toaster-refrigerator-in-one — all of them," Cook noted.
So what's going on here? Cook is saying the iPad market is healthy, despite a decline in the growth of iPad sales that Wall Street analysts think may signal doom and gloom. He's pointing out that while the top four manufacturers might have come up with some newfangled designs, none of them has managed to do any damage to Apple, and none has managed to see anything near the success the iPad enjoys.
Plus, by framing the iPad in terms of PC sales, he's very pointedly telling the world to consider iPads alongside other types of personal computers — especially saying this for the analysts, who still count them separately from form factors that ship with some sort of physical keyboard (and for the broader tech press that regurgitates such numbers).
100 Percent Love
Cook had more, though: "What's more important to us is that iPad has consistently been rated No. 1 in customer satisfaction. This is what makes our hearts sing."
The iPad Air had reached 100 percent in customer satisfaction ratings, he added. That's mind-blowing, certainly — but why?
Cook attributed it to the iPad's "unique blend of simplicity and capability," and the fact that you can do so many things on an iPad and have such a great experience doing it. He called out the 675,000 apps custom designed for iPad, noting that this is a "huge advantage over our competition."
He then called out a quote from Dan Seifert, writing for The Verge: "A tablet is only as good as what you can do with it, and thanks to the hundreds of thousands of apps for the iPad Air, you can do more with it than any other tablet."
The problem with this line of thinking is that Apple seems to want all of us to believe that the thin and luscious physical design of the iPad Air 2 is the ultimate pinnacle of form and function for a tablet — the pinnacle of design for a screen you can touch, pinch to zoom, and flick to interact with.
In Apple's world, you get to do these things on iPhones and iPads and Apple Watches — just not on Macs or anything else. That's either a failure of imagination, or it's a hard-core desire to produce discrete elements of a product lineup that fit most major needs for most people.
Apple's approach to a product lineup — with perhaps the sole exception being the customizable Apple Watch — is to have its customers fit themselves into a product's core principles — and then innovate from within that self-selected box. It's brilliant, really, because it leads to 100 percent customer satisfaction.
Can you really blame Apple when the third-party keyboard case you bought for your iPad Air is clunky and has keys that feel like you're typing on bits of soggy Rice Chex cereal? Are you going to blame Apple when you realize that your iPad just isn't going to replace your MacBook Air like you hoped?
By delivering a discrete tablet that is just a great tablet, Apple ensures that these situations don't come up very often.
Do Apps Make the Form Factor the Best?
Having a collection of 675,000 apps inside Apple's rich and powerful ecosystem flat-out does not mean there is a one-to-one connection between the physical form factor of an iPad and the ultimate pinnacle of tablet design. Not by a long shot. That's just what Apple is willing to build, so the company is going to build the best.
What if Lenovo's Yoga Tablet 2 Pro ran iOS 8? Think it would sell? You bet it would. Lenovo would sell a lot of them, because they would come with the Apple ecosystem — and presumably be manufactured at Apple's level of fit and finish. A tablet that is also a big-screen projector? Nice.
The Yoga Tablet 2 Pro kickstand functions as a handle, a tilt stand, a more vertical stand, and a hanger for easy placement on a wall — like in the kitchen. It has an 8-watt sound system. What it does not have, though — despite a compelling physical form factor — is anything to do with the Apple world we know, trust, and love.
There's more, though. What if Apple produced an iPad Pro that you could prop in your lap and use a reasonably sized physical keyboard with? Think it wouldn't sell because the form factor is wrong? It would sell.
So, what's going on here? The competitors might have noticed a crack in Apple's armor via the iPad form factor, but they haven't been able to penetrate it. The Microsoft Surface Pro 3 with it's fancy built-in kickstand, Surface Pen, and keyboard cover… with powerful processors and a combination tablet and PC operating system… has made it into the cracks, but not much further.
Google's Chromebook play? Same thing. It's found some cracks, but it's not hurting Apple at all.
Is either growing at epic rates? Hard to say, but if it were, I'm sure Microsoft and Google would be trumpeting it to the world.
Impenetrable Chain Mail?
Apple's app ecosystem is the chain mail under its armor. It will take a lot to get through it. In addition, Apple keeps refining its armor by forcing all the discrete pieces and parts to work together.
This is Apple's Continuity between Mac OS X and iOS 8 — and later, with the Apple Watch, and inside the home with HomeKit, and in your car with CarPlay.
Your Apple world will communicate seamlessly and your digital life will flow with you wherever you happen to go.
What We're Seeing Is a Transition
What we're seeing from Apple is a maturation of its product lines so that they are indeed — as Cook said — best-in-class devices — but they are utterly familiar, too. The tech industry has a fetish for things shiny and new, and the Apple products we want most — well, we want them to appear shiny and new, too. Keep the love affair going indefinitely. I don't want my MacBook Pro to simply become a finely crafted tool — I want it to inspire and delight. The iPad is fast becoming a finely crafted tool.
Back to the metaphor of a knight in shining armor — an unbeatable knight with a sword and lance, maybe, but the iPad, like the iPhone, is no longer Apple's lance or sword. The new sword? The Apple Watch.
While the Apple Watch is no doubt interesting and exciting for Apple fans — well, we just watched Apple announce the iPad Air 2 along with an iMac with Retina 5K display in such a way that nearly screams that these old weapons have been relegated to the place of armor.
The original bubbly iMac was once the tip of Apple's spear. Now it's just one of the lines of business. Seeing the glorious iPad become just another line-of-business item is vaguely disappointing for Apple fans like me — but it ought to be a relief and point of invention for competitors.
By sharing his vision for Apple, Cook revealed how a tech company can compete today — and it takes more than a cool new form factor. Tim Cook ended the presentation by noting, "This incredible lineup of products — and the ecosystem that supports them — is something only Apple can create."
As of this moment, he's right. Because I'm a fan of Apple's overall ecosystem, I'll only look at Lenovo's Yoga lineup with interest — and not open my wallet.