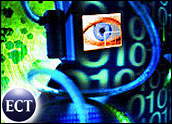 For heavy duty imaging work on a PC, there are some very powerful programs on the market. My application of choice is Corel Paint Shop Pro, primarily because I've been using it for years and have become comfortable with its interface.
That's not to say its competitors — like Ulead PhotoImpact and Adobe Photoshop Elements — aren't excellent programs. They are. But these applications have become so feature-rich that moving from one to another can require the kind of cathexis that many of us would rather avoid.
That's one fault that all these software packages share. For some jobs, they can be overkill.
If I need to quickly crop a photo, why should I have to wait for a monster piece of software to load to do it? The same is true for other basic imaging functions.
That kind of problem begs for a niche solution, and Moscow-based VicMan Software is ready to fill it.
Utile Editor
At Europe's biggest computer show, CeBIT in Hannover, Germany, in March, Vicman rolled out Photo Toolkit (US$29.95), a versatile imaging program that can be used all by its lonesome or from within applications like Internet Explorer or Windows Fax and Picture Viewer.
Fax and Picture Viewer is the default program for opening images in Windows. It's just a simple viewer with limited utility. It lets you page backward and forward through the images in a folder; zoom in and out on a photo; rotate it; and delete, save or print it.
With the addition of Photo Toolkit, the Viewer is transformed into a utile photo editor.
Demon Orbs
Toolkit has a dual-mode red-eye remover. You can let it automatically nix demon orbs in an image or do it manually.
According to VicMan, in auto mode, the program's detection rate is 90 percent, with an error rate of 4.2 percent; in manual mode, 99 percent, with less than one percent error.
I found that automatic mode was fooled by multi-subjects in an image with crimson peepers. Manual mode, though, worked like a charm for shoring up auto mode's shortcomings.
If you're puzzled by a feature in the program, you can click a "how to" button and a step-by-step help wizard will appear docked to the side of the window in which you're working.
Toolkit lets you crop and resize images quickly and with a minimum of system resources being consumed.
You can change their file formats, too. The program supports the most common formats — BMP, JPG, PNG and TIFF.
In addition it allows you to swiftly remove ugly artifacts from a digital image.
Whitens Teeth
It will also let you correct the colors in a photo.
If you correct colors automatically, the program shows you a grid with nine color variations.
If you find those variations unsuitable, you can manipulate a photo's colors manually, using slide controls to alter the image's brightness, contrast, saturation and gamma.
Don't like the looks of a subject in a portrait? Toolkit permits you to address that problem with its "make up" mode. With it, you can remove skin imperfections, smooth wrinkles, scrub birthmarks and tattoos, wash away glossy flash reflections and even whiten teeth.
VicMan is particularly proud of its teeth whitening technology. That's because it's very precise in its application, whitening teeth and not the lips of a subject.
Powerful Lighting Tools
Make up tools can also be fine tuned to manipulate the opacity and hardness of the make-up brushes and to focus them on light or dark pixels.
Lighting effects can also be added to an image. In addition to some interesting canned effects — stained glass, floodlight's and "spring sun" — you can create your own with the program's lighting tools.
While Photo Toolkit isn't a substitute for a major imaging package, it's a terrific supplement to one. And once you start using it, you may even find it an essential element to your photo repertoire.
---
John Mello
is a freelance business and technology writer who can be reached at
[email protected]
.
---

Read More Reviews…
---