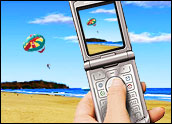 2006 was a pivotal year for the smartphone industry, with significant technological developments and changes in industry practices and operation.
Handset manufacturers continued to accessorize the smartphone and churned out a seemingly limitless variety of models and styles, showing off cutting edge advances such as the delivery of text and multimedia content over wireless — as well as wired — Internet and cellular networks.
Single Device, Multiple Connections
In the U.S., mobile telcos have grudgingly begun opening their networks to content from third-party distributors and aggregators.
Standards and protocols have or are being hashed out for mobile Internet connectivity — including the IEEE's WLAN 802.11n and WWAN 802.16, or WiMAX (Worldwide Interoperability for Microwave Access), and the cellular industry's HSDPA (high-speed downlink packet access). Developers are using any and all techniques to find sustainable markets as the convergence of digital media and distribution platforms continues.
"People don't want to carry several devices, each with its own purpose," Glenn Fleischmann, a long-time industry observer, wireless tech expert and journalist, told TechNewsWorld.
"Smartphones seem poised to fulfill the promise of having a single device with multiple network connections that can place voice calls anywhere, view media and store media, as well as run third-party programs that might be needed. RIM's (Research In Motion) Pearl BlackBerry shows that even they realize that integrating media into a smartphone is a smart move," he said.
All Shook Up
The open standards, open platform model of software and hardware development is proving successful in the mobile telecom sector, especially for smaller, new market entrants looking to leverage new technology and apply it in innovative ways.
The process has shaken and revitalized what was a somewhat moribund industry.
Mobile operating systems (OS) and software developer Symbian has thrived in this environment by adopting an open, cooperative business model. The company on Nov. 16 announced that 100 million Symbian smartphones have been shipped to more than 250 network operators worldwide since it was formed in 1998.
Aiming to reduce the amount of time and effort required to migrate desktop and server components and mobile applications from other platforms on to Symbian OS, the company introduced POSIX libraries on Symbian OS (PIPS) at the official opening of its Beijing, China office on Jan. 16.
PIPS will enable C programmers to more easily migrate existing commercial and open source middleware and applications to Symbian OS, providing standard POSIX C APIs that have been packaged into industry standard libraries, according to the company.
"PIPS is part of Symbian's ongoing investment to enhance the development experience on Symbian OS," said Bruce Carney, Symbian's head of developer marketing.
"Native Symbian C++ continues to offer the richest set of APIs for smartphone functionality, with Symbian also enabling familiar frameworks, virtual machines and runtime environments such as POSIX, Crossfire, Java, Python, Flash and OPL to help move any developer onto the market's leading and richest mobile OS," Carney added. "In addition, the market momentum for smartphones is growing quickly, making it even more attractive to move to mobile and Symbian OS."
"The smartphone market is entering a new era of lower cost, higher volume devices," said Andy Brown, mobile devices specialist at IDC.
Brown forecasts that cumulative smartphone sales will surpass 1 billion units by 2011, adding that, "The smartphone segment of the handset market is seeing strong annual growth and is expected to rise from 57 million units in 2005 to around 250 million units by the end of 2010. The advent of single-chip designs will inevitably attract a growing number of licensees and drive greater penetration into the midmarket," Brown said.
High Hurdles
Gaining access to the major mobile telco network operators' networks in the U.S. has been a high hurdle that pioneering content providers, distributors and aggregators have had to overcome. However, they have been making headway particularly in 2006.
"In general, the 'access to carrier' issue is starting to become less of an issue as we grow, and our ability to work with carriers is proven," Tim Mitchell, vice president of marketing for IODA (International Online Distribution Alliance) told TechNewsWorld.
"Now, the real challenge is to drive marketing efforts that will not only help our partners surface relevant content, but also drive demand through the mobile channel for foreign and/or lesser-known artists. If we can accomplish this, even on a small scale, we believe it will be a big win for independents, the operators, and their customers," noted Mitchell.
"The mobile industry is maturing in that the major players are beginning to recognize the importance of embracing innovative companies, rather than allowing them to become disruptive elements that would have a negative effect on their businesses," mVisible Technologies' cofounder and CTO Myk Willis told TechNewsWorld.
Off-Deck on the Rise
Increasingly, carriers will allow easier access to their mobile networks in order to move "off-deck" content from outside sources, as well as content other than that offered by major producers and distributors.
"I expect that 2007 will be the year that marks a giant advancement in off-deck content," Alfredo Narez, vice president at Air2Web, told TechNewsWorld. "Publishers, brands, enterprises, and marketers alike have started to see critical mass in the campaigns that they have put together over the last couple of years and are ready to take advantage of the advancements in mobile technology.
"The environment has definitely changed for the better," Narez continued. "Off-Deck is now a model that can be openly discussed with all of the major providers in the U.S. Some providers are still more aggressive and open to embrace off-deck than others, but it is ultimately becoming a more open environment.
"In addition, the growth in cross-channel marketing campaigns is making the non-premium or off-deck mobile interaction far more valuable for the end-user," he noted.
A word of caution is in order, Narez warned. "It does not mean that third-party content providers are free to create their own content rules. They are still subject to the same guidelines that the industry has worked diligently to create."
Guidelines for the U.S. market are best represented by the MMA (Mobile Marketing Association), he added.
"Carriers are recognizing that they cannot even begin to satisfy the desire of their customers for a variety of non-mainstream content and services," added mVisible's Willis. "Witness the recent decision by Verizon to allow MyxerTones to sell binary content on their network.
"Previously, the only binary content available on Verizon was content that Verizon had specifically 'programmed' themselves, creating an environment where consumer choice was extremely limited, thereby throttling consumption," Willis added.