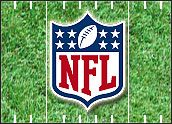 Here's the game plan regarding the National Football League and Twitter: If it's gameday, there will be no tweeting. If it's training camp, it's up to each team (with suggestions from the NFL, of course). When it comes to players' off-time, it would be wise to take the advice of San Diego Chargers outside linebacker Shawne Merriman, who navigates social media as easily as he takes down opposing quarterbacks: Think before you tweet.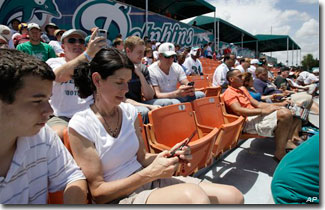 This is the first summer of NFL training camps featuring Twitter as a 12th man of sorts. Some coaches are banning players, media and even attending fans from tweeting during practices; others are more open-minded. Sports reporters are finding this out by asking about Twitter use during team press conferences; that is, when they're not using the ultra-popular short messaging service themselves.
The players are finding out the hard way about what you should and should not be tweeting. Cincinnatti Bengal wide receiver Chad Ochocinco announced his intention to tweet from the sidelines during games, apparently not aware of the ban on any kinds of outside communications on game day. Minnesota Vikings tight end Visanthe Shiancoe decided to show how bored he was during first day of training camp by tweeting "ZZZZZZZZZZZ" from a meeting. He later tweeted that he was referring to an "administrative" meeting, not a team meeting.
League officials say players should view Twitter as another form of communication that can get them into trouble on game day. Why give opponents any locker-room material, whether it's a quote in a newspaper, a TV report — or a tweet?
The NFL Rulebook on Twitter
"Clubs don't want to put themselves at a competitive disadvantage. They don't want players to provide virtual chalkboard material to their opponents," said NFL spokesperson Brian McCarthy, describing his own take on how social media could be used in providing opposing teams with extra incentives for victory on Sundays and Mondays.
"It's comparable to any other company monitoring what their employees say to make sure they are consistent. It's pretty simple from that aspect, like any other business. You wouldn't expect somebody from IBM to be tweeting from an important meeting. You don't want players to check their PDAs or phones during practice or meetings," he told TechNewsWorld.
Then there's the matter of barring fans and players from tweeting from training camps. The Miami Dolphins and Denver Broncos are two teams that have instituted a no-tweet rule, even though — like 22 other clubs — their practices are open to the public.
Bans go against a league memo sent last week to all teams that recommended best practices regarding Twitter, McCarthy said. "We recommended that clubs allow limited live reporting from practices that are open to the public, subject to the guidelines set by the clubs on the issue," he said.
Members of the media should keep in mind that the practice of "following" someone on Twitter also applies to beat reporters following a team. "For the most part, it's on the honor system. It's quite easy to look at the Twitter page of a media member and say, 'You're not supposed to do that, please don't,'" McCarthy said.
The NFL Embraces Twitter
When it comes to game days, the NFL has the jurisdiction to set rules regarding what is allowed regarding communications, and no further review is needed concerning social media. "We've had a longstanding rule that bars the use of cellphones, computers, PDAs, any other electronic equipment by coaches, players or other football club personnel on the sidelines, in the coaches' booths or the locker room, and that goes from the start of pre-game warmups to the end of games, including halftime as well. That would prohibit the use of Twitter, Facebook or any other medium," McCarthy said.
However, the NFL spokesperson wanted to make to clear that the league isn't setting up a prevent defense against social media. The NFL has embraced Twitter, he said, and now numbers 770,000 followers for its league Twitter account. The new NFL fan community page is now live, and nfl.com/fans allows football enthusiasts to comment on the latest news. In addition, the media training and public relations counseling now underway for players is including discussions of social media.
"We welcome any new technology that enables us to talk directly to our fans, and when done properly, it's a tremendous opportunity to talk to and listen to our fans," McCarthy said. "It's clearly the golden age for our fans. You do have all the information at your fingertips and through the evolution of media, it continues to fill that insatiable need for football that Americans have."